Press room
Barbican announces Hackney Colliery Band: Collaborations for 5 Oct 2019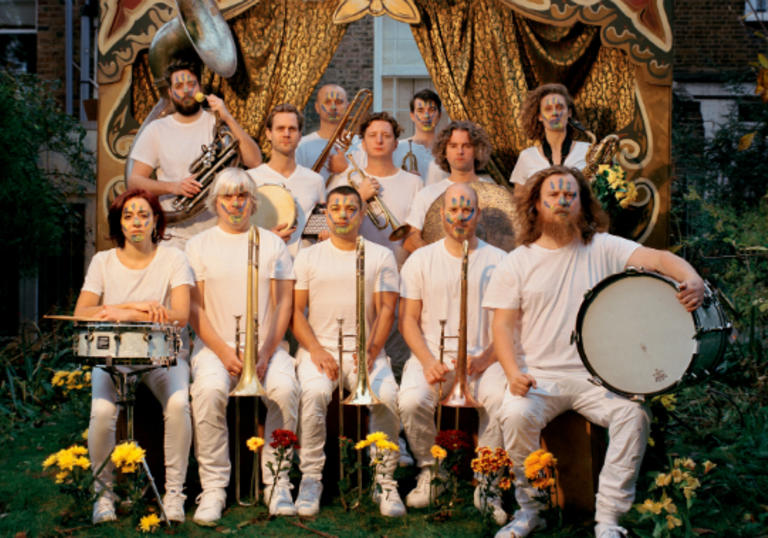 Hackney Colliery Band: Collaborations
Sat 5 Oct 2019, Barbican Hall, 7.30pm 
Tickets £17.50 – 22.50 plus booking fee 
This special Barbican autumn date sees the Hackney Colliery Band perform in collaboration with a host of key guest artists including British jazz funk legend James Taylor, writer and performer Rob Auton, artist and writer YVA, composer and pianist Tom Rogerson and the Roundhouse Choir. Here they will present material from their forthcoming album Collaborations: Volume One – featuring Mulatu Astatke and Angélique Kidjo – which is out on 7 June 2019 and will be their first new material since the critically-acclaimed Sharpener in 2016.
Since their formation ten years ago, the East London collective has gone from strength to strength with their genre-bending combination of brass, reeds, percussion and electronics, and they have performed at numerous venues, festivals and clubs around the world. Their setlist is as eclectic as the borough which gives them their name, drawing on influences ranging from contemporary rock and electronica to jazz or the traditional British brass band sound to which their name also pays homage.
Band leader Steve Pretty said about their new album: "It's hard to believe that 2019 is our tenth anniversary, but now we're ten years older it felt like the right time to get back to our jazz roots. It's been such a privilege to work with so many of our musical inspirations both old and new on this record, and we're super excited to be ushering in the next ten years with this new collaborative spirit: this is called 'Volume One' for a reason…"
Hackney Colliery Band returns to the Barbican's music programme following appearances at the Open East Festival in the Queen Elizabeth Olympic Park in 2013; the Centre's month-long Station to Station: A 30 Day Happening project, curated by Doug Aitken in 2014 and as part of La Linea's SONORAMA! event in 2018.
Produced by the Barbican
On sale to Barbican members on Thursday 6 June 2019
On general sale on Friday 7 June 2019
Find out more