Press room
Barbican announces Chick Corea Trilogy date for 16 March 2020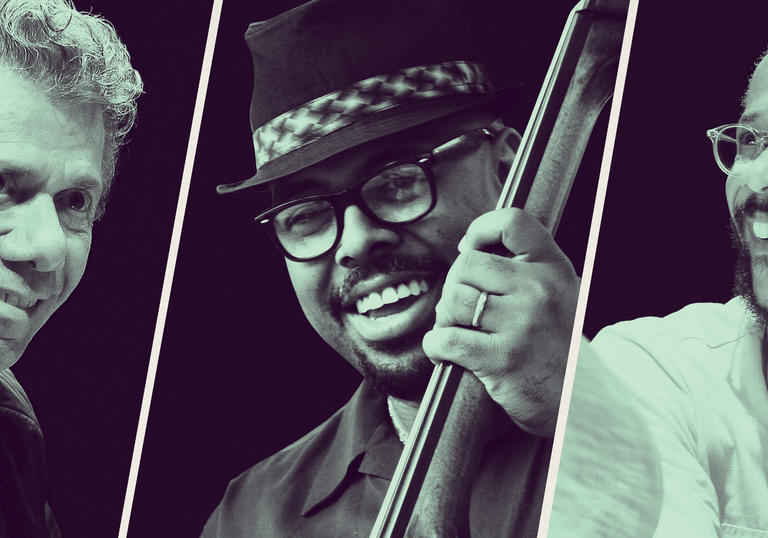 Chick Corea Trilogy
with Christian McBride and Brian Blade
Monday 16 March 2020, Barbican Hall, 8pm 
Tickets £35 – 45 plus booking fee
American jazz pianist Chick Corea returns to the Barbican's music programme in March 2020 alongside bass powerhouse Christian McBride and drum master Brian Blade. The trio will present a programme based on a range of inspirations, spanning from American Songbook standards to jazz classics, reaching back into Chick's own back catalogue as well as that of some of his most renowned collaborators, including Miles Davis and Joe Henderson.
The trio has already earned two Grammy Awards for their 2014 landmark 3-CD set Trilogy, and the long-awaited follow-up album, Trilogy 2, was released on 4 Oct 2019 (Concord Records). Trilogy 2 is a two-disc set featuring tracks hand-picked by Chick from throughout the trio's 2016 world tour.
"Both are master musicians and together we have an easy rapport," Chick says of McBride and Blade. "There is a lot of give and take in our music. It's always a lot of fun."
Produced by the Barbican
On sale to Barbican members on Thursday 10 October 2019
On general sale on Friday 11 October 2019
 
Herbie Hancock  
Part of EFG London Jazz Festival
Sun 17 Nov 2019, Barbican Hall, 7.30pm 
American jazz pianist Herbie Hancock, his trademark keytar and band return to the Barbican and the EFG London Jazz Festival, following their appearance at the Centre in 2017, performing selections of his classic music from his extensive back catalogue.
Herbie Hancock will also collaborate in a concert with the Los Angeles Philharmonic and Artistic Director Gustavo Dudamel on Tue 19 Nov, as part of the EFG London Jazz Festival and the orchestra's Barbican residency (18 – 20 Nov), celebrating the LA Phil's centenary. Herbie Hancock is the Philharmonic's Creative Chair for Jazz.
For both November Barbican dates Herbie Hancock will be joined by his band, featuring James Genus (bass), Lionel Loueke (guitar & vocals) and Justin Tyson (drums), and flautist and vocalist Elena Pinderhughes will join them on 17 November.
 
The Art Ensemble of Chicago 
Part of EFG London Jazz Festival 2019
Sat 23 Nov 2019, Barbican Hall, 7.30pm 
The Art Ensemble of Chicago has been at the forefront of creative improvised and African diasporic music – what they have long-termed "Great Black Music" – since 1969. This year the ensemble celebrates its 50th Anniversary at the Barbican with a tribute to its founder members Lester Bowie, Joseph Jarman and Malachi Favors Maghostut as part of the EFG London Jazz Festival 2019. The evening will also feature some very special guest soloists including bassist Junius Paul, percussionist and multi-instrumentalist Dudu Kouate and a collaboration from Manchester based South African cellist Abel Selaocoe. The ensemble that evolved from founder Roscoe Mitchell's musical vision, explorations and adventurous collaborations in Chicago, is renowned for its integration of musical styles that span the history of jazz and multi-instrumental group improvisations.  
Their live performances of original compositions, written by all the members, are visual, auditory and sensual spectacles with elaborate costumes, face paint, props, theatre, poetry, dance and more. Currently with a rotating group of 13 to 18 members, the ensemble appears as a completely new constellation in the creative scene and they recently released two-disc masterpiece We are on the Edge, after a studio recording hiatus of 15 years, to celebrate their 50th anniversary.
 
Moor Mother with the London Contemporary Orchestra: The Great Bailout
+ Klein
+ Galya Bisengalieva
Wed 23 Oct 2019, Milton Court Concert Hall, 7.30pm  
In this first-time collaboration, Afro-futurist artist, musician and poet Camae Ayewa aka Moor Mother teams up with the London Contemporary Orchestra (LCO) in a project of music and spoken word with the British slave industry as a core theme. Their collaboration, The Great Bailout, is aiming to demonstrate the rarely acknowledged links between the pavements we all walk on and the slave trade.
Separate opening sets will come from  Kazakh-British composer, improvisor and leader of the LCO, Galya Bisengalieva, and fellow interdisciplinary artist and producer Klein from South London who uses disjunctive experimentalism to create a sensory world that melds popular reference points with personal associations.Produced by the Barbican
 
Echo Collective plays Jóhann Jóhannsson's 12 Conversations with Thilo Heinzmann
+ Félicia Atkinson
Sun 3 Nov 2019, Milton Court Concert Hall, 7.30pm 
Echo Collective perform Jóhann Jóhannsson's 12 Conversations with Thilo Heinzmann – a piece left unfinished before the composer's sudden and untimely death in February 2018. The work was released as an album on Deutsche Grammophon on 20 September 2019 – a day after the Icelandic composer would have turned 50.
Based on conversations between Jóhannsson and German painter Thilo Heinzmann over the course of four years,12 Conversations explores themes of arts, politics and unity. The score – unusual for Jóhannsson's output – is written for string quartet only, without the composer's trademark electronic threads. Support comes from French experimental musician, visual artist, poet and co-publisher of Shelter Press Félicia Atkinson. Produced by the Barbican
 
Mon 9 Dec 2019, Barbican Hall, 7.30pm
One of the leading lights of the early 90's shoegaze scene, Oxford four-piece Ride's upcoming This Is Not A Safe Place album UK tour will stop at the Barbican on 9 December 2019. The new album came out in August 2019 (Wichita Recordings) and is their sixth studio album. Ride are Andy Bell, Mark Gardener, Laurence Colbert, and Steve Queralt.
Support comes from Eliot James' and Tom Hobden's band Pêtr Aleksänder. The duo create considered and controlled sounds by limiting instruments to piano and strings, but never at the expense of the raw, emotional impact that a simple yet incisive sound can deliver. Produced by the Barbican in association with Eat Your Own Ears