Press room
Barbican announces cast for Alison Balsom's Gabriel, featuring Jamie Parker and Jack Farthing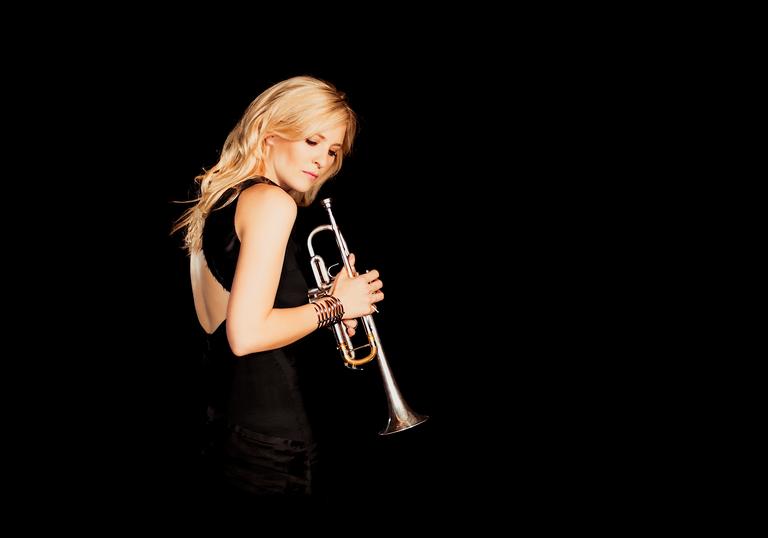 Today the Barbican announces full cast details for a new production of Gabriel which takes place for one night only on the stage of the Barbican Hall on Monday 21 October 2019: Actors Jamie Parker (Harry Potter, History Boys, Henry V), Jack Farthing (Poldark), Anjana Vasan (Doll's House) and Amanda Wilkin (Midsummer Night's Dream) will join renowned trumpeter Alison Balsom, soprano Elizabeth Watts, countertenor Tim Morgan, tenor Gwilym Bowen, The English Concert with music director Harry Bicket and a chorus of singers from Guildhall School in this reworking of Gabriel. 
A theatrical celebration of Baroque music and 17th-century London, and a testament to the power of the trumpet, Gabriel premiered at Shakespeare's Globe in 2013. Dreamt up by Alison Balsom, award-winning playwright Samuel Adamson and theatre director Dominic Dromgoole, the colourful play has now been reimagined for the Barbican Hall as part of Alison Balsom's residency at Milton Court. Gabriel is a series of interlinked scenes, vignettes and encounters, joined up by music of the period, with an emphasis on Purcell's works for trumpet. It is a vivid entertainment featuring orchestral concert, and stories about real and imagined characters: monarchs and prostitutes, composers and transvestites. Orchestra, singers, actors and chorus come together to bring to life an extraordinary moment in our history and celebrate some of our greatest music.
Dominic Dromgoole says: 'It was a huge pleasure to present this wonderful tapestry of music and drama at the Globe, and truly exciting to reconceive it for a concert format with the English Concert and Alison'.
Guildhall School alumna Alison Balsom has been named the fourth Milton Court Artist-in-Residence, which is programmed in collaboration with the Guildhall School, and forms part of the Barbican's own-promotion classical music season Barbican Presents in 2019-20. She is following in the footsteps of previous Milton Court Artists-in-Residence Richard Tognetti (2016-17), Jeremy Denk (2017-18), and Roderick Williams (2018-19). 
As part of her residency, Balsom will present three very different projects, starting with Gabriel in October 2019. The residency then continues in March 2020 with a performance of Miles Davis' Sketches of Spain (arr. Gil Evans) with Guildhall Jazz Orchestra and director Scott Stroman, and concludes in May 2020, when Balsom leads Britten Sinfonia, who are Associate Ensemble at the Barbican, in the world premiere of John Woolrich's Hark! The echoing air. This will be part of a concert showcasing composers' fascination with other composers' music.
Alison Balsom's new recording Royal Fireworks – a collection of grand Baroque masterpieces and new versions performed with the Balsom Ensemble – will be released worldwide on Warner Classics on 8 Nov 2019.