Press room
Barbican announces Alva Noto & Anne-James Chaton, Wacław Zimpel + Park Jiha and Julia Holter dates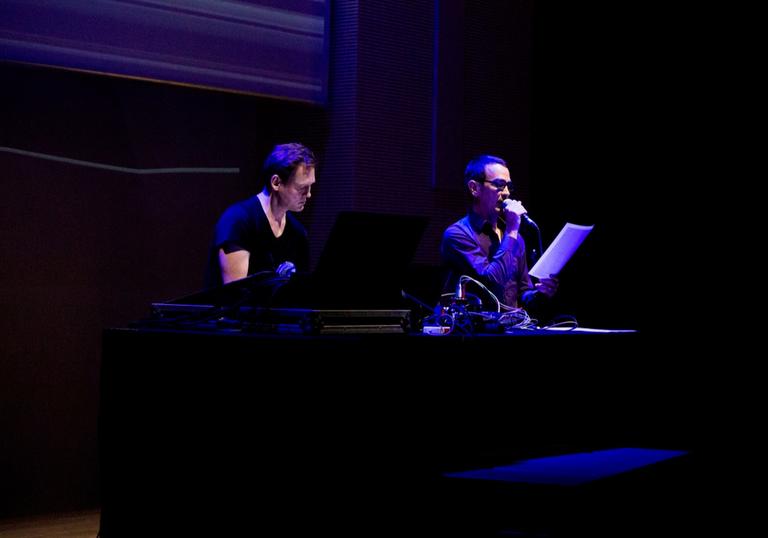 Alva Noto & Anne-James Chaton: ALPHABET
Sunday 17 November 2019, LSO St Luke's, 8pm
Tickets £20 plus booking fee
ALPHABET is the new audio-visual, live poetry and music project from regular collaborators French sound poet Anne-James Chaton and German artist and experimental musician Carsten Nicolai aka Alva Noto.
The project – which will also be released as a record – is inspired by Saint Isidore of Seville, whose wide-ranging work Etymologies attempted to collect all that remained of classical learning in the 7th Century AD. Isidore's explanations of words and their derivations in fact owed as much to imagination and coincidence as they did to scholarship; ALPHABET will be a similarly playful fusion of objective poetry and minimal music, inviting audiences to savour multiple connections between Chaton's language and Alva Noto's digital environments.
Alva Noto and Anne-James Chaton return to the Barbican's music programme following their respective sets in their sold-out performance on 4 March 2018. Alva Noto also appeared at the Barbican in a collaboration with Ryuichi Sakamoto in June 2018. Produced by the Barbican.
 
Wacław Zimpel + Park Jiha
Friday 31 January 2020, LSO St Luke's, 7.30pm 
Tickets £17.50 – 20 plus booking fee 
This special double-bill at LSO St Luke's as part of the Barbican's contemporary music programme brings together two artists from different sides of the globe: Poland and Korea. Here they both present their respective approaches to traditional sounds in contemporary contexts.
Polish multi-instrumentalist, composer and producer Wacław Zimpel's music has been inspired by jazz, electronics, minimalism and roots music from across the world. In his work he does not only blur the boundaries but eradicates them altogether to create a whole new musical language. His solo work includes the critically acclaimed album Lines and he also made his mark as a collaborator, most successfully with fellow Pole and musical explorer Kuba Ziołek, resulting in the Zimpel/Ziołek album; and his Saagara project has seen him successfully bring together the seemingly disparate disciplines of western jazz and Indian raga music. Wacław Zimpel will also soon release collaborations with James Holden and Shackleton.
Korean instrumentalist and composer Park Jiha's vivid sound world is often contextualized by its kinship with minimalism, ambient and chamber jazz, and her creative backbone is Korean traditional music. Jiha formally studied both its theory and
practice and she has mastered three of Korea's most emblematic instruments:
piri (a double reed bamboo flute), saenghwang (mouth organ) and yanggeum (hammered dulcimer). Park Jiha released both her debut and follow-up albums – Communion (2018) and Philos (2019) – to great critical acclaim on tak:til/Glitterbeat. Park Jiha said: My musical influences come from my life, and I think music comes from being human; a person's music is ultimately representing that person. I know for sure that I have been living sincerely when I make music. Produced by the Barbican
 
Julia Holter: The Passion of Joan of Arc
Saturday 27 June 2020, Barbican Hall, 7.30pm 
Tickets £17.50 – 25 plus booking fee 
In this Barbican film and music event in summer 2020, the emotionally charged sound world of Los Angeles-based singer-songwriter, composer and producer Julia Holter meets the intensely expressionistic universe of a landmark of early cinema – director Carl Theodor Dreyer's 1928 film The Passion of Joan of Arc.
Commissioned by Opera North Projects, Holter presents her new soundtrack for this silent masterpiece, scored for and performed with the 36-strong Chorus of Opera North, plus her own band.
Over the course of her five studio albums, Julia Holter has pushed into new territories, experimenting with vocals, song-writing and musical structure. The commission to score Dreyer's visionary film about the martyrdom of the French saint, gave her an opportunity to dig deeper into her fascination with the music and art of the medieval era.
From its very first screening, various soundtracks have been created for Dreyer's The Passion of Joan of Arc, with music by composers as diverse as Nick Cave and J S Bach. On its release in 1928, the film caused a minor scandal. Condemned unseen in France, vilified by Catholic authorities and also banned in England for its depiction of English soldiers, it is now recognised as a cinematic masterpiece, startlingly ahead of its time. Based on the actual transcription of the trial, its claustrophobic close-ups and striking performance by Renée Maria Falconetti give an evocative account of the French heroine's final moments.
Julia Holter returns to the Barbican following her appearance with s t a r g a z e in a career retrospective with specially commissioned chamber arrangements in autumn 2014.
Commissioned by Opera North Projects, co-produced by the Barbican and the Brudenell Social Club
 
Post-show clubstage announced:
Max Cooper: Yearning for the Infinite
+ Rob Clouth
+ Llyr  
Sat 28 Sep 2019, Barbican Hall, 8.30pm
Tickets £17.50 - £22.50 plus booking fee
Yearning for the Infinite is a project by London-based electronica and techno producer Max Cooper about our human obsession with the unobtainable, and its embodiment in the modern data explosion. Cooper has long been fascinated by the concept of infinity in many areas of life such as religion and cult (Kabbalah and the divine infinite), mathematics (limits, irrational numbers and Cantorian set theory), visual arts (perspective and illusion in painting) and music (infinite harmonic series). All topics are tackled via an entirely new live visual performance and musical score, commissioned by the Barbican. Following this evening's performance, there will be two post-show sets on the Barbican ClubStage featuring electronic musician, sound designer and new media artist Rob Clouth and electronic artist Llyr, whose remix of Max Cooper's Rule 110 is featured on the One Hundred Billion Sparks Remixed album.
Yearning for the Infinite will also be released as an album on Mesh on 7 November 2019.
Max Cooper: Yearning for the Infinite is part of the Barbican's 2019 season, Life Rewired, which explores what it means to be human when technology is changing everything. Produced by the Barbican