Press room
Barbican and Waltham Forest London Borough of Culture 2019 announce Leytonstone Loves Film, a new film festival in east London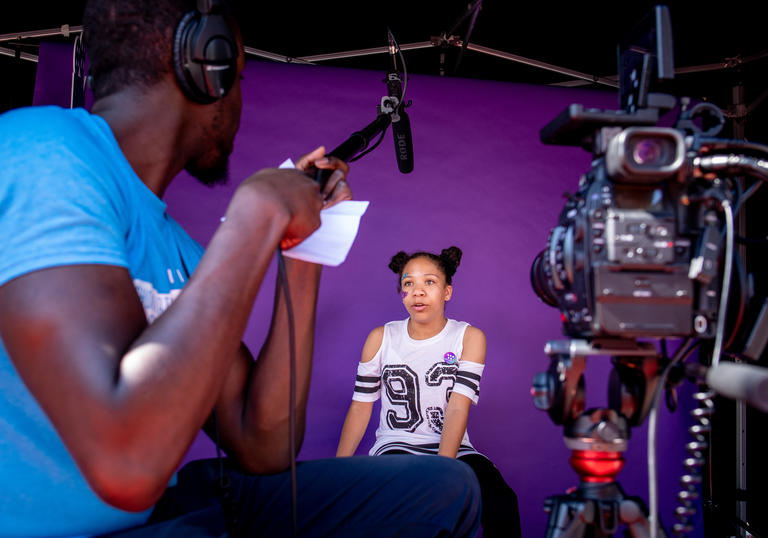 In September 2019, Leytonstone Loves Film takes place in east London for the first time as part of Waltham Forest London Borough of Culture 2019. This free, weekend-long festival is designed to celebrate film culture and Leytonstone's unique cinema history, presented by local residents and organisations, the Barbican and Waltham Forest London Borough of Culture 2019.
Indoor and outdoor screenings will be popping up all weekend, alongside workshops, activities and installations with music, markets and food stalls spilling out onto the streets on Sunday. Audiences will enjoy a range of film experiences on both large outdoor screens and in intimate pop up spaces from new releases, independent and art house films to archive classics and shorts made locally and internationally. Over 50 events are on offer, the majority of which are programmed and produced by local partners from Leytonstone and across Waltham Forest.
Highlights include Laura Poitras' documentary Flag Wars, Agnes Varda's The Gleaners & I, Leytonstone local John Smith's Blight and Home Suite, and a newly produced history of grime music in the borough. Leytonstone Loves Film is also celebrating classics such as the iconic work of Bollywood cinema, Pyaasa by Guru Dutt and Buster Keaton's silent cinema gem, The General as part of a live score and light show by band Haiku Salut presented by The Music Halls Project.
Gali Gold, Head of Cinema at the Barbican, said: 'Leytonstone has a rich history of film culture which still thrives today, so we're proud to be working with local residents and organisations for the very first Leytonstone Loves Film. This is a festival for families and cinephiles alike, celebrating cinema and its power to enlighten and excite, mobilise and entertain, so whatever your knowledge or taste of film you will be able to enjoy a wide range of cinema from around the world, and even learn something new in some of the workshops on offer, all available for free.'
Sam Hunt, Creative Director, Waltham Forest London Borough of Culture 2019, said: 'We are proud to be partnering with the Barbican to present London's latest major film festival, Leytonstone Loves Film. A festival created in response to the amazing film history of Waltham Forest and Leytonstone in particular, inspired by the people and stories of this place. A place that was once the centre of the silent film industry and where Alfred Hitchcock was born and is now home to the next generation of radical story tellers, venues across Leytonstone will be transformed into cinemas and performance spaces. The Barbican have worked closely with film community of the borough to create something really special, a true London film festival created for, by and with the people who live here.'  
Below is a selection of events happening throughout the weekend.
Screenings
Pyaasa, an iconic work of Bollywood cinema directed by Guru Dutt, will be screened as part of artist and researcher Hassan Vawda's project to resurrect the historic Apna Cinema Clubs.
The Music Halls Project is bringing Birmingham-based instrumental band Haiku Salut to St John's Leytonstone on Saturday night to perform The Buster Keaton Picture Show where they present a live score and light show to Keaton's classic of silent cinema, The General.
Leytonstone born-and-bred film and events company We Are Parable will collaborate with local cult podcast Cut the Chat for a live podcast recording and open-air screening of a film chosen by the audience in attendance.
The Women Over Fifty Film Festival, which focuses on the representation of older women in front of and behind the camera, have selected a 'best of the fest' programme to be shown in a relaxed environment.
Leytonstone's Pop Up Film Club are presenting classic depictions of life in east London including The Anarchist Rabbi by Adam Kossoff, a selection of work by Ian Bourn and What Have You Done Today Mervyn Day by Paul Kelly, all with directors Q&As.
A documentary about the history of grime music in Waltham Forest, made by a group of young producers as part of the Waltham Forest Grime project, is to be shown followed by a talk on the producers' experiences of the project.
Stow Film Lounge will programme a screening of Blight and Home Suite by filmmaker John Smith as a commemoration of the 25th anniversary of building the M11. A Q&A with the filmmaker will follow the screenings.
The Barbican-curated programme includes Flag Wars by Laura Poitras, Agnes Varda's The Gleaners and I, a Family Film Club programme featuring Song of the Sea and Bugsy Malone, as well as Paprika, part of the Barbican's celebrated anime season taking place in September. A group of Barbican Young Programmers build on the themes of their annual Chornic Youth Film Festival with Bani Khoshnoudi's Fireflies.
Workshops and activities
Participation is a key component of the festival, with several 'do-it-yourself' workshops on offer.
Shazad Khalid from the Makrooh collective, a platform exploring what it means to be British and Muslim, will present on intergenerational storytelling and how to produce, make and distribute films using a smartphone.
Last Frame Film Collective will host another of their acclaimed Smartphone Film Festivals as well as a screening of Tangerine and a talk on the DIY nature of Queer cinema.
The craft of cinema is to be explored through an animation workshop on the works of Alfred Hitchcock and Saul Bass, as well as sessions on how to do Hitchcock's famous 'reverse dolly zoom' with Chocolate Films.
Further information about the programme can be found on the Leytonstone Loves Film website.
This event is supported by Film Hub London, managed by Film London. Proud to be a partner of the BFI Film Audience Network, funded by the National Lottery.
Leytonstone Loves Film is sponsored by Urbaser.
Fri 27–Sun 29 Sep 2019
Fri 5pm-Late
Sat & Sun 11am–Late
Free