Press room
Barbican and RSC collaboration of Redefining Juliet created by Storme Toolis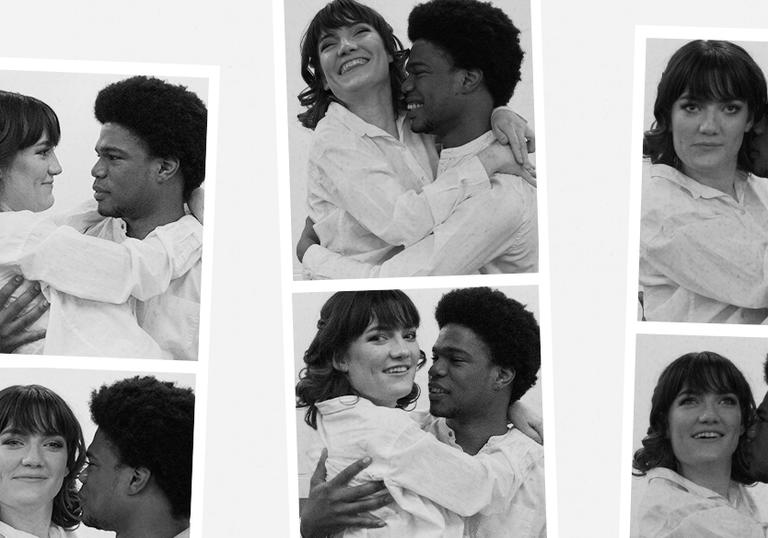 Redefining Juliet, first created by Storme Toolis in 2016, is remounted in 2018 with a new cast, in collaboration with the Barbican and Royal Shakespeare Company.
Toolis, who has cerebral palsy and uses a wheelchair, casts several actresses to share the role of the eponymous heroine of Shakespeare's tragic love story. Driven by her own desire to play Juliet, Toolis choses women whose femininity and value have been questioned by society.  In selecting actresses who would not typically be given the opportunity to play this leading character, Toolis challenges widely held societal ideals about beauty and desirability.
Originally developed through the Barbican's Open Lab programme, with the process documented and broadcast on BBC Four, this new iteration of Redefining Juliet receives a period of R&D in Stratford-Upon-Avon, culminating in a work-in-progress public reading in June at The Other Place, as part of the RSC's Mischief Festival (31 May- 23 June 2018). Redefining Juliet then transfers to London in November for two performances in The Pit, as part of the Barbican's 2018 season The Art of Change.
Directed by Alice Knight, Redefining Juliet combines scenes from Romeo and Juliet with the actresses' own hard-hitting, personal stories. A celebration of difference, Redefining Juliet challenges perceptions of who can play the iconic role.
Full casting for Redefining Juliet will be announced in due course.
Storme Toolis is an actress, teacher and influencer. She has made regular TV appearances including New Tricks and the 2016 Paralympic Mars campaign. She is currently working as an English teacher. She trained at Ovalhouse Youth Theatre and studied drama at the University of Kent. She is a patron of CircusStarr and an associate of ADD International working to end violence against women and girls.
Alice Knight trained at Drama Centre London. Work as a director includes Tiger Country for Oxford School of Drama at Fortune Theatre; Blue Stockings for NYT at The Yard; The World's Wife at Latitude & Hay Festivals; Cosmic Jives at the Albany; Protest at the Young Vic; Nordic Drama Now for Free Word; The Endless Ocean for RWCMD at the Gate; Renard/Exposition of a Picture at Buxton Festival; and Coward Revue Sketches for National Youth Theatre. Work as associate director includes Lost in Thought and Brundibár for Mahogany Opera Group. Assistant directing credits include Twelfth Night and Comedy of Errors at the National Theatre; the REP Company 2014 season (as the recipient of the Bryan Forbes bursary) for the National Youth Theatre; Happy Days at the Young Vic; and Giovanna d'Arco at Buxton Festival.
Notes to Editors
The Barbican's Open Lab programme supports the development of emerging and practicing artists, giving artists the chance to experiment in a working theatrical space without the expectation of a final product.
The RSC's Mischief Festival takes place between 31 May-23 June 2018 at The Other Place, Stratford-upon-Avon. The month-long festival, led by Deputy Artistic Director Erica Whyman, features two new plays, #WeAreArrested and Day of the Living which will play as a double bill, and explore global questions of truth, corruption and freedom. https://www.rsc.org.uk/mischief-festival/  
The Barbican's 2018 season The Art of Change explores how the arts respond to, reflect and potentially effect change in the social and political landscape. It presents bold artistic responses to vital global issues including feminism, climate change and human rights, while providing a platform for voices currently underrepresented in the arts. The season includes world-class music, theatre, dance, film, visual arts and learning and runs throughout 2018. barbican.org.uk/whats-on/series/the-art-of-change
ENDS
Press information
For further information please contact:
Angela Dias, Senior Communications Manager for Theatre and Dance, 020 7382 7168 or angela.dias@barbican.org.uk
Public information
Box office: 0845 120 7511
www.barbican.org.uk/theatre
Listings information
Redefining Juliet
Storme Toolis
UK
Creative direction by Storme Toolis
Directed by Alice Knight
Fri 22 Jun 2018
The Other Place, 22 Southern Lane, Stratford-upon-Avon CV37 6BH
2.30pm
£5 plus booking fee
Age guidance: 14+
Thu 29-Fri 30 Nov 2018
The Pit, Barbican Centre, Silk Street, London EC2Y 8DS
7.45pm
1 hour/no interval
£8 (schools performance); £15 (public performance) plus booking fee 
Age guidance: 14+
Post-show talk: Thu 29 Nov (free to same-day ticket holders)
Developed in collaboration with the Barbican and the RSC
#RedefiningJuliet
Barbican newsroom
All Barbican Centre press releases, news announcements and the Communications team's contact details are listed on our website at www.barbican.org.uk/news/home
About the Barbican
A world-class arts and learning organisation, the Barbican pushes the boundaries of all major art forms including dance, film, music, theatre and visual arts. Its creative learning programme further underpins everything it does. Over 1.1 million people attend events annually, hundreds of artists and performers are featured, and more than 300 staff work onsite. The architecturally renowned centre opened in 1982 and comprises the Barbican Hall, the Barbican Theatre, The Pit, Cinemas One, Two and Three, Barbican Art Gallery, a second gallery The Curve, foyers and public spaces, a library, Lakeside Terrace, a glasshouse conservatory, conference facilities and three restaurants. The City of London Corporation is the founder and principal funder of the Barbican Centre.
The Barbican is home to Resident Orchestra, London Symphony Orchestra; Associate Orchestra, BBC Symphony Orchestra; Associate Ensembles the Academy of Ancient Music and Britten Sinfonia, Associate Producer Serious, and Artistic Partner Create. Our Artistic Associates include Boy Blue, Cheek by Jowl, Deborah Warner, Drum Works and Michael Clark Company. International Associates are Royal Concertgebouw Orchestra of Amsterdam, New York Philharmonic, Los Angeles Philharmonic, Gewandhaus Orchestra Leipzig and Jazz at Lincoln Center.
Find us on Facebook | Twitter | Instagram | YouTube | Spotify
The Pit
Barbican Centre,
Silk Street,
London, EC2Y 8DS
Thu 29 Nov 2018, 7.45pm (schools' performance)
Fri 30 Nov 2018, 7.45pm (public performance)
Angela Dias, Senior Communications Manager for Theatre and Dance: 020 7382 7168 or angela.dias@barbican.org.uk