Press room
Award-winning SUPERFAN from Scotland presents new show Nosedive with cast of intergenerational circus performers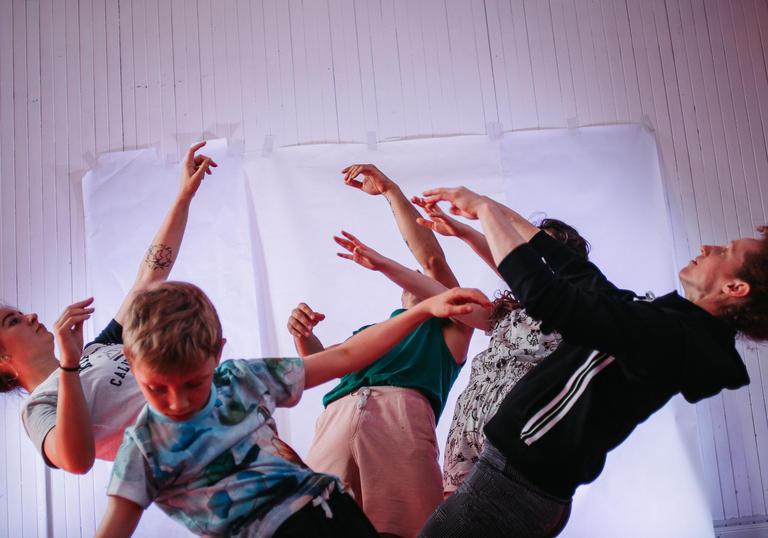 The Oxford Samuel Beckett Theatre Trust Award
SUPERFAN
Nosedive
Winners of this year's Oxford Samuel Beckett Theatre Trust Award (OSBTTA), Scotland-based SUPERFAN perform Nosedive, a Barbican co-production, this November. Directed by Ellie Dubois and Pete Lannon, the production uses contemporary theatre and circus to look at how cooperation, trust and security shift at varying stages of life, especially as people get older.
A child climbs onto an adult's shoulders and they look out, seeing hope but also destruction. One generation after another reaches higher, looks further, hurtling toward a future they can't control. Pushing themselves to the limit, dancing with abandon, colliding with one another, children and adults perform feats and leaps that grow ever bolder and more impressive, revealing an intricate and resilient bond. As their roles are subtly reordered, this intergenerational show becomes an unlikely metaphor for considering age, pitting the instinct to protect the young against the wild abandon and joy of childhood.
The Pit is transformed into a minimalist, futuristic performance space, in which SUPERFAN asks timely questions of the roles children must take on in society, and the pressures placed upon young people.
Nosedive is performed by JD Broussé, Albie Gaizley-Gardiner, Lachlan Payne, Michelle Ross and Nikki Rummer.
This year's OSBTTA mentor is award-winning director, writer and dramaturg Kirsty Housley (co-director of Complicite's The Encounter, dramaturg of Barbican and Sydney Theatre Company co-production, Avalanche: A Love Story).
Nosedive previews at Platform in Glasgow on Fri 1 and Sat 2 Nov before its run in The Pit. On Sat 9 and Sun 10 Nov, SUPERFAN lead a Weekend Lab, looking at the themes in Nosedive and exploring the company's approach to creating intergenerational performance work. There is a captioned and chilled performance on Wed 13 Nov and an audio-described performance on Fri 15 Nov 2019.
The Oxford Samuel Beckett Theatre Trust Award (OSBTTA) supports the development of emerging practitioners engaged in bold, challenging and innovative performance. Since 2007, the Barbican and the OSBTTA have worked together annually to stage a new production, based on a prize-winning proposal, for The Pit or a site-specific location. Previous winners include Alan Fielden with JAMS, Mars.tarrab, Nigel Barrett and Louise Mari, Dickie Beau, Davy & Kristin McGuire and You Me Bum Bum Train.
Ellie Dubois is an award-winning artist who trained at the National Centre for Circus Arts and whose work, combining contemporary performance and circus, is reinventing traditional notions of what circus can be. Recent work includes Little Top, a circus show for 0-18 months and their adults which was presented as part of the Made in Scotland showcase at the Edinburgh Fringe Festival in 2019. Named as one of the British Council's 'Artists to Watch' her former work includes No Show – an all-female feminist deconstruction challenging expectations of female circus performers – winner of a Herald Angel Award and nominated for a Total Theatre Award. Dubois' circus show, Ringside, created for one audience member at a time, won the Autopsy Award for experimental performance.
Pete Lannon is a performer and director based in Glasgow. He creates playful, often highly physical performances for adult and young audiences. He is a current Imaginate Accelerator Artist and an associate artist at Platform. He was previously a BBC Performing Arts Fund theatre fellow with Imaginate and Catherine Wheels. Recent work includes Like Animals, a show inspired by true stories of female scientists doing language experiments on male animals, which premiered at Summerhall during the Edinburgh Festival Fringe 2019. Upcoming work includes Stuntman, a visceral, funny and moving duet between two men who wrestle with their relationship to violence, action movies, and each other.
Freddie Todd Fordham, Communications Officer for Theatre and Dance: [email protected] or 020 7382 7399
Venue : The Pit
Dates : Thursday 7–Saturday 16 November 2019
Press night: Friday 8 November, 7.45pm