Press room
A leap into the void with Boy Blue – their new show, REDD, premieres at the Barbican this September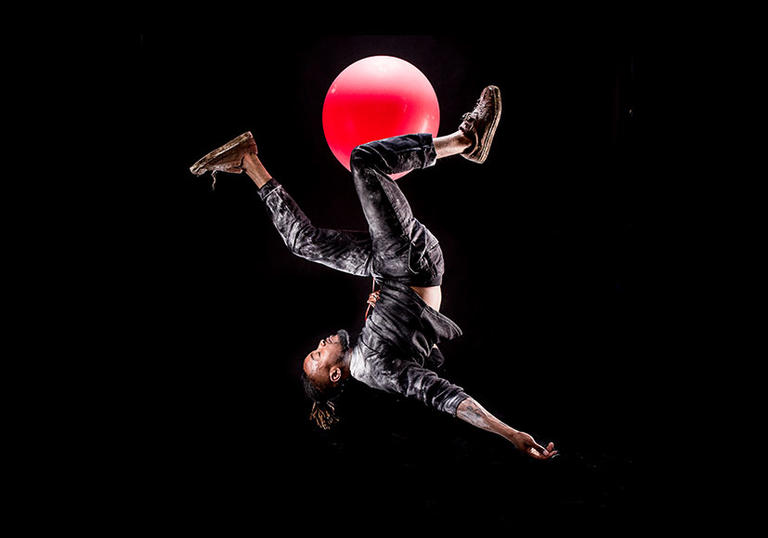 Boy Blue unveils world premiere of REDD at the Barbican
Barbican Artistic Associate Boy Blue follow the international triumph of Blak Whyte Gray with a Barbican commission and world premiere, REDD, about those irreversible moments in life and how they can affect people in different ways. Tickets go on sale to Barbican Members Plus today, to Barbican Members tomorrow and public booking opens on Friday 17 May.
All life is balance. With happiness and light must come darkness. Audiences are invited to take a leap into the void, as nine dancers begin an introspective journey exploring how, after trauma, inner peace may be found. Intrigued by how the mind seeks to put things in order (from the Gaelic verb 'redd'), Michael 'Mikey J' Asante and Kenrick 'H2O' Sandy contrast a lo-fi hip-hop score with powerful choreography in this new dance theatre work.
Concluding the run, REDD is followed by a BSI Jam: Beats, Streets & Inspiration on Saturday 5 October on Level -1 where Asante and guests play their favourite tunes.
REDD is part of the Barbican's September to December 2019 Theatre and Dance season. The full programme is announced on Tuesday 11 June 2019.
After the Barbican run, REDD is performed at Fairfield Halls, Croydon on Saturday 19 October as part of Dance Umbrella's Fairfield Takeover weekend.
Kenrick 'H2O' Sandy MBE, co-founder and co-artistic director of Boy Blue is one of the most renowned choreographers and performers in the UK urban, commercial and theatrical scenes. Despite only beginning his dance career aged 19, east Londoner Sandy's credits are extensive: as a choreographer he is responsible for the film R.E.B.E.L. (2018), Outliers (2018), the Olivier award-nominated Blak Whyte Gray (2017) which was staged twice at the Barbican before a national tour and performances in New York and Taiwan, The Five & the Prophecy of Prana (2013), A Night With Boy Blue (2018, 2016, 2015, 2013) and Olivier award-winning Pied Piper: A Hip-Hop Dance Revolution (2007). He also co-directed and choreographed Unleashed for the Barbican (2012).
Off the main stage, Sandy collaborated with director Danny Boyle for the London 2012 Olympic Opening Ceremony, winning the Evening Standard's Beyond Theatre award. They reunited in 2017 to film Emancipation of Expressionism – a set work on the GCSE Dance syllabus. On screen work includes choreography for The BAFTA Awards, All Stars and T2 Trainspotting, plus appearances on Street Dance 3D and the BBC's So You Think You Can Dance. Sandy has also created choreography for artists including FKA twigs and Rita Ora and brands including Nike, adidas and ASOS.
Sandy was an awarded an MBE for services to dance and the community in Her Majesty the Queen's 2017 New Year Honours list, an Honorary Fellowship (HonFGS) from the Guildhall School of Music & Drama in 2018 and was named by Time Out London and Hospital Club h.100 as one of the 100 most influential and innovative people working across the creative industries.
East London-born Michael 'Mikey J' Asante is a renowned producer, composer, singer, dancer and DJ, whose 20-year career is firmly etched in the UK urban music industry. As co-founder and co-artistic director of Boy Blue, founded in 2001 with Kenrick 'H2O' Sandy, Asante is credited with the direction and composition of the film R.E.B.E.L. (2018), Outliers (2018) – his musical debut in the Barbican Hall – Blak Whyte Gray (2017), The Five & the Prophecy of Prana (2013), Touch (2011), Legacy (2011) and Pied Piper: A Hip-Hop Dance Revolution (2007).
As a music producer, Asante has created music for films Street Dance 3D and All Stars, enjoying session work and production for major label artists including Delilah, Raleigh Ritchie, Estelle and George The Poet (for whose sold out Search Party tour he also delivered musical direction). His work over the years with Kano, a Mercury Prize and Brit Award Nominee, winner of the MOBO Best Album Award, put Asante on the map in 2005. Landing a publishing deal, he retired as a dancer to focus on creating longer pieces of music, taking hip-hop and Boy Blue's sonics, into a composer space.  Recent work includes Tree, a Kwame Kwei-Armah and Idris Elba creation for Manchester International Festival (with choreography by Gregory Maqoma, who brings his own dance company to the Barbican in the autumn as part of Dance Umbrella) and a collaboration with Brian Eno on Netflix's Top Boy.
Outside of the studio, Asante mentors and delivers masterclasses in directing, choreography and music and resides at Guildhall School of Music & Drama as a Professor of Electronic Music from where he was awarded an Honorary Fellowship (HonFGS) in 2018.
Listings information
REDD
Boy Blue
UK
Created and Directed by Kenrick 'H2O' Sandy and Michael 'Mikey J' Asante
Choreographed by Kenrick 'H2O' Sandy
Music by Michael 'Mikey J' Asante
Costumes by Ryan Dawson Laight
Dancers include Kenrick 'H2O' Sandy
Thu 26 Sep–Sat 5 Oct 2019
No performances on Sun 29 and Mon 30 Sep 2019
Barbican Theatre
7.45pm, 2.30pm on Sat 5 Oct 2019
Approximately 1 hour 30 mins/including an interval
Ticket prices: £16–£30 (£2 off top two prices for Thu 26 Sep 2019)
Age guidance: 12+ (contains dark themes)
Press night: Friday 27 September 2019, 7.45pm
Post-show talk: Tue 1 Oct 2019 (free to same-day ticket holders)
BSI Jam: Beats, Streets & Inspiration
Sat 5 Oct 2019
Level -1
£3 in advance; £5 on the door
Age guidance: 18+
Presented by the Barbican
Commissioned by the Barbican
Produced by Boy Blue
Co-produced by Lincoln Center's White Light Festival and HOME Manchester
Barbican performances presented in association with Dance Umbrella
Supported using public funding by Arts Council England
Angela Dias, Senior Communications Manager for Theatre and Dance: [email protected] or 020 7382 7168
Venue: Barbican Theatre
Dates: Thursday 26 September–Saturday 5 October 2019
Press night: Friday 27 September 2019, 7.45pm