Press room
A 22-piece band, 16 Dandy Minions, 6 knitters, 3 decades of song, one Taylor Mac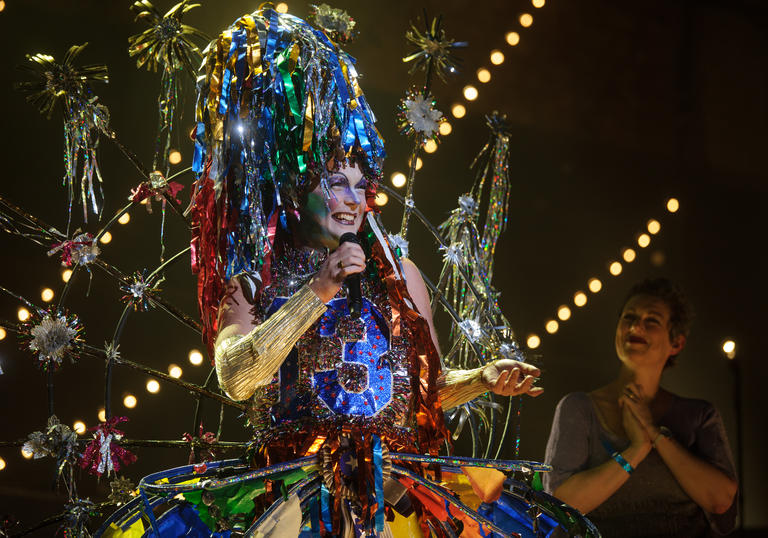 Taylor Mac
A 24-Decade History of Popular Music: The First Act
LIFT 2018
Barbican Theatre, Barbican Centre, Silk Street, London, EC2Y 8DS
Thursday 28–Saturday 30 June 2018, Barbican Theatre
Press night: Thursday 28 June 2018, 7.30pm
Please click here to request press tickets
This June, the Barbican brings Taylor Mac's A 24-Decade History of Popular Music: The First Act to the Theatre as part of LIFT 2018. Taylor Mac reframes the social history of America through three decades of song in this no-holds-barred extravaganza of music, art, activism and entertaining mass ritual. A 24-Decade History of Popular Music: The First Act is part of our 2018 Season, The Art of Change, which explores how artists respond to, reflect and can potentially effect change in the social and political landscape.
Joined onstage by a 22-piece orchestra and a host of special guests drawn from London's own performance community, New York's Taylor Mac has created a once-in-a-lifetime performance in a quest to chronicle how communities grow stronger as they are being torn apart.
Charting the years 1776–1806, Mac asks the audience to conspire with him to reimagine rebellions, revolutions, triumphs and tragedies. Pub song sing-alongs and subversive anthems are rearranged as musical mash-ups to take on a chapter of the defining early years of America's history. Exquisite costumes by Machine Dazzle change throughout the performance to evoke each decade.
Taylor Mac is a playwright, actor, singer-songwriter, performance artist, director and producer. Mac is a MacArthur Fellow and the recipient of multiple awards including the Kennedy Prize, a NY Drama Critics Circle Award, a Doris Duke Performing Artist Award, a Guggenheim, the Herb Alpert in Theater, the Peter Zeisler Memorial Award, the Helen Merrill Playwriting Award, two Bessies, two Obies, and an Ethyl Eichelberger Award.  An alumnus of New Dramatists, Mac is currently a New York Theater Workshop Usual Suspect and the resident playwright at the HERE Arts Center. The Pulitzer Prize-nominated A 24-Decade History of Popular Music premiered in its entirety at St Ann's Warehouse, New York in 2016, and Mac has since toured the production, in various formats, internationally. Mac presented an abridged version of A 24-Decade History of Popular Music at Hackney Empire to open LIFT 2016. In June 2017 Mac presented the UK premiere of Hir at the Bush Theatre.
The Barbican's 2018 season The Art of Change explores how the arts respond to, reflect and potentially effect change in the social and political landscape. The season sees the Barbican present bold artistic responses to vital global issues including feminism, climate change and human rights, while providing a platform for voices currently underrepresented in the arts. The season includes world-class music, theatre, dance, film, visual arts and learning and runs throughout 2018.
barbican.org.uk/whats-on/series/the-art-of-change
ENDS
Press information
For further information please contact:
Freddie Todd Fordham, Communications Officer for Theatre and Dance, 020 7382 7399 or freddie.todd-fordham@barbican.org.uk
For general enquiries relating to LIFT 2018
Philippa Redfern, 020 7831 7657 or philippa@thecornershoppr.com
Public information
Box office: 0845 120 7511
barbican.org.uk/theatre
Listings information
A 24-Decade History of Popular Music: The First Act
Taylor Mac
USA
Conceived and Co-Directed by Taylor Mac
Musical Direction and Arrangement by Matt Ray
Co-Direction by Niegel Smith
Costumes by Machine Dazzle
Lighting by John Torres
Dramaturgy by Jocelyn Clarke
Thu 28–Sat 30 Jun 2018 (3 performances)
Barbican Theatre
7.30pm
3 hours/the audience is invited to enter and exit at liberty during the performance
£16-60 plus booking fee
Age guidance: 16+
Press performance: Thu 28 Jun 2018, 7.30pm
BSL-interpreted performance: Sat 30 Jun 2018, 7.30pm
Presented by the Barbican and LIFT 2018
Produced by Pomegranate Arts and Nature's Darlings
This engagement is supported by Mid Atlantic Art Foundation through USArtists International in partnership with the National Endowment for the Arts, the Andrew W. Mellon Foundation and the Howard Gilman Foundation.
#TaylorMac
Barbican newsroom
All Barbican Centre press releases, news announcements and the Communications team's contact details are listed on our website at www.barbican.org.uk/news/home
About the Barbican
A world-class arts and learning organisation, the Barbican pushes the boundaries of all major art forms including dance, film, music, theatre and visual arts. Its creative learning programme further underpins everything it does. Over 1.1 million people attend events annually, hundreds of artists and performers are featured, and more than 300 staff work onsite. The architecturally renowned centre opened in 1982 and comprises the Barbican Hall, the Barbican Theatre, The Pit, Cinemas One, Two and Three, Barbican Art Gallery, a second gallery The Curve, foyers and public spaces, a library, Lakeside Terrace, a glasshouse conservatory, conference facilities and three restaurants. The City of London Corporation is the founder and principal funder of the Barbican Centre.
The Barbican is home to Resident Orchestra, London Symphony Orchestra; Associate Orchestra, BBC Symphony Orchestra; Associate Ensembles the Academy of Ancient Music and Britten Sinfonia, Associate Producer Serious, and Artistic Partner Create. Our Artistic Associates include Boy Blue, Cheek by Jowl, Deborah Warner, Drum Works and Michael Clark Company. International Associates are Royal Concertgebouw Orchestra of Amsterdam, New York Philharmonic, Los Angeles Philharmonic, Gewandhaus Orchestra Leipzig and Jazz at Lincoln Center.
Find us on Facebook | Twitter | Instagram | YouTube | Spotify
About LIFT
LIFT travels the world to bring global stories to the UK, creating spectacular performances and moments of magic in major arts venues, theatres and galleries, but also in countless unexpected spaces and places. For over 37 years, LIFT has commissioned a biennial London-wide festival running through the month of June, engaging with the big ideas of our time, and revealing the stories and communities of the UK's incredibly diverse capital. The recently announced programme for 2018's festival works with world-class artists, whose radical imaginations create exceptional work questioning the nature of theatre. Beyond the festival, LIFT produces year-round activity including large scale projects, artist residencies, national touring and a programme of ground-breaking participatory work. www.liftfestival.com | @LIFTfestival