Jazz at Lincoln Center Orchestra with Wynton Marsalis comes to the Barbican in February 2018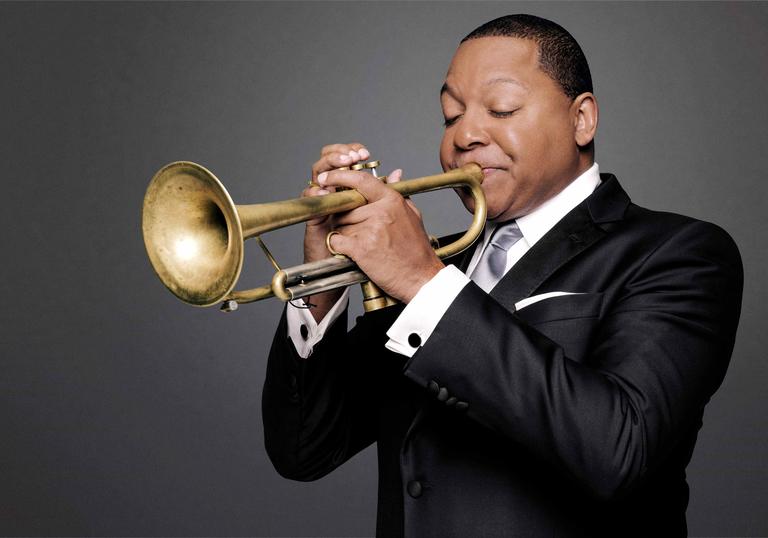 The world-renowned JLCO, led by managing and artistic director Wynton Marsalis, are the Barbican's International Associate Ensemble. They return to the Centre for a residency from 27 Feb–1 Mar 2018.  
The residency provides an opportunity to experience fifteen of America's finest soloists, ensemble players, and arrangers in jazz music today in concerts, workshops and masterclasses. JLCO often honour the iconic artists, albums, movements and events that left distinctive marks on the jazz scene, and the residency in 2018 celebrates two game changers of modern music: "King of Swing" American clarinettist and bandleader Benny Goodman, and master educator, composer and musical thinker Leonard Bernstein.
The residency opens on Tuesday 27 February 2018, with a concert recreating Benny Goodman's legendary debut at New York's prestigious Carnegie Hall on 16 January 1938 – the first interracial concert in the hall, and a watershed moment in American music history. This concert forms part of the Barbican's 2018 Season, The Art of Change, which explores how artists respond to, reflect and can potentially effect change in the social and political landscape.
Goodman was a classically trained Jewish clarinet prodigy from Chicago who became a jazz and swing musician and bandleader, known as the "King of Swing". In the mid-1930s, against a backdrop of racial segregation, Goodman led one of the first well-known racially integrated jazz groups and his big band plus guest soloists were invited to play a jazz concert in New York's Carnegie Hall. This landmark performance in the American temple of classical music on 16 January 1938 was in many ways a "debut" of jazz itself, as Goodman led one of the first well-known racially integrated jazz groups on a stage of unparalleled prestige, introducing the public to real jazz elements and extensive improvisation, to an ecstatic response. AllMusic has described his concert as "the single most important jazz or popular music concert in history: jazz's "coming out" party to the world of "respectable" music".
Revisiting the spirit of the event, the JLCO, with UK guests Clare Teal (singer), Giacomo Smith and Adrian Cox (clarinets), will perform pieces straight from the set list of that historic evening at Carnegie Hall in 1938, including material by those made famous by Goodman himself: Count Basie, Duke Ellington, George Gershwin, Fats Waller, Louis Prima, and more. The programme will feature new and classic arrangements, blistering solos, and a new take on the mid-concert jam session that went down in history.
In the second event of the residency, on Wednesday 28 February 2018, Jazz at Lincoln Center Orchestra pay tribute to another musical all-rounder, Leonard Bernstein. Composer and arranger Richard DeRosa, nominated for a Grammy for Best Instrumental Composition in 2016, will work with JLCO lead trombonist Vincent Gardner to craft unique arrangements of Bernstein's music for the Orchestra, including classics like West Side Story and Candide, as well as unexpected gems from Bernstein's vast repertoire. Inspired by the composer's informative approach to music, JLCO will also provide insightful background about Bernstein himself and the musical selections presented.
A testament to the Barbican, the Guildhall School and JLCO and Marsalis' ever-expanding mission of teaching young people democracy and freedom of expression through jazz and improvisation, Thursday 1 March 2018 sees young musicians from the Guildhall Jazz Orchestra, NYOS Jazz Orchestra and the Jazz at Lincoln Center Youth Jazz Orchestra with JLCO saxophonist Ted Nash and New York trumpeter Tatum Greenblatt come together at Milton Court Concert Hall. The event, entitled Miles Ahead, will be a showcase of what could be the future of Jazz. The concert will celebrate collaboration and feature music from Miles Davis and Gil Evans' seminal work Miles Ahead in a programme of material that continues to inspire young musicians. This will be the first visit to the UK and debut performance at the Barbican from the Jazz at Lincoln Center Youth Orchestra.
The 2018 Jazz at Lincoln Center Orchestra with Wynton Marsalis Barbican residency will also feature behind the scenes workshops and masterclasses with the aforementioned orchestras, providing an in depth opportunity for young people from the UK to work with these fantastic musicians.
The Barbican FreeStage will host a next generation jam session before each concert in the Hall, which sees young musicians from JLCYO, NYOS and Guildhall Jazz Orchestras presenting a set of jazz standards, curated by professors at the Guildhall School and featuring guest artists from Scotland and New York.
LISTINGS
Jazz at Lincoln Center Orchestra with Wynton Marsalis
Benny Goodman: King of Swing
Tuesday 27 February 2018 / Barbican Hall / 20:00
Tickets £30 – 45
Find out more
Part of The Art of Change
Jazz at Lincoln Center Orchestra with Wynton Marsalis
Leonard Bernstein at 100
Wednesday 28 February 2018 / Barbican Hall / 20:00
Tickets £30 – 45
Find out more
Miles Ahead: Guildhall Jazz Orchestra and special guests Jazz at Lincoln Center Youth Jazz Orchestra and NYOS Jazz Orchestra
Thursday 1 March 2018 / Milton Court Concert Hall / 19:00
Tickets £8
Find out more
ENDS
Notes to Editors
Barbican Box Office: 0845 120 7550
www.barbican.org.uk
Press Information
For any further information, images or to arrange interviews, please contact the Barbican's music media relations team:
Sabine Kindel, Senior Communications Manager
t - +44 (0)20 7382 7090
e – sabine.kindel@barbican.org.uk
Sean Harwood, Communications Manager
t - +44 (0)20 7382 6199
e – sean.harwood@barbican.org.uk
Rachel Coombes, Communications Officer
t - +44 (0)20 7382 6196
e – rachel.coombes@barbican.org.uk
About the Barbican
A world-class arts and learning organisation, the Barbican pushes the boundaries of all major art forms including dance, film, music, theatre and visual arts. Its creative learning programme further underpins everything it does. Over 1.1 million people attend events annually, hundreds of artists and performers are featured, and more than 300 staff work onsite. The architecturally renowned centre opened in 1982 and comprises the Barbican Hall, the Barbican Theatre, The Pit, Cinemas 1, 2 and 3, Barbican Art Gallery, a second gallery the Curve, foyers and public spaces, a library, Lakeside Terrace, a glasshouse conservatory, conference facilities and three restaurants. The City of London Corporation is the founder and principal funder of the Barbican Centre.
The Barbican is home to Resident Orchestra, London Symphony Orchestra; Associate Orchestra, BBC Symphony Orchestra; Associate Ensembles the Academy of Ancient Music and Britten Sinfonia, Associate Producer Serious, and Artistic Partner Create. Our Artistic Associates include Boy Blue, Cheek by Jowl, Deborah Warner, Drum Works and Michael Clark Company. The Los Angeles Philharmonic are the Barbican's International Orchestral Partner, the Australian Chamber Orchestra are International Associate Ensemble at Milton Court and Jazz at Lincoln Center Orchestra are International Associate Ensemble.
Find us on Facebook | Twitter | Instagram | YouTube | Spotify
The Art of Change
The Barbican's 2018 season The Art of Change explores how the arts respond to, reflect and potentially effect change in the social and political landscape. The season sees the Barbican present bold artistic responses to vital global issues including feminism, climate change and human rights, while providing a platform for voices currently underrepresented in the arts. The season includes world-class music, theatre, dance, film, visual arts and learning and runs throughout 2018.
barbican.org.uk/whats-on/series/the-art-of-change
The mission of Jazz at Lincoln Center is to entertain, enrich and expand a global community for Jazz through performance, education and advocacy. With the world-renowned Jazz at Lincoln Center Orchestra and guest artists spanning genres and generations, Jazz at Lincoln Center produces thousands of performance, education, and broadcast events each season in its home in New York City (Frederick P. Rose Hall, "The House of Swing") and around the world, for people of all ages. Jazz at Lincoln Center is led by Chairman Robert J. Appel, Managing and Artistic Director Wynton Marsalis, and Executive Director Greg Scholl. Please visit us at jazz.org; follow us on Twitter @jazzdotorg and Facebook; watch our free, global webcasts at new.livestream.com/jazz; and enjoy concerts, education programs, behind-the-scenes footage, programs and more at youtube.com/jazzatlincolncenter.
Guildhall School of Music & Drama
The Guildhall School is a vibrant, international community of young musicians, actors and theatre technicians in the heart of the City of London. Twice-rated No.1 specialist institution in the UK by the Guardian University Guide, and recently selected as one of the top ten institutions for performing arts in the world (QS World University Rankings 2016), the School is a global leader of creative and professional practice which promotes innovation, experiment and research, with over 900 students in higher education, drawn from nearly 60 countries around the world. It is also the UK's leading provider of specialist music training at the under-18 level with nearly 2,500 students in Junior Guildhall and Centre for Young Musicians. The School is widely recognised for the quality of its teaching and its graduates, and its new building, Milton Court which opened in September 2013, offers state-of-the-art facilities to match the talent within its walls, ensuring that students enter their chosen profession at the highest level. Milton Court is part of the unique Guildhall School/Barbican partnership delivering world-class arts and learning.
Led by Malcolm Edmonstone, the Jazz Department at the Guildhall School offers some of the most established and renowned jazz training in the UK, with the chance to study broader musicianship skills alongside those essential to a career in jazz. gsmd.ac.uk  
NYOS Jazz Orchestra is Scotland's foremost youth jazz ensemble performing throughout the UK at high profile jazz venues and festivals.
Under the direction of Malcolm Edmonstone and Andrew Bain, NYOS Jazz Orchestra provides education, performance experience and the opportunity to learn from and play with world-class soloists. To date, the Jazz Orchestra has undertaken new commissions, made studio recordings, performed at International Jazz Festivals and worked with international guest artists including Liane Carroll, Iain Ballamy, Mike Walker & Iain Dixon, Chris Batchelor, Mark Lockheart, Jacqui Dankworth and Duncan Lamont.
Malcolm Edmonstone Music Director
Andrew Bain Principal Conductor
Find us on Facebook | Twitter | Instagram | YouTube | Soundcloud
Sabine Kindel, Senior Communications Manager: t - +44 (0)20 7382 7090 e – sabine.kindel@barbican.org.uk
Sean Harwood, Communications Manager : t - +44 (0)20 7382 6199 e – sean.harwood@barbican.org.uk
Rachel Coombes, Communications Officer: t - +44 (0)20 7382 6196 e – rachel.coombes@barbican.org.uk