Digital Programmes
Errollyn Wallen: Dido's Ghost
Start time: 8pm
Approximate running time:  mins, no interval
Please note all timings are approximate and subject to change. 
This performance is subject to government guidelines.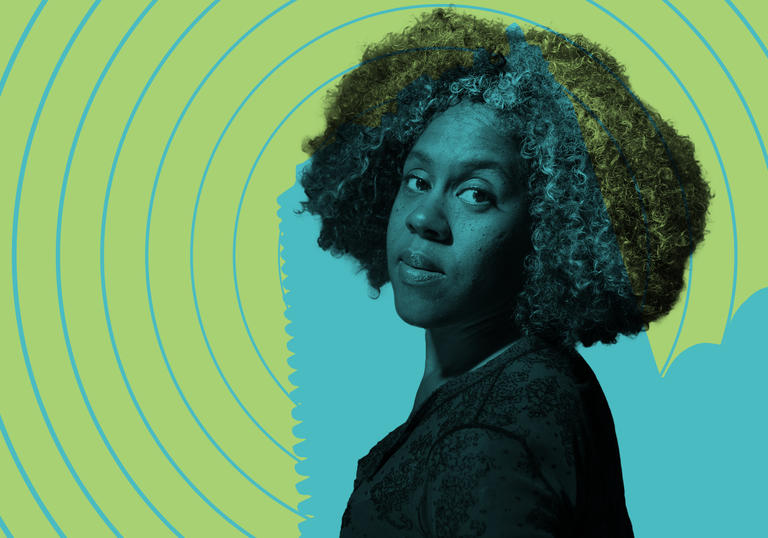 Composer Errollyn Wallen offers some insight into how a new opera is born in the 21st century.
Ideas for operas drop in my email inbox on a weekly basis and I, myself am always dreaming about possibilities for all kinds of dramatic setting.
It is one thing to have a great idea, but quite another to realise that idea to its full potential. Some notions seem so captivating initially but in the cold light of investigation they simply wither away. 
As anyone who has ever created any aspect of any opera, knows, it is a life-shortening exercise – and a task that is never quite over. At each reading, listening, rehearsal and production there is so much more to discover, so much more to adapt for the performer or performing situation. Yet opera is such an addictive artform, not least for the illuminations which collaboration offers.
In December 2019, Paul Keene, then Classical Music Programmer at the Barbican, gave us the green light to turn a ten year old hunch into reality. Wesley Stace (in Philadelphia) and I (in the Scottish Highlands), have spent the last eighteen months hungrily walking back and forth in time, with Virgil, Ovid, Purcell, Tate and Ursula LeGuin by our side – shaking awake the dead until they revealed their secrets. As a composer I am used to interrogating composers long gone (for me that is the essence of composing) but these particular encounters with the past have led us to understand anew the stories which endure across cultures and time.
There has been no better group of people to work with than the team who have brought Dido's Ghost to life – of all the previous (nineteen) operas I've composed I never knew it could be this good. To have had the imagination, support and patience of such remarkable people has opened a door to new possibilities. Together, Wesley Stace, John Butt, Frederic Wake-Walker and I have made a little bit of history. 
You will hear echoes and pre-echoes in the libretto, music and instrumentation which blur the demarcation between antiquity, eighteenth and twenty-first century sensibilities. You will witness the wildest combination of music styles and performance practice from different cultures. You will hear and feel blistering emotion alongside icy detachment. You will apprehend the work of two pairs of librettists and composers with three centuries between them. But all you really have to remember is this: four creators have toiled in the service of commemorating what it is to be human – and what it is to love. 
Start time: 8pm
Approximate running time: 90 mins, no interval
Please note all timings are approximate and subject to change. 
This performance is subject to government guidelines.
Eighteen months after Aeneas's arrival in Italy.
There is a storm.
Aeneas meets Dido in the underworld. He beckons to her but she turns away without word.
 
Aeneas and his son Ascanius are walking by the shore where they find a woman, narrowly escaped from drowning. Aeneas mistakes her for Dido, but it is her sister Anna who explains how she has come to wash up on their shore, a refugee. 
Aeneas offers her the comfort of his palace and sends Ascanius on with news of their imminent arrival. 
 
The court welcomes Anna. The chorus sings of the founding of the new kingdom in Italy, and introduce Lavinia, Aeneas' wife. Aeneas asks his queen to welcome Anna as a sister, but Lavinia is wary, knowing Dido's hold on her husband's heart.
At the banquet, talk turns to the past. Aeneas tells of the mythic world to which he and Anna belonged. His was a divine mission; now the Gods are silent and there is nothing left for him. 
Lavinia is disquieted. As rumour flies around the table, Juno possesses her with jealousy as Anna tells the true story of Dido's death. Lavinia presents an entertainment: a performance of Purcell's Dido and Aeneas that soon exercises a supernatural hold over its audience.
Belinda (the Spirit of the Theatre) beckons Anna onstage to assume the role of "Dido". When Aeneas becomes "Aeneas", they act out their love story, a manifestation of Lavinia's greatest fears that she is condemned to watch from the audience. As her thoughts turn murderous, she plots with Elymas, her spy.
Encouraged by the Sorceress, who directs his performance exclusively to Lavinia, goading her on, the Queen herself steps into the drama as the Spirit of the Sorceress to give Aeneas his instructions to leave Dido. Aeneas is left alone onstage as performance and real life melt into each other. The sailors enter to bring him back to his senses, to persuade him to leave on his mission.
As Anna sleeps, the Sorceress, the Spirit and witches revel in her destruction and exit triumphant. Anna wakes with a start: she dreamed that her sister's ghost commanded her to flee or face death at the hands of Lavinia. She takes flight.
Dido's Ghost appears to a terrified Aeneas, who assumes she is there for revenge on him. But the ghost tells Aeneas she is there only to save her sister, who has run to the river Numicus. If he assures Anna's safe passage, she will lift her curse on the Trojan race. Aeneas begs the Ghost to stay, but she leaves him. He has one final mission.
There is a disturbance: Lavinia and her henchmen discover that Anna has fled. Guards leave to hunt her down, but Aeneas breaks Lavinia's spell, explaining that she has been possessed by jealousy just as Dido was once possessed by love. 
The chase is on.
 
Anna's footprints disappear by the river. Has she drowned? Aeneas assumes she has tried to swim across and, commanding the guards to return to the palace, prays for a sign to reveal her fate.
At this, the river stops flowing. Anna, reunited with Dido, rises from its depths. The river Numicus has offered them safe harbour in its sacred stream. They are Gods now, eternally entwined as one, immortal. 
Aeneas is left alone onstage; the curse on the Trojan race is lifted, but facing the past has cost him everything.
© Wesley Stace
Programme and Performers
Programme
Errollyn Wallen Dido's Ghost* (world premiere, staged concert performance)
Henry Purcell Dido and Aeneas
*Co-commissioned by the Barbican, Buxton International Festival, Dunedin Consort, Edinburgh International Festival, Mahogany Opera, & Philharmonia Baroque Orchestra and Chorale
Performers and creative team
Isabelle Peters Dido/Anna
Matthew Brook Aeneas
Nardus Williams Belinda
Allison Cook Spirit/Lavinia
Henry Waddington Sorcerer/Elymas
David Lee Ascanius
Jessica Leary Second Woman
Jessica Gillingwater First Witch
Judy Louie Brown Second Witch
Dunedin Consort
John Butt conductor
Wesley Stace libretto
Frederic Wake-Walker direction
Anna Jones designer
Sarah Playfair casting
Caroline Moores stage manager
Eli Banfield assistant stage manager
April Audiger assistant director
Lucy Pandza wardrobe supervisor
Beth Tarbutt costumer maker
Maya Lohse prop maker
Andrew Kingsmill surtitles
 
Errollyn Wallen is a Belize-born British composer whose acclaimed works are performed internationally and whose CDs have travelled to outer space. This 'renaissance woman of contemporary British music' (The Observer) – is as respected as a singer-songwriter as she is a composer of ground-breaking contemporary new music. The motto of Errollyn's Ensemble X, 'we don't break down barriers in music… we don't see any', reflects her genuine, free-spirited approach. Hugely in demand, her commissions have ranged from television game shows to the Royal Opera House, for BBC's The Last Night of the Proms (2020), Dunedin Consort, Leipzig Ballet and, the pop band, Clean Bandit. Her most recent EP, Peace on Earth was released by the Choir of King's College, Cambridge. This summer includes two world premieres – Dido's Ghost at the Barbican and After Winter at Spitalfields Festival and a concert of her music at Wigmore Hall. Errollyn has won numerous awards for her music including the Ivor Novello Award for Classical Music and recently the ISM Distinguished Musician Award. In 2007 she was awarded an MBE and in 2020 awarded a CBE, both for services to music.
British Soprano, Isabelle Peters, began her studies at the Royal Northern College of Music before joining the masters programme at the Guildhall School of Music and Drama. Isabelle is a current Welsh National Opera Associate Artist for their 2020/22 seasons and looks forward to singing the roles of Zerlina (Don Giovanni), Berta (Il barbiere di Sivilglia), and Nadine (Migrations) during her time with the company. Her recent roles include Fiordiligi (Cosí fan tutte, Waterperry Opera), 1st Bridesmaid (The Marriage of Figaro, English National Opera), Pamina (Die Zauberflöte, Waterperry Opera) and Erste Dame (Die Zauberflöte, Cover/Performed 'Opera First', Garsington Opera). Isabelle was an English National Opera Fellow for their 2019/20 season where she covered the roles of Yum-Yum (The Mikado) and Frasquita (Carmen). She was a 2020 Royal Over-Seas League Annual Music Competition Finalist, winner of the Franz-Schubert-Institut Lieder Competition and Chartered Surveyors' Vocal Prize, and a Help Musicians UK supported artist during her studies at the GSMD. In the coming months, Isabelle will appear as an Opera Holland Park Young Artist in the role of Barbarina (Le nozze di Figaro, Opera Holland Park) and perform the role of Swaharaga in Nigel Osborne's Naciketa (Opera Circus, Queen Elizabeth Hall).
Matthew Brook has appeared widely as a soloist, and has worked extensively with conductors such as Sir John Eliot Gardiner, Richard Hickox, Sir Charles Mackerras, Harry Christophers, Christophe Rousset, Paul McCreesh and Sir Mark Elder.
Recent and future highlights include the role of Aeneas in the world premiere of Errollyn Wallen's Dido's Ghost, Purcell's The Fairy Queen and Dido and Aeneas with the Handel and Haydn Society, Bach's St John Passion with the St Paul Chamber Orchestra, Haydn's Creation and Mendelssohn's Elijah with the City of Birmingham Symphony Orchestra, Il Re di Scozia Ariodante with the Staatstheater Stuttgart, and on tour with The English Concert, Argante Rinaldo with Ópera de Oviedo, Claudio Agrippina at Teatro de la Maestranza, Handel's Messiah with Les Violons du Roy in Québec and the Ottawa National Arts Centre Orchestra, a tour of Bach cantatas with the Monteverdi Choir and Sir John Eliot Gardiner, and with the Nederlandse Bachvereniging and with Early Music Vancouver, Elgar's The Dream of Gerontius with the Indianapolis Symphony Orchestra, Tippett's A Child of Our Time at Festival St Denis, and the roles of Herod and Father in Berlioz's L'Enfance du Christ with the Melbourne Symphony Orchestra and Sir Andrew Davis.
Hailed as 'one to listen out for' (The Guardian), Soprano Nardus Williams is establishing herself as one of the most exciting British singers of her generation. A current English National Opera Harewood Artist, highlights of the 2020/21 season include Countess Le Nozze di Figaro (Opera Holland Park), Mimi La bohème (English National Opera's Drive & Live), Ciboulette In the Market for Love (Glyndebourne Tour), and the world premiere of Belinda Dido's Ghost (Barbican). Williams will make her much anticipated return to the Glyndebourne tour in 2021/22 as Anne Trulove The Rake's Progress. Recent highlights for Williams include Micaëla Carmen (English National Opera), Armida Rinaldo (cover) and Adina L'elisir d'amore (cover) (Glyndbourne Festival Opera), Governess The Turn of the Screw (cover) (Garsington Opera), and Countess (cover) The Marriage of Figaro (English National Opera). On the concert platform, highlights include recitals for Oxford Lieder, Leeds Lieder, Wigmore Hall, St John's Smith Square, and Handel's Messiah at King's Place and English National Opera. Williams was a member of the Houston Opera Studio for the 2018/19 season and is a former Jerwood Young Artist at Glyndebourne. Williams trained at the International Opera School at the Royal College of Music where she was the sole recipient of the prestigious Kiri Te Kanawa Scholarship.
Allison Cook's reputation as one of today's foremost exponents of contemporary and 20th century repertoire has been firmly established through the recent creation of a range of formidable characters. Allison's interpretation of the Duchess in Thomas Adès's Powder Her Face has found a special place in her repertoire after tour-de-force performances in New York, Québec, Warsaw and Brussels. Other roles of note include Salome, Marie in Wozzeck, Judith in Bluebeard's Castle, Schoenberg's Erwartung, and Kaija Saariaho's Émilie.
This past season included Allison's return to The Royal Opera House, Covent Garden under Thomas Adès in the first ever staging of Gerald Barry's Alice's Adventures Underground as well as Judith in Bluebeard's Castle at the Enescu Festival under Cristian Mandeal, Saariaho's Émilie Suite with Gävle Symphony Orchestra and her return to Teatro alla Scala as the Marquise de Merteuil in Luca Francesconi's Quartett.
In the current season, Allison joins Opéra National de Lyon as Judith in Bluebeard's Castle and Opéra national de Lorraine as Mrs Grose in The Turn of the Screw. Further ahead Allison sings Brunelda in Haubenstock-Ramati's Amerika, in a production by Sebastian Baumgarten at Opernhaus Zurich, marking her house debut, and adds the role of Venus (Tannhäuser) to her repertoire.
Henry Waddington studied at the Royal Northern College of Music. He performs regularly with major UK opera companies as well as all over Europe.  His repertoire includes Baron Ochs / Der Rosenkavalier, the title role in Saul, Banquo / Macbeth, Colline / La bohème, Don Basilio / Il barbiere di Siviglia), Tutor / Le comte Ory, Publio / La clemenza di Tito, Plutone / Orfeo, Valens / Theodora, Leporello / Don Giovanni, Don Magnifico / Cenerentola, Don Fernando / Fidelio, Don Alfonso / Così fan tutte, Pallante / Agrippina, Frère Laurent / Roméo et Juliette and Quince and Bottom / A Midsummer Night's Dream.
His recent and future operatic engagements include Jupiter / Castor and Pollux, Sacristan / Tosca and Lt Ratcliffe / Billy Budd,  Dick Deadeye/ HMS Pinafore (ENO), Gianni Schicci (ROH), Bartolo / Figaro (WNO), Pallante (Gran Teatre del Liceu), Jakob Lenz (Staatstheater Stuttgart, La Monnaie and Deutsche Staatsoper Berlin),  Kothner / Die Meistersingers and Saul (Glyndebourne), Publio, Lodovico/ Otello, Don Magnifico, Bottom, Baron Ochs (Opera North), Quince (Glyndebourne),  Priest / Cunning Little Vixen and title role Falstaff (Garsington), Swallow / Peter Grimes (Aldeburgh), Bottom (New National Theatre, Tokyo), Gobrias / Belshazzar and Burgundy / King Lear (The Grange Festival), Baron Ochs (Norwegian Opera), and concert performances of Wozzeck with the Philharmonia under Esa Pekka Salonen in Europe and the US, Messiah (Philadelphia Orchestra, Ulster Orchestra, Royal Northern Sinfonia and the Cleveland Orchestra), Beethoven 9 (Classical Opera Company) and The Creation (Huddersfield Choral Society).
Dunedin Consort is one of the world's leading baroque ensembles, recognised for its vivid and insightful performances and recordings. Formed in 1995 and named after Din Eidyn, the ancient Celtic name of Edinburgh Castle, Dunedin Consort's ambition is to make early music newly relevant to the present day. Under the direction of John Butt, this has seen the ensemble earn two coveted Gramophone Awards – for the 2007 recording of Handel's Messiah and the 2014 recording of Mozart's Requiem – and a Grammy nomination. In 2018 it was shortlisted for a Royal Philharmonic Society Ensemble award.
Dunedin Consort performs regularly at major festivals and venues across the UK, giving its BBC Proms debut in 2017 with a performance of Bach's John Passion. In the same year, Dunedin Consort announced its first residency at London's Wigmore Hall, complementing its regular series of events at home in Scotland, as well as throughout Europe and beyond. It enjoys close associations with the Edinburgh International Festival and Lammermuir Festival, and broadcasts frequently on BBC Radio 3, Classic FM and BBC Scotland. Its growing discography on Linn Records includes Handel's Acis and Galatea and Bach's Brandenburg Concertos, both nominated for Gramophone Awards. Other Bach recordings include Mass in B Minor, Violin Concertos, Magnificat, Christmas Oratorio, Matthew Passion and John Passion, which was nominated for a Recording of the Year award in both Gramophone and BBC Music Magazine. 
John Butt is Gardiner Professor of Music at the University of Glasgow, musical director of Edinburgh's Dunedin Consort and a Principal Artist with the Orchestra of the Age of Enlightenment. Author of five monographs, Butt has written extensively on Bach, the baroque, the historical performance revival and issues of modernity and music. 
His discography includes some twenty-five recordings as keyboard soloist or conductor. Highlights, as director of Dunedin, include the Gramophone award-winning recordings of Handel's Messiah and Mozart's Requiem. His performing career takes him across the world, including the US, Mexico, Hong Kong, Germany, France, Holland, Belgium, Malta, Spain and Norway. 
Wesley Stace was born in Hastings in 1965. Since 1988, he has released many albums under the name John Wesley Harding and recorded duets with, among others, Bruce Springsteen, Lou Reed and Rosanne Cash. His new album, Late Style, will be released this September. Stace has published four novels, including the international bestseller Misfortune, and recently co-wrote the choreographer Mark Morris's memoir Out Loud. He created Cabinet of Wonders, a monthly show that plays at New York City's City Winery, and which The New Yorker called 'one of the finest nights of entertainment this city has to offer'. He has taught at Princeton, Swarthmore and Fairleigh-Dickinson, and writes regularly for the Times Literary Supplement and the Wall Street Journal. He lives in Philadelphia.
Frederic Wake-Walker is a director and producer of opera, music theatre and multi-discipline performance. He is Artistic Director of Mahogany Opera with whom he has created a number of new works - Folie a Deux by Emily Hall and Sjon (Borealis Festival, Kulturhuset Stockholm, Sakrum Profanum Krakow, Spitalfields Festival London), Lost in Thought by Rolf Hind (Barbican London, Elbphilharmonie Hamburg), Mozart vs Machine by Dominic Robertson (Folkestone Fringe, High Tide Festival Aldeburgh, Sound Festival Aberdeen), On What Weft was Woven the Waters by Rolf Hind (Huddersfield Contemporary Music Festival) and The Mother by Laurence Osborn and Theo Merz (POSK London).
Previous projects with Mahogany of extant work include Gloria – A Pigtale by Gruber (Bregenz Festspiele, Linbury Studio ROH, Buxton Festival), The Church Parables by Britten (Hermitage St Petersburg, Aldeburgh Festival, Buxton Festival, City of London Festival), Bow Down by Birtwistle (Brighton Festival, Latitude Festival, Spitalfeilds Festival, Norfolk and Norwich Festival) and Laborintus II by Berio (LSO St Luke's), The Fox and The Bear by Stravinsky and Walton (The Village Underground).
He is also one of the team behind Mica Moca with whom he has curated and directed various large-scale multi-disciplinary performances such as Mica Moca – project Berlin 2011, Nature au Galop – Paris 2016, Tempelhofer Wald 2019 and worked with many artists including dancers Ahmed Soura, Minako Seki, Rosabel Huguet, video designer Sylwek Luszak and jazz musicians Sofia Jernberg, Johannes Lauer and Richard Koch.