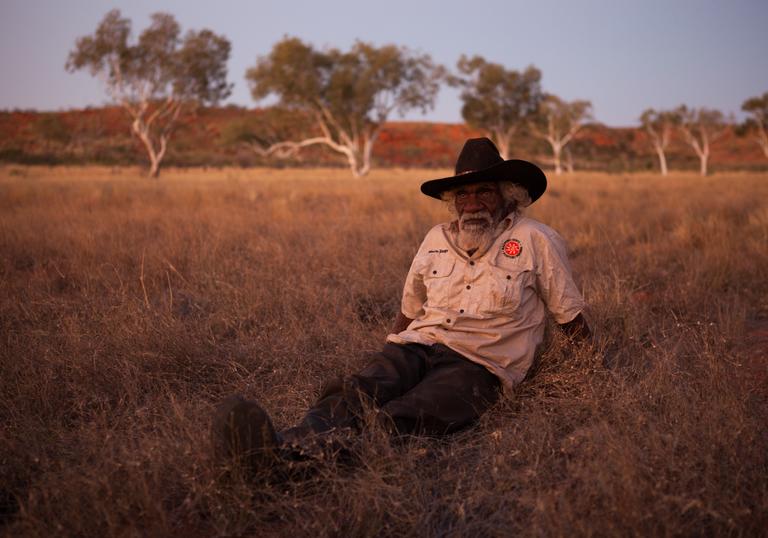 Cast & Creative team
Featuring
Nyarri Nyarri Morgan 
with narration by Curtis Taylor, Lynette Wallworth
Direction Lynette Wallworth
Producer Nicole Newnham
Associate Producer Nola Taylor
Director of Photography Patrick Meegan 
Editor Karryn de Cinque
Sound Recordist Liam Egan
Sound Design Tom Myers
Presented by the Barbican
Supported by the Skoll Foundation, Sundance Institute, The Ford Foundation/Just Films, MacArthur Foundation, World Economic Forum, Pritzker Foundation, Fledgling Fund, Adelaide Film Festival and Australia Council for the Arts
Developed through the Sundance Institute New Frontier | Jaunt VR Residency Program
About the film
'Ngaa-nga jarkulparna kartinpa yulubidyi, Jarmukurnu Yaparlyikurnu mirda kujtu ngaryukuju parlparryikujanumpa, yuwa palya.
This story I carry is until the end, from our Grandfathers and Grandmothers; not just my story alone, for everyone, thank you.'
Nyarri Nyarri Morgan
Emmy Award-winning VR film Collisions tells the story of Aboriginal elder Nyarri Nyarri Morgan. A Martu man from the remote Pilbara desert in Western Australia, he lived his early life with no knowledge or contact with Western culture. His world is all he knew.
Nyarri's first contact with Western culture came in the 1950s via a dramatic collision between his traditional world view and the cutting edge of Western science and technology when he witnessed a British atomic test in the Australian outback. Reflecting on this event, in this powerful immersive experience, Nyarri offers viewers his perspective on the impact of this world changing moment set against the Martu perspective of caring for the planet for future generations.
Nyarri is an elder who has seen his community through dramatic changes, a speaker of seven Western Desert languages, an artist whose work has been exhibited across the world and a man whose incredible story is now being shared in VR.
'Nyarri has waited a very long time to tell his extraordinary story.'
Lynette Wallworth
Discover
Lynette Wallworth recounts the creative process behind bringing Nyarri Nyarri Morgan's story to life through VR.
Inception
'I first heard of Nyarri's story four years ago on a hunting trip with the Martu women painters in the Western Desert. Hearing that I had been to Maralinga, where Britain tested atomic bombs in the 1950s, Nyarri's wife Nola turned to me at the campfire with what felt like an instruction… "You have to talk to Nyarri."
A year later I did just that and I heard a short powerful parable that Nyarri had waited almost his entire life to share. So this work was born, as a thought or an imagining. I hadn't yet experienced virtual reality and I was waiting to decide the form that would best suit this work. When I experienced my first VR film I knew how to make Nyarri's story exist again.
I love new technology. I love the moment when the viewer experiences a new sensation for the first time. I know that moment gets seared into memory. I also believe in the power of story to reshape us collectively. I think the two belong together.
Nyarri's world is only available to me through being invited, through this work that invitation is extended to you. The powerful sense of presence in VR makes everything personal. Nyarri knows who it is he is speaking to. He is speaking to you.
So this work is something of a gift sent from a private world. It contains an old story, held close till now. It is a technological message in a bottle sent out to a world that could enact a different future. It's a work that tries to do the hardest of things – to create a bridge between cultures in our shared homeland acknowledging our onward stewardship of this wonderful, wounded, resilient world.'
Lynette Wallworth
Production
Collisions, filmed on location in the remote Western Australian Desert, was a breakthrough production in live action virtual reality filming. Under Lynette Wallworth's direction, Jaunt VR's state of the art 3D 360 degree camera was attached to a drone, enabling breathtaking footage of the Pilbarra desert, Nyarri's community and the traditional mosaic pattern burning of the Martu people from the air. Nyarri and the Martu people took instantly to the virtual reality format, Nyarri noting 'the camera has 16 eyes.' 
Spectacular sound, recorded by Australian sound recordist Liam Egan on a quadrophonic microphone, was translated into an immersive sound design by Skywalker Sound's legendary designer Tom Myers. It was mixed at Skywalker Ranch in the first-ever Dolby Atmos mix there. Dolby coders were in the room as Myers and Wallworth worked, improving the code for Collisions so it could be finished in time for world premieres at Davos and Sundance. In recognition of this groundbreaking work, in 2017 Collisions was awarded an Emmy for Outstanding New Aproaches: Documentary.
Screenings
The presentation of Collisions was also filled with firsts, due to the vision and perseverance of Wallworth and producer Nicole Newnham. Working to enable Wallworth's vision of gifting, through virtual reality, a 'collective dream' to audiences at Davos and Sundance, the two worked with the LA-based studio Two Bit Circus who had developed a syncing technology for the Samsung Gear VR. Their tech allows all the phones to play in true sync, so that everyone enters and exits the immersive experience at the same time, enabling a shared experience. 
Wallworth and Newnham achieved the world's first synchronised screening at a scale of 75 headsets at the World Economic Forum in Davos for world leaders (in addition to a fixed installation of 15 synchronised headsets in the congress hall) and followed that with the first theatrical screening of a VR work in the Egyptian theater at the 2016 Sundance Film Festival, and in February of that year, Collisions was the first ever screening of a VR work at the Museum of Modern Art.
Visit the Life Rewired Hub
Explore Life Rewired through new writing, short films, talks, performances, workshops and residencies in our new pop-up space on Level G.
Biographies
Lynette Wallworth is an Emmy Award-winning Australian artist and director whose immersive installations and films reflect connections between people and the natural world. Her works use immersive environments, interactive technologies and narrative long-form to engage with viewers. Often engaged with emerging technologies, Wallworth has exhibited her work at Sundance Film Festival, New Frontiers since 2009. There she has shown her interactive installation Evolution of Fearlessness, a moving portrait of 11 women who lived beyond the state of fear, the full dome feature Coral: Rekindling Venus, which has an accompanying augmented reality poster collection, her VR work Collisions and VR work Awavena.
Wallworth's first documentary film Tender won the AACTA (Australian Academy of Cinema and Television Arts Awards) for best televised documentary and was nominated for a Grierson Award in the UK. Wallworth's work has shown at the World Economic Forum, Davos; Lincoln Center for the Performing Arts, the American Museum of Natural History, New York; Australian Centre for Contemporary Art, the Smithsonian, Royal Observatory Greenwich for the London 2012 Cultural Olympiad, Auckland Triennial, Adelaide Biennial, Brighton Festival, and the Vienna Festival among many others as well as various film festivals including the Sundance Film Festival, London Film Festival, Glasgow Film Festival, Sydney Film Festival, Adelaide Film Festival, and the Margaret Mead Film Festival. She has been awarded a UNESCO City of Film Award, the Byron Kennedy Award for Innovation and Excellence presented by George Miller, and in 2016 she was named by Foreign Policy magazine as one of the year's 100 Leading Global Thinkers. She is a Cultural Leader at the World Economic Forum and is a member of the World Economic Forums' Global Future Council on Virtual and Augmented Reality.
Nyarri Nyarri Morgan is a senior Martu elder, leader and artist whose paintings have been exhibited in Australia, Europe, and the United States. Nyarri speaks seven Western Desert languages.
Nyarri was born Myirr Myirr and walked around with his family in the desert of the Tri-State area until 1963 when he then came into contact with Len Beadell who was opening up the desert regions for the blue streak rocket tests. In the late 1970s, Martu people began reclaiming their homelands and Nyarri and his family started a camp at Parnngurr to protest a uranium mine against CRA. The families lived in humpies, and the first building they built in the new community was a school. This still thriving community is where Collisions is filmed.
Nicole Newnham is an Emmy Award-winning documentary producer and director, Sundance Film Festival alumnus and five time Emmy-nominee. She has worked on two collaborations with director Lynette Wallworth, Awavena and Collisions. She co-directed and produced The Revolutionary Optimists, winner of the Sundance Hilton Sustainability Award, and Sentenced Home, both of which aired on PBS' series Independent Lens. She also instigated, co-produced and directed the acclaimed documentary The Rape of Europa, about the Nazi war on European culture, which was nominated for a WGA award and shortlisted for the Academy Awards. Passionate about the possibility of leveraging powerful documentary stories for social change, she co-founded a story and data-mapping platform for youth to improve their own communities, called Map Your World.