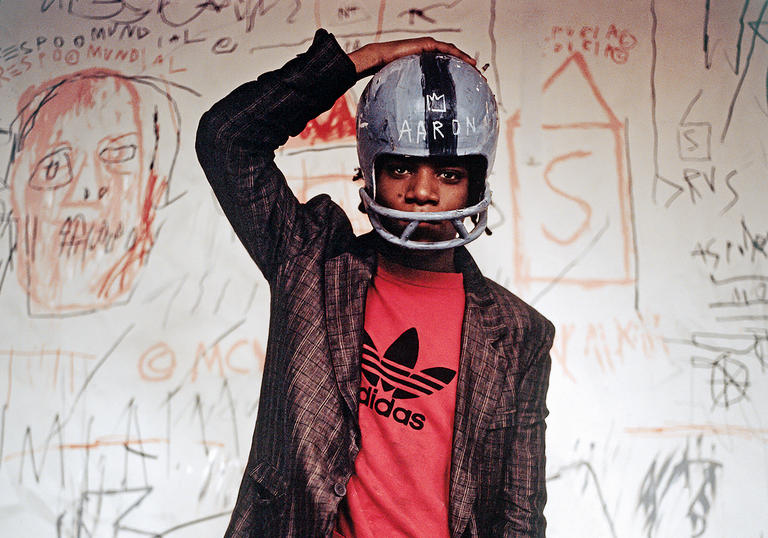 Events
The exhibition is accompanied by a rich programme of talks and events. 
Barbican Film Season 
The Grime and the Glamour: NYC 1976-90  
29 September — 5 October 2017 
New York in the 70s and 80s: a time of fear, poverty, uncertainty and unparalleled artistic freedom. With the earliest film in the season dating back to 1976, a year after the city's financial default, these movies capture a moment of significant historical change and creative energy in Jean-Michel Basquiat's hometown. 
 
The Grime and the Glamour line-up includes Susan Seidelman's Desperately Seeking Susan, with Basquiat's ex-paramour Madonna in her iconic turn as Susan; Jim Jarmusch's Permanent Vacation, which saw Basquiat himself using the film set as a makeshift crash pad; plus hip hop classic Wild Style, starring the legendary Fab 5 Freddy and Ramellzee, personal friends and musical collaborators with Basquiat. 
Other films in the season feature a host of classic NYC haunts frequented by the artist as a young man including CBGBs, Times Square and legendary nightspot Danceteria. Remembering CBGBs – A Triple Bill featuring Patti Smith, The Ramones, Talking Heads and Blondie; Smithereens (1982), starring Television frontman Richard Hell; Chantal Ackerman's hauntingly beautiful News From Home (1977); female erotic fantasy Variety (1984); conflicting portraits of the former Puerto Rican enclave now uber-hip Brooklyn neighbourhood Williamsburg in Los Sures (1984) + Living Los Sures; a documentary celebrating bohemian cabaret artiste and Warhol consort Tally Brown, New York (1979); an early offering from the cinematic king of New York's underbelly Abel Ferrara, Ms. 45 (aka Angel of Vengeance) (1981); and credited with capturing the last gasp of the downtown scene before its decline is Raul Ruiz's The Golden Boat (1990). 
Book tickets here. 
Barbican Theatre 
nitroBEAT – nitroBEAT Pit Party – Suckerpunch Boom Suite 
Friday 29 – Saturday 30 September 2017, The Pit 
Press performance: Friday 29 September 2017, 8pm 
Pioneering New York artist Jean-Michel Basquiat is the source of inspiration for this fluid theatrical gig, which unites a vibrant community of collaborators at the forefront of experimental sound, lyricism and physical poetry. 
This uplifting event sees theatre-makers, visual artists and performance poets draw on their past and present to envision a progressive future. Their pieces are set to free jazz, hip-hop, electronic and psychedelic funk played live by a band, engaging audiences in the party atmosphere. 
Influenced by Basquiat, Suckerpunch Boom Suite responds to some of the themes and deeper truths present in his work. In this spirit, nitroBEAT's Artistic Director Diane Morgan curates an evening that celebrates freedom of expression through contemporary black culture, cross-fertilisation, liberation and inclusivity. 
 
Barbican Music
A number of concerts at the Barbican feature the heady concoction of sonic influences that sound-tracked Basquiat's life. From jazz to disco via numerous subcultures of punk and no wave – these sounds intertwined, unravelled and cross-pollinated across New York during the 70s and 80s. These concerts are:
Jim Jarmusch Revisited
Featuring Mulatu Astatke, Camille O'Sullivan and Jolie Holland
Wednesday 20 & Thursday 21 September 2017 / Barbican Theatre / 19:30
Tickets £15 – 30 plus booking fee
The two upcoming Jim Jarmusch Revisited concerts in the Barbican Theatre are landmark UK premiere live tributes to the soundtracks of American independent director Jim Jarmusch's poetic films. A stellar cast including musicians Mulatu Astatke, Alex Kapranos, Camille O'Sullivan, Kirin J Callinan and Jolie Holland will revisit the sonic world of Jarmusch's cinema as well as the works of Tom Waits, Iggy Pop, Screaming' Jay Hawkins, Neil Young, John Lurie, Sqürl and more with specially curated new arrangements of the music. All backed by a house band, assembled by musical director David Coulter (saw, guitar, percussions) and alsofeaturing Terry Edwards (saxophones, trumpet), Dave Okumu (guitar), Steve Nieve (piano), Tom Herbert (bass), Seb Rochford (drums), Carla Pallone (violin) and Gaspar Claus (cello).
Book tickets here.
Kid Creole & The Coconuts / Arto Lindsay
+ Justin Strauss
Saturday 7 October 2017 / Barbican Hall / 19:30
Tickets £17.50 – 25 plus booking fee
The Barbican hosts an evening of music drawn from the life and times of American artist Basquiat featuring Kid Creole & the Coconuts and Arto Lindsay. Both musicians inhabited the same cultural sphere as Basquiat, namely New York city of the 70s and 80s. This concert will feature the heady concoction of influences running from jazz to disco via numerous subcultures of punk and no wave – sounds that intertwined, unravelled and cross-pollinated during this exceptionally creative period.
Kid Creole a.k.a. Bronx-born and raised August Darnell and his big band, the Coconuts, returns to the Barbican for the first time since 2010 with a selection of hits from the back catalogue. No Wave legend, New York icon Arto Lindsay also returns to the Barbican to present a new chapter of his genre-defying music career: the new album Cuidado Madame, mixing pop, noise and Brazilian reminiscences.
Additionally DJ Justin Strauss joins the evening's line-up. A former resident at NYC's infamous Mudd Club, Strauss soundtracked nights when Basquiat, Kid Creole and Arto Lindsay took to the dancefloor. Strauss' DJ set at the Barbican will further invoke the Basquiat era by recreating the vibe of Mudd Club and other Lower Manhattan haunts such as Area and Negril.
Produced by the Barbican in association with Como No
This concert coincides with an innovative programme of free events, installations and special performances during the day on Saturday 7 October, entitled Too Young for What?
Book tickets here.
 
Basquiat and Jazz
Featuring Black Top and guests
Friday 10 November 2017 / LSO St Luke's / 19:30
Tickets £15 – 25 plus booking fee
Performing under their collective alias Black Top, British vibraphonist and multi-instrumentalist Orphy Robinson is joined by regular collaborator and pianist Pat Thomas. The evening's performance offers a rich exploration of the cultural dynamic between Free-Jazz and the vividly resonant paintings of American artist Jean-Michel Basquiat. Introduced by writer and improvisation expert Francesco Martinelli – author of the catalogue essay 'Basquiat, Bird, Beat and Bop' - the concert welcomes further performers and collaborators in radical guitarist Jean Paul Bourelly, spoken word artist Anthony Joseph, and trumpeter Byron Wallen.
Jazz was a recurring theme in Basquiat's work. Pieces including 'Trumpet', 'Horn Players' and 'Charles the First' demonstrate his love of the genre whilst immortalising great players such as Charlie Parker and Dizzy Gillespie. Similarly, away from the canvas in Basquiat's occasional DJ sets at the legendary New York night club Area, he could be found playing records by jazz legends including John Coltrane.
Produced by the Barbican in association with Serious (part of EFG London Jazz Festival)
Book tickets here.
Video Jam x Basquiat
Basquiat-inspired short films with original scores performed live by Young Fathers, Ibibio Sound Machine and more 
Sunday 28 January 2018 / Barbican Hall / 20:00
Tickets £17.50 – £22.50 plus booking fee
Creative collective Video Jam curates a night of audio/visual performances inspired by the life and works of American artist, Jean-Michel Basquiat. This concert will also mark the finale of 'Basquiat: Boom For Real', the first large-scale exhibition in the UK of the work of the artist, opening at the Barbican Art Gallery on 21 September 2017. 
Video Jam has programmed a selection of both established and emerging musicians, and filmmakers, from the UK and New York. Musicians will compose original scores to the specially commissioned moving image works which will be performed live. Confirmed for this collaboration are Mercury Prize winners, Young Fathers, Ibibio Sound Machine and Seaming To. Meanwhile, participating filmmakers include Topher Campbell, Victoria Keddie and Haley Elizabeth Anderson. Further musicians to perform include Tombed Visions, RootsRaddix and Danalogue (Live) featuring Sarathy Korwar, Leafcutter John and Idris Rahman. Further commissioned film makers include Gabrielle Ledet & Jack Wedge, Scout Stuart and Ephraim Asili.
Following Video Jam's recent artist residency in New York filmmakers have been carefully selected by the Video Jam curators, taking into consideration the exhibition's focus, including Basquiat's relationship to music, literature, film and television, placing him within the wider context of the time. Their work covers a diverse range of genres - hand drawn animation, essay film, narrative, video art and more. The musicians chosen reflect Basquiat's diverse musical tastes - contemporary classical, bebop, jazz, hip hop, electronic and experimental noise.
Video Jam is an eclectic, cross cultural collaboration - combining film, video and live music. Emerging from the grassroots arts scene of Manchester in 2012 they have since presented projects and events at leading institutions including FACT (Liverpool), Whitworth Art Gallery (Manchester), the Knockdown Centre (Brooklyn NY) and Hyperlocal Festival (Argentina).
Produced by the Barbican in association with Video Jam
Find out more