Barbican Shop - Basquiat: Boom for Real retail range with fashion items, accessories, prints & art skateboards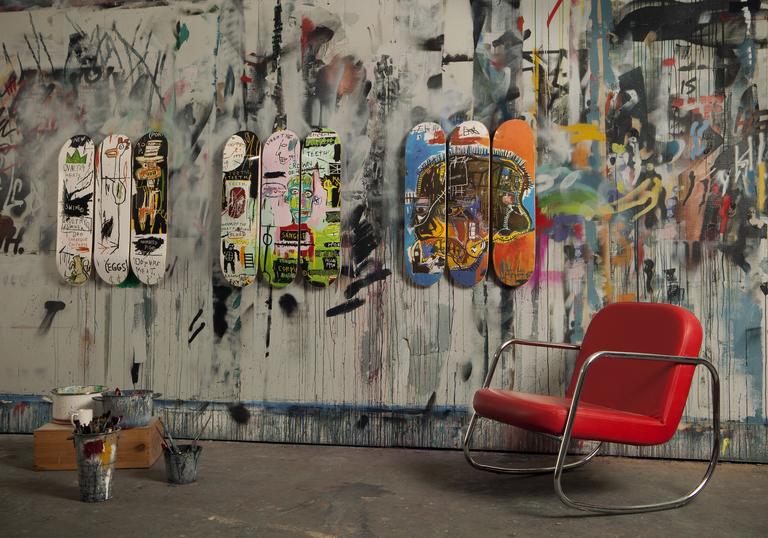 shop.barbican.org.uk
#BoomForReal
A collection of fashion items and accessories incorporating Jean-Michel Basquiat's work have been created especially for the Barbican to accompany Basquiat: Boom for Real - the first large-scale exhibition in the UK of the pioneering American artist. The retail range, available through the Barbican Shop, also includes the exhibition catalogue and Basquiat art skateboards from The Skateroom.
Basquiat: Boom for Real (Barbican Art Gallery, 21 September 2017 — 28 January 2018) is a major exhibition of work by Jean-Michel Basquiat (1960­-1988). One of the most significant painters of the 20th century, Basquiat came of age in the late 1970s in the post-punk underground art scene in downtown New York. His vibrant, raw imagery, abounding with fragments of bold capitalised text, offers insights into both his encyclopaedic interests and his experience as a young black artist with no formal training. Since his death in 1988, Basquiat has had remarkably little exposure in the UK; not a single work of his is held in a public collection. Drawing from international museums and private collections, Basquiat: Boom for Real brings together an outstanding selection of more than 100 works, many never seen before in the UK.
The range has been developed in collaboration with Artestar, a global brand licensing and creative consultancy representing elite art, fashion and design brands.
The collection is also available to purchase online: shop.barbican.org.uk
John Kelly, Communications Assistant: 0207 382 2389, john.kelly@barbican.org.uk