Barbican Cinema: Cinema Matters Part 5: Collective Visions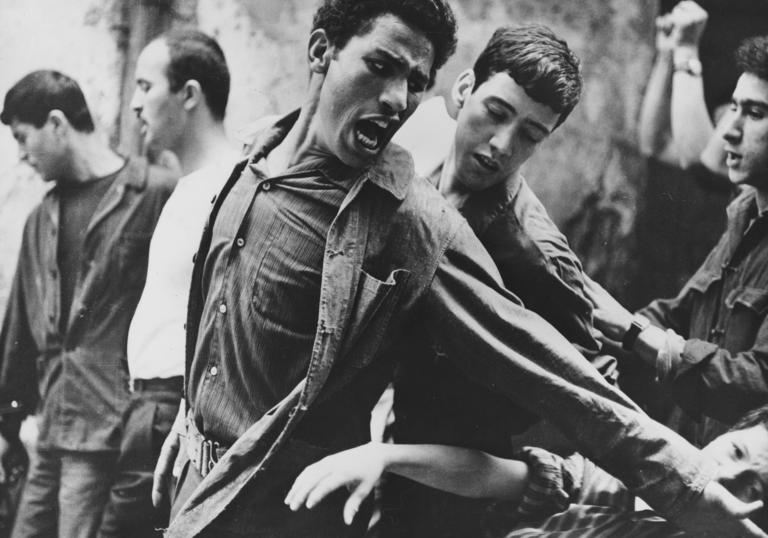 Barbican Cinema, Barbican Centre
Cinema Matters Part 5: Collective Visions
10 Sep – 26 Oct, Cinemas 1, 2 & 3
Barbican.org.uk/film
Box Office 0845 120 7527
The Cinema Matters season continues at Barbican Cinema with Part 5: Collective Visions. From the nationalisation of film production in the Soviet Union nearly a century ago, to the visceral dramatic representation of revolutionary causes and group aspirations - cinema's popular appeal has served as a prime vehicle for the construction of our collective identities. The act of building 'imagined communities' - forming ideas about whom we are, where we belong and who we could become - is one of the most politically charged aspects of cinema. Collective Visions spans the grand ideologies of the Russian revolution and Fascist movements through to the revolt against colonialism. The season includes the UK premiere of a 4K restoration of Gillo Pontecorvo's masterpiece The Battle of Algiers.
Part of Film in Focus
Strike (12A) + Live piano accompaniment by Wendy Hiscocks
Sun 10 Sep 4pm, Cinema 1
USSR 1925 Dir Sergei Eisenstein 82 min 35mm presentation
Sergei Eisenstein's groundbreaking first feature tells the story of a workers' revolt in a factory in Czarist Russia. Featuring historic experiments in the art of montage, Eisenstein used editing to juxtapose complementary images to create rapid and dynamic shifts in rhythm.
Exploring themes of collectivism versus individualism, with an explicit revolutionary agenda and laden with visual metaphors - the emotive sequence towards the end in which the violent suppression of the strike is crosscut with footage of cattle being slaughtered, has been compulsory viewing for film students ever since. An exemplary moment in Russian revolutionary cinema.
Olympia, Part 1: Festival of Nations (12A*)
14 September 6.30pm Cinema 2
Germany 1938 Leni Riefenstahl 125 min Restored digital print
The Berlin Olympics of 1936, immortalised by the controversial director Leni Riefenstahl represents a remarkable aesthetic and technical cinematic achievement and is a reminder of the power of cinematic propaganda, in its glorification of Germany and the Aryan Athletic Body.
With lavish crew and resources she enjoyed as Hitler's favourite filmmaker, Riefenstahl re-imagines Olympic competition as both a compelling nationalist drama and a magnificent cinematic meditation.
Harlan County USA (15*)
19 September 18:30pm Cinema 3
US 1977 Barbara Kopple 104 min
Barbara Kopple's Oscar-Winning documentary is an urgent exploration on the power of unions and their battles against authority.
The film follows the Brookside Strike that took place in rural Kentucky in 1973, caused by miners demanding better working conditions and fair wages refused by their bosses, The Duke Power Company. Spending several years with the miners and their partners, who played an equal role in protesting, Kopple creates an intimate and direct document of the strike that is shaped and driven by the unions' resistance, with their perspective and actions at the heart of the narrative.
The Sparrow (15*)
28 September 6.30pm Cinema 2
Egypt 1972 Youssef Chahine 105 mins
A young police officer and a journalist join up to search for corrupt high officials who are stealing war weapons in a small village in Upper Egypt.
Set against the background of a seminal moment in Arab history, the Six-Day War in 1967 between Israel and Egypt, in which Israel's victory was followed by the resignation of Egypt's well-regarded leader, Gamal Abdel Nasser. Youssef Chahine, one of the most important voices in Arab Cinema, delivers a self-critical and complex story that investigates a nation's failures at the end of the Pan-Arab project, leading to its banning by the Egyptian censorship board for two years, and a call for continued resistance
The Battle of Algiers (UK premiere of 4K restoration) (15)
12 October 6.30pm Cinema 1
Italy/Algiers 1966 Gillo Pontecorvo 121 min
Highly regarded as one of the best films of all time, Gillo Pontecorvo's The Battle of Algiers is based on true events that took place during the Algerian War, with a particular commentary on guerrilla fighters.
Shot on location and inspired by Italian neo-realism, the film blurs the lines between fiction and reality with a black and white newsreels style and non-professional actors bringing to live the conflict.
Banned in France for several years due to its critique of colonisation, the film is unique in its shifting perspective from coloniser to the colonised and fittingly coincided with the period of national liberation and decolonisation.
Underground (15*)
19 October, 6.30pm, Cinema 2
US 1976 Emile de Antonio 87min
Made by one of the most important political filmmakers in the US during the cold war, this documentary uncovers the Weather Underground, the left-wing radical group determined to overthrow the US government in the 60s and 70s, who were once on the FBI's most wanted list.
Collectively filmed by Emile de Antonio, Mary Lampson and Haskell Wexler, the film is fascinating in its interviews with the fugitives, who in hiding express their political opinions all the while apprehensive about being filmed. The organisation's personal accounts are intertwined with footage from anti-war and civil rights protests, creating a wide picture of the turbulent times in this formative documentary of dissent.
Chronicle of Disappearance (12A*)
26 October, 6.30pm Cinema 2
Palestine 1996 Elia Suleiman 88 min
Palestinian collective identity is explored in this ironic account of the filmmaker's return to his beloved homeland after years living in New York.
The debut feature from acclaimed Palestinian filmmaker Elia Suleiman (Divine Intervention, The Time That Remains) uses documentary and fiction as he tours the country between his hometown, Nazareth, and Jerusalem.
In the first part, Nazareth, a Personal Diary, Suleiman scrutinises the paradoxes and laments on modern life in an observational look at his aging parents and close friends. In part two Jerusalem, a Political Diary, a fictional mode is applied as the filmmaker analyses the political realities and ironies of life in the city.
Sarah Harvey Publicity: 020 7732 7790; Sarah Harvey: sarah@sarahharveypublicity.co.uk; Hayley Willis: hayley@sarahharveypublicity.co.uk