Barbican announces Sam Green and Kronos Quartet, plus [Modern Ritual] featuring Charles Hayward + Laura Cannell + Hoofus + Jennifer Lucy Allan + Luke Turner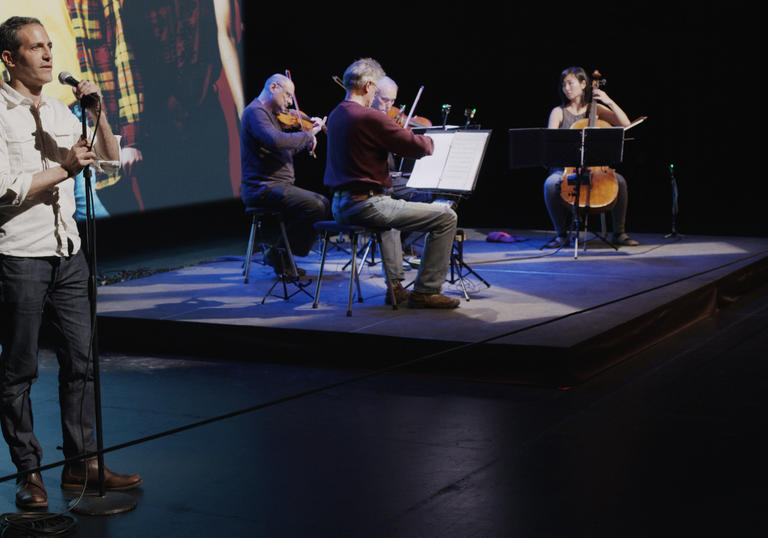 JUST ANNOUNCED
Sam Green and Kronos Quartet: A Thousand Thoughts – a live documentary
Friday 18 May 2018 / Barbican Hall / 19:30
Tickets £20 - 35 plus booking fee
Oscar-nominated filmmaker Sam Green and the Grammy-winning Kronos Quartet have teamed up to create a multimedia concert, A Thousand Thoughts: A Live Documentary by Sam Green & Kronos Quartet, this screening and performance tells the multi-decade and continent-spanning story of the ground-breaking string quartet. The evening will include live music, narration, archival footage and filmed interviews with such prominent artists as Philip Glass, Tanya Tagaq, Steve Reich, Wu Man, and Terry Riley, among others.
Kronos Quartet will perform music written especially for them, such as selections from Black Angels by George Crumb and String Quartet No. 2 (Company): Movement II by Philip Glass, as well as music arranged for them, such as Flow by Laurie Anderson (arr. Jacob Garchik).
New York-based documentary filmmaker Sam Green's previous works include The Love Song of R. Buckminster Fuller. This film was screened alongside narration by Green and a score composed and performed live by art-rock outfit Yo La Tengo at a Barbican-produced event at Milton Court Concert Hall in December 2013.
Kronos Quartet's career of more than 40 years has seen them attain status as one of the world's most celebrated and influential ensembles. They have performed thousands of concerts globally and released more than 60 recordings. The group's last visit to the Barbican in May 2016 saw them perform a kaleidoscopic set ranging from minimalist compositions to Irish folk, American country and Indian ragas.
A Thousand Thoughts' trailer can be viewed here: https://vimeo.com/185159503
On sale to Barbican members on Thursday 19 October
On general sale on Friday 20 October
Produced by the Barbican
Find out more
[Modern Ritual] featuring Charles Hayward + Laura Cannell + Hoofus + Jennifer Lucy Allan + Luke Turner
Saturday 16 June / LSO St Luke's / 19:30
Tickets £15 plus booking fee
[Modern Ritual] is a series of new performances exploring ideas of ritual through music and words, evoking real and fictional landscapes. The forthcoming edition at LSO St Luke's, part of the Barbican's contemporary music programme, features solo sets from acclaimed musicians Charles Hayward, Laura Cannell and Hoofus (André Bosman), new sound performance/talks from writer/researchers Jennifer Lucy Allan and Luke Turner, and a new collaboration between all of the artists and invited guests.
Charles Hayward is a pioneering drummer; he is a member of numerous groups and projects including This Heat, Camberwell Now, Monkey Puzzle trio, About Group, V for V, and Massacre with Bill Laswell and Fred Frith. Hayward last appeared at the Barbican in March 2017 in a project titled This Is Not This Heat alongside Charles Bullen, plus guest performers including Alexis Taylor, Jenny Moore, Thurston Moore and many more.
Laura Cannell is a performer and composer based in East Anglia, and is the curator of the [Modern Ritual] series. She has produced three critically acclaimed solo albums over the last three years including Simultaneous Flight Movement, Beneath Swooping Talons and Quick Sparrows Over the Black Earth – all through the independent record label Brawl. March 2016 saw Cannell's debut solo performance at the Barbican appearing in support of Thurston Moore and Michael Gira.
Hoofus uses drifting oscillators, cryptic rhythm and tactile interaction between performer and machines. Also known as André Bosman, he also collaborates with Cannell in their experimental fiddle duo.
Luke Turner is a writer and editor based in London. In 2008 he co-founded The Quietus, an online magazine devoted to music, arts and popular culture. Amongst his current projects is a forthcoming book on urban forests, family, ritual, death and sexuality against the context of Western decline and environmental destruction.
Jennifer Lucy Allan is a writer and researcher working in physical archives, unearthing sensory material in the historical record. In addition to her PhD studies she is co-founder of the reissues record label Arc Light Editions.
On sale to Barbican members on Thursday 19 October
On general sale on Friday 20 October
Produced by the Barbican
COMING UP IN AUTUMN 2017
Matthew Herbert's Brexit Big Band
Reisezehrung
Monday 23 October 2017 / Barbican Hall / 19:30
Tickets £15 – 30 plus booking fee
Moondog for Gamelan: Performed by Iwan Gunawan & Stefan Lakatos
+ Steve Lawson & Corey Mwamba
Saturday 28 October 2017 / LSO St Luke's / 19:30
SOLD OUT returns only
Camille
Monday 30 October 2017 / Barbican Hall / 19:30
Tickets £20 – 35 plus booking fee
Gilberto Gil + Cortejo Afro
with Nucleo de Opera da Bahia and Orquestra Nova Lisboa
Tuesday 31 October 2017 / Barbican Hall / 19:30
Tickets £20 – 60 plus booking fee
Find out more
Saz'iso
Saturday 4 November / LSO St Luke's / 20:00
SOLD OUT returns only
Basquiat and Jazz
Featuring Black Top and guests
Part of EFG London Jazz Festival and Basquiat: Boom for Real
Friday 10 November 2017 / LSO St Luke's / 19:30
Tickets £15 – 25 plus booking fee
Chucho Valdés + Gonzalo Rubalcaba
Part of EFG London Jazz Festival
Saturday 11 November 2017 / Barbican Hall / 14:30
Tickets £20 – 40 plus booking fee
RIOT DAYS – Pussy Riot Theatre
Friday 17 November 2017 / Islington Assembly Hall / 20:00
Tickets £20 plus booking fee
Supported by the Tsukanov Family Foundation
The Ecstatic Music of Alice Coltrane Turiyasangitananda
Part of EFG London Jazz Festival
Saturday 18 November 2017 / LSO St Luke's / 11:00 & 17:30
Tickets £25 plus booking fee
Pharoah Sanders Quartet
+ Denys Baptiste + Alina Bzhezhinska
A concert for Alice and John Coltrane
Part of EFG London Jazz Festival
Saturday 18 November 2017 / Barbican Hall / 19:30
SOLD OUT returns only
Terence Blanchard Quintet
Joe Zawinul's Stories of the Danube
BBC Concert Orchestra and conductor Kristjan Järvi
Part of EFG London Jazz Festival
Sunday 19 November 2017 / Barbican Hall / 19:30
Tickets £20 – 35 plus booking fee
Sō Percussion: From Out a Darker Sea
Friday 24 & Saturday 25 November 2017 / St Giles Cripplegate / 20:00
Tickets £15 plus booking fee
Tan Dun: The Martial Arts Trilogy
with the London Symphony Orchestra
Thursday 30 November 2017 / Barbican Hall / 19:30
Tickets £17.50-35 plus booking fee
Unsound Dislocation: London
Friday 8 December 2017 / Barbican Hall / 19:30
Tickets £17.50 – 22.50 plus booking fee
COMING UP IN 2018
Planet Harmonik by Aloysius Suwardi
Thursday 18 January 2018 / Milton Court Concert Hall / 19:30
Tickets £20 plus booking fee
Carleen Anderson – Cage Street Memorial
+ special guests TBA
Saturday 20 January 2018 / Barbican Hall / 19:30
Tickets £15 - 25 plus booking fee
Martin Hayes + Brooklyn Rider
Thursday 25 January 2018 / Milton Court Concert Hall / 19:30
Tickets £15 - 25 plus booking fee
The Ukulele Orchestra of Great Britain
Concert for Kitty
Friday 26 January 2018 / Barbican Hall / 20:00
Tickets £25 - 35 plus booking fee
Video Jam x Basquiat
Basquiat-inspired short films with original scores performed live by Young Fathers, Ibibio Sound Machine and more
Part of Basquiat: Boom for Real
Sunday 28 January 2018 / Barbican Hall / 20:00
Tickets £17.50 – £22.50 plus booking fee
Jeff Tweedy
Saturday 3 February 2018 / Barbican Hall / 20:00
Tickets £30 - 50 plus booking fee
Nils Frahm – All Melody
Wednesday 21 Friday 23 & *Saturday 24 February 2018 / Barbican Hall / 19:30, *15:00 & 20:00
SOLD OUT returns only
Jazz at Lincoln Center Orchestra with Wynton Marsalis
Benny Goodman: King of Swing
Tuesday 27 February 2018 / Barbican Hall / 20:00
Tickets £30 – 45 plus booking fee
Jazz at Lincoln Center Orchestra with Wynton Marsalis
Leonard Bernstein at 100
Wednesday 28 February 2018 / Barbican Hall / 20:00
Tickets £30 – 45 plus booking fee
The Next Generation of Jazz Showcase
Thursday 1 March 2018 / Milton Court Concert Hall / 19:00
Tickets £8 plus booking fee
John Cale (2018-1964): A Futurespective
With the London Contemporary Orchestra
Friday 9 & Saturday 10 March 2018 / Barbican Hall / 19:30
Tickets £35 - £45 plus booking fee
Niladri Kumar: Seduced by the Sitar
Tuesday 13 March 2018 / Milton Court Concert Hall / 19:00
Tickets £18 – 50 plus booking fee
Just Jam Reloaded
Saturday 17 March 2018 / Barbican Hall / 19:30
Tickets £15 plus booking fee
ENDS
Sabine Kindel, Senior Communications Manager: t - +44 (0)20 7382 7090 e – sabine.kindel@barbican.org.uk
Sean Harwood, Senior Communications Officer: t - +44 (0)20 7382 6199 e – sean.harwood@barbican.org.uk
Rachel Coombes, Communications Officer: t - +44 (0)20 7382 6196 e – rachel.coombes@barbican.org.uk
Jean Tang, Communications Assistant: t - +44 (0)20 7382 6138 e – jean.tang@barbican.org.uk