Barbican announces Naseer Shamma Quartet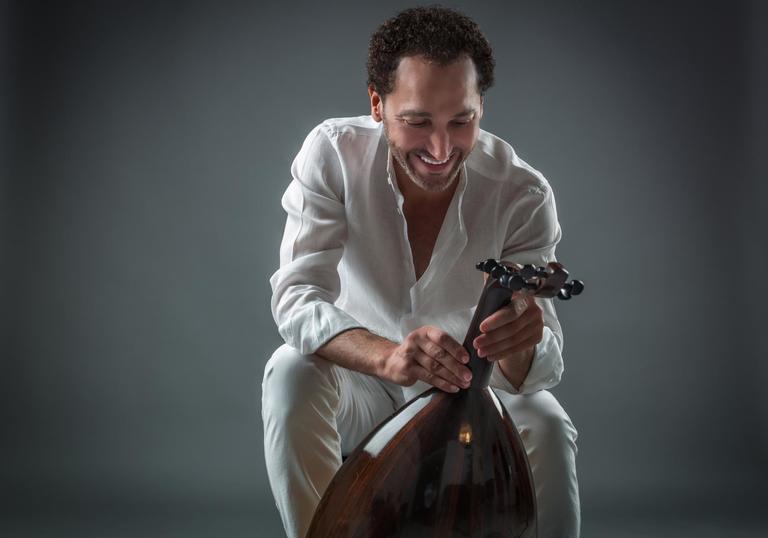 JUST ANNOUNCED
Naseer Shamma Quartet - Spirits
Wednesday 11 July 2018 / Barbican Hall / 19:30
Tickets £25 – 35 plus booking fee
One of the world's pre-eminent oud players and composers, Naseer Shamma brings his quartet to the Barbican in a performance titled Spirits. Combining the sounds and musical heritage of Persia, South Asia, Pakistan and Europe, Spirits features oud, guitar, sitar and tabla.
Born in Al-Kut, a southern city in Iraq, Naseer's lifelong dedication to the oud has seen both him, and the craft of his instrument, rise to international distinction. Graduate of the Baghdad Academy of Music, he was awarded the prize of artistic excellence by the Arab Thought Foundation and named as a UNESCO Artist for Peace. Naseer's acclaimed approach to playing the oud, which spans both ancient and contemporary techniques, has become the foundation of renowned ensembles and projects, including Cairo's House of Oud and Oyoun, the prominent Arabic chamber music ensemble.
For his quartet, Naseer has recruited Shahbaz Hussain, a tabla virtuoso of his generation with accolades to his name including the prestigious Son of Lahore Award from the Government of Pakistan in 2008. Ashraf Sharif Khan also features within the line-up; he is the third son of the Asian sitar master Ustad Muhammad Sharif Khan Poonchwala and an acknowledged prodigy since the age of eleven. Completing the quartet is Spanish guitarist Carlos Piñana, whose family surname has become synonymous with the great flamenco tradition; his grandfather, Antonio Piñana, the patriarch of the "cantes mineros" and his father and teacher, the distinguished guitarist Antonio Piñana.
On sale to Barbican members on Thursday 7 December
On general sale Friday 8 December
Produced by the Barbican in association with Marsm
Find out more
ALSO ANNOUNCED
Planet Harmonik by Aloysius Suwardi
+ extended introduction
Thursday 18 January 2018 / Milton Court / 19:30
Tickets £10 - 20 plus booking fee
Professor Suwardi will give a special extended introduction to the concert on 18 January, providing background to his work, gamelan, and the concepts behind his performance. He will also introduce the 450 kg worth of custom built instruments on stage, including metallophones with motorised resonators, giant gambang xylophones and hydraulic water-filled bamboo flutes. Following the introduction Suwardi and 16 musicians from Jakarta will perform Planet Harmonik, a project based around the Pythagorean concept of the music of the spheres.
Produced by the Barbican in association with Kazum and Europalia
Find out more
COMING UP IN AUTUMN 2017
Unsound Dislocation: London
Friday 8 December 2017 / Barbican Hall / 20:00
Tickets £17.50 – 22.50 plus booking fee
Find out more
COMING UP IN 2018
Planet Harmonik by Aloysius Suwardi
Thursday 18 January 2018 / Milton Court Concert Hall / 19:30
Tickets £20 plus booking fee
Find out more
Carleen Anderson – Cage Street Memorial
+ Zara McFarlane
Saturday 20 January 2018 / Barbican Hall / 19:30
Tickets £15 – 25 plus booking fee
Find out more
Martin Hayes + Brooklyn Rider
Thursday 25 January 2018 / Milton Court Concert Hall / 19:30
Tickets £20 – 25 plus booking fee
Find out more
The Ukulele Orchestra of Great Britain
Concert for Kitty
Friday 26 January 2018 / Barbican Hall / 19:30
Tickets £25 – 35 plus booking fee
Find out more
Video Jam x Basquiat
Basquiat-inspired short films with original scores performed live by Young Fathers, Ibibio Sound Machine and more
Part of Basquiat: Boom for Real
Sunday 28 January 2018 / Barbican Hall / 20:00
Tickets £17.50 – 22.50 plus booking fee
Find out more
Jeff Tweedy
+ James Elkington
Saturday 3 February 2018 / Barbican Hall / 20:00
Tickets £30 – 50 plus booking fee
Find out more
Nils Frahm – All Melody
Wednesday 21 Friday 23 & *Saturday 24 February 2018 / Barbican Hall / 19:30, *15:00 & 20:00
SOLD OUT returns only
Find out more
Jazz at Lincoln Center Orchestra with Wynton Marsalis
Benny Goodman: King of Swing
Tuesday 27 February 2018 / Barbican Hall / 20:00
Tickets £30 – 45 plus booking fee
Find out more
Jazz at Lincoln Center Orchestra with Wynton Marsalis
Leonard Bernstein at 100
Wednesday 28 February 2018 / Barbican Hall / 20:00
Tickets £30 – 45 plus booking fee
Find out more
POLIÇA + s t a r g a z e
Tuesday 27 February 2018 / Oval Space / 19:30
Tickets £22.50 plus booking fee
Find out more
The Next Generation of Jazz Showcase
Thursday 1 March 2018 / Milton Court Concert Hall / 19:00
Tickets £8 plus booking fee
Find out more
Alva Noto UNIEQAV
+ Anne-James Chaton
Sunday 4 March 2018 / Barbican Hall / 19:30
Tickets £10 – 20 plus booking fee
Find out more
John Cale (2018-1964): A Futurespective
With the London Contemporary Orchestra
Friday 9 & Saturday 10 March 2018 / Barbican Hall / 19:30
Tickets £35 – 45 plus booking fee
Find out more
Niladri Kumar: Seduced by the Sitar
Tuesday 13 March 2018 / Milton Court Concert Hall / 19:00
Tickets £18 – 50 plus booking fee
Find out more
Just Jam Reloaded
Saturday 17 March 2018 / Barbican Hall / 19:30
Tickets £15 plus booking fee
Find out more
Charles Hazlewood with Army of Generals and The British Paraorchestra
PLAY!
Sunday 18 March 2018 / Barbican Hall / 19:30
Tickets £15 – 20 plus booking fee
Find out more
Harshdeep Kaur
Tuesday 27 March 2018 / Barbican Hall / 19:30
Tickets £20 – 35 plus booking fee
Find out more
Kyle Dixon & Michael Stein performing the music of Stranger Things
Saturday 7 April 2018 / Barbican Hall / 20:00 (SOLD OUT returns only) & 22:30
Tickets £18.50 – 25 plus booking fee
Find out more
SONORAMA!
Latin American Composers in Hollywood
Part of La Linea
Friday 20 April 2018 / Barbican Hall / 19:30
Tickets £15 - 25 plus booking fee
Find out more
Mexrrissey – La Reina is Dead
Part of La Linea
Sunday 29 April 2018 / Barbican Hall / 19:30
Tickets £15 – 25 plus booking fee
Find out more
Ahmad Jamal
Tuesday 8 May 2018 / Barbican Hall / 19:30
Tickets £25 – 50 plus booking fee
Find out more
Kronos Quartet and Trio Da Kali – Ladilikan
Sam Green and Kronos Quartet: A Thousand Thoughts – a live documentary
Friday 18 May 2018 / Barbican Hall / 19:30
Tickets £20 - 35 plus booking fee
Find out more
Susanne Sundfør
Monday 21 May 2018 / Barbican Hall / 19:30
Tickets £15 – 20 plus booking fee
Find out more
Field Music with the Open Here Orchestra
Friday 25 May 2018 / Barbican Hall / 19:30
Tickets £17.50 – 22.50 plus booking fee
Find out more
Tigran Hamasyan & Nils Petter Molvaer
Saturday 2 June 2018 / Barbican Hall / 19:30
Tickets £20 – 35 plus booking fee
Find out more
[Modern Ritual] featuring Charles Hayward + Laura Cannell + Hoofus + Jennifer Lucy Allan + Luke Turner
Saturday 16 June / LSO St Luke's / 19:30
Tickets £15 plus booking fee
Find out more
They Might Be Giants
Wednesday 3 October 2018 / Barbican Hall / 19:30
Tickets £20 – 35 plus booking fee
Find out more
ENDS
Sabine Kindel, Senior Communications Manager: t - +44 (0)20 7382 7090 e – sabine.kindel@barbican.org.uk
Sean Harwood, Senior Communications Officer: t - +44 (0)20 7382 6199 e – sean.harwood@barbican.org.uk
Rachel Coombes, Communications Officer: t - +44 (0)20 7382 6196 e – rachel.coombes@barbican.org.uk
Jean Tang, Communications Assistant: t - +44 (0)20 7382 6138 e – jean.tang@barbican.org.uk