Barbican announces Haruomi Hosono & Acetone, Oneohtrix Point Never and Brad Mehldau with Britten Sinfonia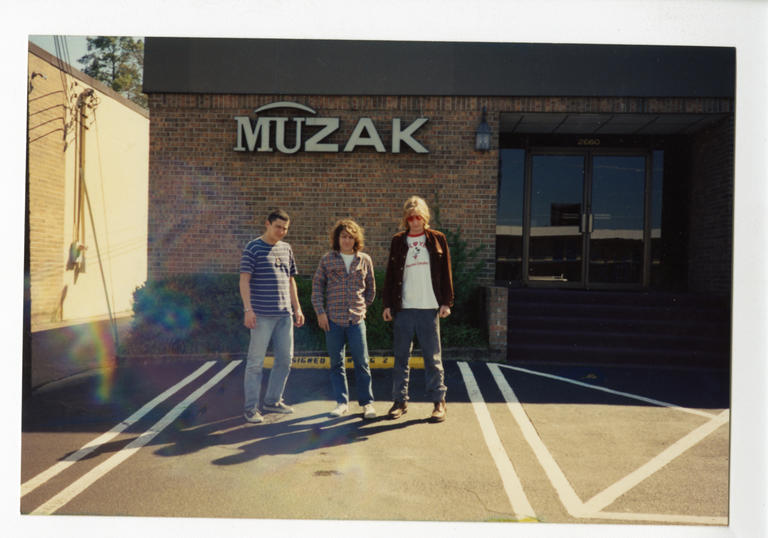 Light in the Attic: Haruomi Hosono & Acetone
Saturday 23 June 2018 / Barbican Hall / 19:30
Tickets £17.50 – £30 plus booking fee
Pioneering Japanese recording artist Haruomi Hosono and Los Angeles outfit Acetone co-headline in a rare live appearance at the Barbican on 23 June 2018. This will be Hosono's first ever UK solo concert and the first for Acetone, who provide the night's closing set, since 1998. Both artists are working with specialist archival label Light In The Attic, a label that recently celebrated its sweet 16 birthday. This special night of music will include an opening set and further performances from guest artists to be announced in the coming weeks.
Founding member of both the influential folk rock act Happy End and pioneering electronic trio Yellow Magic Orchestra, Haruomi, or Harry Hosono has also released a number of solo albums in his almost five decade career. His work spans many styles, with projects also including film soundtracks and production duties for other artists. His chameleon-like history reveals Hosono as an artist who has pushed boundaries and covered new ground throughout his career. His first success was to be found with psychedelic rock band Apryl Fool, before going on to create music in the folk rock, pop rock and electronic genres. Hosono explored tropical and island themes for his trio of mid-'70s albums; embraced Indian influences for a Bollywood-inspired electronic album titled Cochin Moon (KING, 1978), and was one of the first artists to incorporate elements of video games into his recordings with the Namco-sampling Video Game Music (Yen Records, 1984). A number of Hosono's songs appear on Even A Tree Can Shed Tears: Japanese Folk & Rock 1969-1973, released on Light in the Attic in 2017, and the upcoming collection Kankyō Ongaku: Japanese Ambient, Environmental & New Age Music 1980-1990, while starting this summer the label will begin a comprehensive archival series of Hosono's solo albums, most of which have never been available outside of Japan.
Mark Lightcap, Richie Lee and Steve Hadley, on guitar, bass and drums respectively, made up the Los Angeles trio Acetone - much loved by artists including Jason Pierce (Spiritualized), Richard Ashcroft (The Verve) and Hope Sandoval (Mazzy Star). Some 17 years after the passing of Lee and the group's disbandment, Acetone will make a live comeback with the help of bassist Senon Williams and keyboardist Jason Yates. Whilst Acetone were often compared to The Velvet Underground, their sound was quintessentially Californian, mining the sonic history of psychedelia, surf and country music. Throughout the 90s the band took to the road extensively as support to The Verve - their labelmates on Vernon Yard - as well as Oasis, Mazzy Star and Spiritualized. Acetone 1992-2001 (LITA, 2017) is the first anthology of the group's work and was released in September of last year. The anthology accompanied the release of LA-based writer Sam Sweet's Hadley Lee Lightcap, a nonfiction novel that traces the backstories of the three members of the band, published by All Night Menu.
On sale to Barbican members on Thursday 5 April 2018
On general sale on Friday 6 April 2018
Produced by the Barbican
Find out more
 
Oneohtrix Point Never: MYRIAD
Saturday 7 July 2018 / Barbican Hall 2018 / 19:30
Tickets £20 – £25 plus booking fee
Musician, composer and Mercury Prize nominated-producer Oneohtrix Point Never presents MYRIAD, a 'concertscape' featuring his first full live touring ensemble. Examining disorienting forms at the intersection of theatre, installation art and musical performance, and imagined from the perspective of an alien intelligence, MYRIAD is informed by Oneohtrix Point Never's site-specific commissions of recent years including the Museum of Modern Art (2011), Tate Britain and MoMA PS1 (2013), and Edinburgh International Festival (2015). MYRIAD explores film and television tropes, abstract sculpture, game ephemera, poetry, apocryphic histories, internet esoterica, and philosophies of being; it looks both towards the possibilities of the future whilst considering the conflict between today's civilisation and the environment. MYRIAD's world premiere will take place over two sold out dates in May 2018 at the Park Avenue Armoury, New York City.
Oneohtrix Point Never recently won the Best Soundtrack Award at the 2017 Cannes Film Festival for his work on the film Good Time. He has collaborated and performed with a wide array of artists, including Nine Inch Nails, Anohni, Iggy Pop, David Byrne, FKA Twigs, Ishmael Butler, Sofia Coppola, the Safdie Brothers and more. Oneohtrix Point Never has appeared as part of the Barbican contemporary music programme on several occasions including concerts at LSO St Luke's with Nate Boyce, and Union Chapel with Nico Muhly. In 2016 he released Sticky Drama, a live audio-visual broadcast via Boiler Room which begins in the Barbican's concert hall before descending into the bowels of the centre.
On sale to Barbican members on Thursday 5 April 2018
On general sale on Friday 6 April 2018
Produced by the Barbican in association with RockFeedback
Find out more
Brad Mehldau + Britten Sinfonia
Saturday 16 March 2019 / Barbican Hall / 19:30
Tickets £25 – £35 plus booking fee
Brad Mehldau and Britten Sinfonia come together for a concert in which they will present a newly commissioned piano concerto in a UK premiere performance. The evening's programme will also feature solo improvisations - Mehldau's forte for which he is so highly regarded.
American Jazz pianist Brad Mehldau has performed and recorded extensively since the 1990s - as solo artist, as the Brad Mehldau Trio and in collaboration with many other renowned musicians. Within his substantial back-catalogue are seven Grammy Award-nominated recordings, the most recent in 2016 for Best Improvised Jazz Solo on I Concentrate on You from Blues and Ballads (Nonesuch); and for Best Jazz Instrumental Album for the duo album Nearness (Nonesuch), with saxophonist Joshua Redman. Mehldau's last appearance at the Barbican was in November 2017 alongside mandolin player Chris Thile.
Barbican Associate Ensemble, Britten Sinfonia, has a long history of collaboration with artists across both the classical and contemporary worlds. Recent performances have seen the ensemble on stage with talent such as composer, conductor and pianist Thomas Adès, Canadian musician Chilly Gonzales (as part of Sound Unbound 2017 – The Barbican Classical Weekender), and DJ Jeff Mills.
On sale to Barbican members on Thursday 5 April 2018
On general sale on Friday 6 April 2018
Produced by the Barbican
Find out more
ALSO ANNOUNCED
Carl Craig presents Synthesizer Ensemble
+ Paper Dollhouse
Friday 6 April 2018 / Barbican Hall / NOTE NEW START TIME: 20:00
Tickets £20 – 25 plus booking fee
Find out more
Thurston Moore: GALAXIES 12x12
Music for Twelve 12-String guitars (Acoustic + Electric)
Saturday 14 April 2018 / Barbican Hall / 19:30
Tickets £17.50 – 25 plus booking fee
Fellow guitarists appearing in the ensemble will be Rachel Aggs (Trash Kit, Shopping Sacred Paws), Joseph Coward (Camp X-Ray), Eugene Coyne, Jonah Falco (Career Suicide, F**ked Up), Deb Googe (My Bloody Valentine), James McCartney, Jen Chochinov, James Sedwards (The Devil, Nøught), Susan Stenger (Band of Susans, The Brood), David Troop and Alex Ward (N.E.W.). Furthermore, the concert will feature cosmos projections by artist Radio Radieux.
Mexrrissey – La Reina is Dead
Part of La Linea
Sunday 29 April 2018 / Barbican Hall / NOTE NEW START TIME: 20:00
Tickets £15 – 25 plus booking fee
Find out more
 
COMING UP IN 2018
Carl Craig presents Synthesizer Ensemble
+ Paper Dollhouse
Friday 6 April 2018 / Barbican Hall / 20:00
SOLD OUT returns only
Find out more
 
Kyle Dixon & Michael Stein performing the music of Stranger Things
Saturday 7 April 2018 / Barbican Hall / 20:00 & 22:30~
SOLD OUT returns only
Find out more
Thurston Moore: 12x12
Music for Twelve 12-String guitars (Acoustic + Electric)
Saturday 14 April 2018 / Barbican Hall / 19:30
Tickets £17.50 – 25 plus booking fee
Find out more
SONORAMA!
Latin American Composers in Hollywood
With Omar, Nina Miranda and Hackney Colliery Band Horns
Part of La Linea
Friday 20 April 2018 / Barbican Hall / 19:30
Tickets £15 - 25 plus booking fee
Find out more
 
Mexrrissey – La Reina is Dead
Part of La Linea
Sunday 29 April 2018 / Barbican Hall / 20:00
Tickets £15 – 25 plus booking fee
Find out more
 
Joby Burgess's Powerplant: The Filthy Fifteen
1 May 2018 / Milton Court Concert Hall / 19:30
Tickets £15 – 25 plus booking fee
Find out more
 
Sounds and Visions
The Barbican's marathon weekend in 2018 curated by Max Richter and Yulia Mahr
with The 12 ensemble, Kaitlyn Aurelia Smith, Jlin, AGF, Vikingur Ólafsson, The Will Gregory Moog Ensemble, London Syrian Ensemble, BBC Symphony Orchestra with Roomful of Teeth conducted by André de Ridder, Colin Currie Group with Synergy Vocals, EX EYE, Caterina Barbieri, Claire M Singer, Chineke! conducted by Fawzi Haimor
Friday 11 – Sunday 13 May 2018 / Barbican Hall & foyer, Barbican Cinemas 1 & 2, LSO St Luke's, Milton Court Concert Hall, St Giles' Cripplegate
Tickets £10 – 35, plus free events
Find out more
 
Barbican Box Music Showcase
With the Max Richter Quintet
Monday 14 May 2018 / Barbican Hall / 19:00
Tickets £3 plus booking fee
Find out more
 
Haley Fohr of Circuit des Yeux: Salomé
Wednesday 16 May 2018 / Cinema 1 / 20:00
Tickets £15 plus booking fee
Find out more
 
Kronos Quartet and Trio Da Kali – Ladilikan
Sam Green and Kronos Quartet: A Thousand Thoughts – a live documentary
Friday 18 May 2018 / Barbican Hall / 19:30
Tickets £20 - 35 plus booking fee
Find out more
 
Susanne Sundfør
Music For People In Trouble AV
+ Gard Nilssen's Acoustic Unity
Monday 21 May 2018 / Barbican Hall / 19:30
Tickets £15 – 20 plus booking fee
Find out more
 
Field Music with the Open Here Orchestra
Friday 25 May 2018 / Barbican Hall / 19:30
Tickets £17.50 – 22.50 plus booking fee
Find out more
 
Actress + London Contemporary Orchestra
+ Duval Timothy, Silvia Kastel and Toxe
Saturday 26 May 2018 / Barbican Hall / 19:30
Tickets £17.50 – 22.50 plus booking fee
Find our more
 
Charles Watson
Saturday 26 May 2018 / LSO St Luke's / 19:30
Tickets £12.50 – 15 plus booking fee
Find out more
 
Tigran Hamasyan & Nils Petter Molvaer
Saturday 2 June 2018 / Barbican Hall / 19:30
Tickets £20 – 35 plus booking fee
Find out more
 
Thomas Bartlett + Nico Muhly
Peter Pears: Balinese Ceremonial Music
Friday 8 June 2018 / LSO St Luke's / 20:00
Tickets £25 – 30 plus booking fee
Find out more
 
Microdisney perform The Clock Comes Down the Stairs
Saturday 9 June 2018 / Barbican Hall / 20:00
Tickets £25 – 35 plus booking fee
Find out more
 
[Modern Ritual] featuring Charles Hayward + Laura Cannell + Hoofus + Jennifer Lucy Allan + Luke Turner
Saturday 16 June / LSO St Luke's / 19:30
Tickets £15 plus booking fee
Find out more
 
Wynton Marsalis Quartet
+ Headspace Quartet
Tuesday 19 June 2018 / Barbican Hall / 19:30
Tickets £15 – 35 plus booking fee
Find out more
Alva Noto + Ryuichi Sakamoto: Two
Wednesday 20 June 2018 / Barbican Hall / 19:30
SOLD OUT returns only
Find our more
Michael 'Mikey J' Asante: Outliers
Saturday 30 June 2018 / Barbican Hall / 19:30
Tickets £17.50 – 25 plus booking fee
Find out more
 
Yasuaki Shimizu
+ Carl Stone
Sunday 8 July 2018 / LSO St Luke's / 19:30
Tickets £15 – 20 plus booking fee
Find out more
 
Naseer Shamma Quartet - Spirits
Wednesday 11 July 2018 / Barbican Hall / 19:30
Tickets £25 – 35 plus booking fee
Find out more
 
monumental: Godspeed You! Black Emperor & The Holy Body Tattoo
Friday 13 & Saturday 14 July 2018 / Barbican Hall / 19:30
Tickets £20 – 30 plus booking fee
Find out more
 
DJ Spoony presents Garage Classical
with the Ignition Orchestra
Saturday 21 July / Barbican Hall / 19:30
SOLD OUT returns only
Find out more
 
They Might Be Giants
Wednesday 3 October 2018 / Barbican Hall / 19:30
Tickets £20 – 35 plus booking fee
Find out more
Mew: Frengers
Saturday 20 October 2018 / Barbican Hall / 16:00 & *20:00
Tickets £20 – 27.50 plus booking fee / *SOLD OUT returns only
Find out more
 
Darbar Festival – Rupak Kulkarni + Meeta Pandit
Thursday 25 October 2018 / Milton Court Concert Hall / 18:30
Tickets £20 – 50 plus booking fee
Find out more
 
Darbar Festival – Soumik Datta + Malladi Brothers
Friday 26 October 2018 / Milton Court Concert Hall / 18:30
Tickets £20 – 50 plus booking fee
Find out more
Darbar Festival – Ustad Wasifuddin Dagar
Saturday 27 October 2018 / Milton Court Concert Hall / 10:00
Tickets £20 – 50 plus booking fee
Find out more
Darbar Festival – Sanju Sahai
Saturday 27 October 2018 / Milton Court Concert Hall / 14:00
Tickets £20 – 50 plus booking fee
Find out more
Darbar Festival – Lalgudi GJR Krishnan & Lalgudi Vijayalakshmi + Omar Dadarkar
Saturday 27 October 2018 / Milton Court Concert Hall / 18:30
Tickets £20 – 50 plus booking fee
Find out more
Darbar Festival – Ustad Shahid Parvez + Parveen Sultana
Sunday 28 October 2018 / Barbican Hall / 17:30
Tickets £18 – 75 plus booking fee
Find out more
Bobby McFerrin
Part of EFG London Jazz Festival
Sunday 18 November 2018 / Barbican Hall / 19:30
Tickets £20 – 45 plus booking fee
Find out more
Sabine Kindel, Senior Communications Manager: sabine.kindel@barbican.org.uk or +44 (0)20 7382 7090
Sean Harwood, Communications Manager: sean.harwood@barbican.org.uk or +44 (0)20 7382 6199
Rachel Coombes, Communications Officer: rachel.coombes@barbican.org.uk or +44 (0)20 7382 6196