Barbican announces Gruff Rhys & London Contemporary Orchestra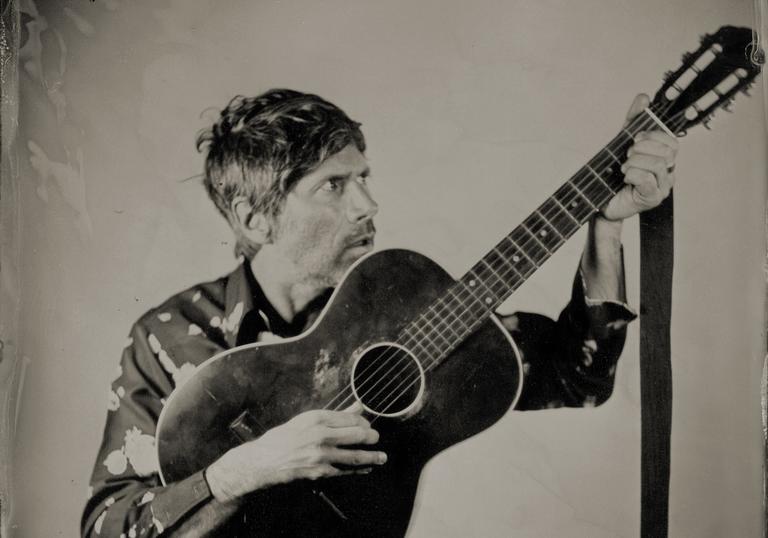 JUST ANNOUNCED
Gruff Rhys + London Contemporary Orchestra
Wednesday 12 September 2018 / Barbican Hall / 19:30
Tickets £17.50 – £25.00 plus booking fee
Iconic Welsh musician and artist Gruff Rhys appears at the Barbican, joined by the London Contemporary Orchestra (LCO), to perform material from his forthcoming album Babelsberg – released on 8 June on Rough Trade. This record is his sixth solo outing and second release on Rough Trade since 2007's Candylion. Babelsberg was originally recorded in 2016, but the songs were put into hibernation until additional scores were added by composer Stephen McNeff and performed by the National Orchestra of Wales, eighteen months later. The record focuses on misplaced optimism with Rhys noting the Tower of Babel as an inspiration, stating of his thought-process 'people building towers to reach an idea of heaven (but maybe creating a kind of hell)'.The evening will also feature material from Rhys' celebrated back catalogue.
Rhys' numerous creative endeavours, atop his work in Super Furry Animals and as a solo artist, includes electro-pop act Neon Neon. It was with Neon Neon that Rhys last appeared as part of the Barbican contemporary music programme at Village Underground in 2013. As a collaborator Rhys has recorded and performed with Gorillaz, Mogwai, Manic Street Preachers and many more. For his concert in the Barbican Hall he will team up with LCO, an ensemble that has worked with Radiohead, Frank Ocean, and last performed at the Barbican in March of this year alongside John Cale.
On sale to Barbican members on Thursday 19 April 2018
On general sale on Friday 20 April 2018
Produced by the Barbican
Find out more
ALSO ANNOUNCED
SONORAMA!
Latin American Composers in Hollywood
With Omar, Nina Miranda and Hackney Colliery Band Horns
Part of La Linea
Friday 20 April 2018 / Barbican Hall / NOTE NEW START TIME 20:00
Tickets £15 - 25 plus booking fee
Find out more
Sounds and Visions, Session Seven
Chineke!: Waltz with Bashir
Sunday 13 May 2018 / Barbican Hall / 19:30
Tickets £25 – £35
Following the performance, Sounds and Visions co-curator Yulia Mahr hosts a discussion between composer Max Richter and director Ari Folman, recounting details of their highly regarded collaboration and taking questions from the audience.
monumental: Godspeed You! Black Emperor & The Holy Body Tattoo
Friday 13 & Saturday 14* July 2018 / Barbican Hall / NOTE NEW START TIMES 21:00 / *20:00
Tickets £20 – 30 plus booking fee
Find out more
COMING UP IN 2018
SONORAMA!
Latin American Composers in Hollywood
With Omar, Nina Miranda and Hackney Colliery Band Horns
Part of La Linea
Friday 20 April 2018 / Barbican Hall / 20:00
Tickets £15 - 25 plus booking fee
Find out more
 
Mexrrissey – La Reina is Dead
Part of La Linea
Sunday 29 April 2018 / Barbican Hall / 20:00
Tickets £15 – 25 plus booking fee
Find out more
 
Joby Burgess's Powerplant: The Filthy Fifteen
1 May 2018 / Milton Court Concert Hall / 19:30
Tickets £15 – 25 plus booking fee
Find out more
Sounds and Visions
The Barbican's marathon weekend in 2018 curated by Max Richter and Yulia Mahr
with The 12 ensemble, Kaitlyn Aurelia Smith, Jlin, AGF, Vikingur Ólafsson, The Will Gregory Moog Ensemble, London Syrian Ensemble, BBC Symphony Orchestra with Roomful of Teeth conducted by André de Ridder, Colin Currie Group with Synergy Vocals, EX EYE, Caterina Barbieri, Claire M Singer, Chineke! conducted by Fawzi Haimor
Friday 11 – Sunday 13 May 2018 / Barbican Hall & foyer, Barbican Cinemas 1 & 2, LSO St Luke's, Milton Court Concert Hall, St Giles' Cripplegate
Tickets £10 – 35, plus free events
Find out more
Barbican Box Music Showcase
With the Max Richter Quintet
Monday 14 May 2018 / Barbican Hall / 19:00
Tickets £3 plus booking fee
Find out more
Haley Fohr of Circuit des Yeux: Salomé
Wednesday 16 May 2018 / Cinema 1 / 20:00
Tickets £15 plus booking fee
Find out more
Kronos Quartet and Trio Da Kali – Ladilikan
Sam Green and Kronos Quartet: A Thousand Thoughts – a live documentary
Friday 18 May 2018 / Barbican Hall / 19:30
Tickets £20 – 35 plus booking fee
Find out more
Susanne Sundfør
Music For People In Trouble AV
+ Gard Nilssen's Acoustic Unity
Monday 21 May 2018 / Barbican Hall / 19:30
Tickets £15 – 20 plus booking fee
Find out more
Field Music with the Open Here Orchestra
Friday 25 May 2018 / Barbican Hall / 19:30
Tickets £17.50 – 22.50 plus booking fee
Find out more
 
Actress + London Contemporary Orchestra
+ Duval Timothy, Silvia Kastel and Toxe
Saturday 26 May 2018 / Barbican Hall / 19:30
Tickets £17.50 – 22.50 plus booking fee
Find out more
Charles Watson
Saturday 26 May 2018 / LSO St Luke's / 19:30
Tickets £12.50 – 15 plus booking fee
Find out more
Tigran Hamasyan & Nils Petter Molvaer
Saturday 2 June 2018 / Barbican Hall / 19:30
Tickets £20 – 35 plus booking fee
Find out more
 
Thomas Bartlett + Nico Muhly
Peter Pears: Balinese Ceremonial Music
Friday 8 June 2018 / LSO St Luke's / 20:00
Tickets £25 – 30 plus booking fee
Find out more
 
Microdisney perform The Clock Comes Down the Stairs
Saturday 9 June 2018 / Barbican Hall / 20:00
Tickets £25 – 35 plus booking fee
Find out more
[Modern Ritual] featuring Charles Hayward + Laura Cannell + Hoofus + Jennifer Lucy Allan + Luke Turner
Saturday 16 June / LSO St Luke's / 19:30
Tickets £15 plus booking fee
Find out more
 
Wynton Marsalis Quartet
+ Headspace Quartet
Tuesday 19 June 2018 / Barbican Hall / 19:30
Tickets £15 – 35 plus booking fee
Find out more
 
Alva Noto + Ryuichi Sakamoto: Two
Wednesday 20 June 2018 / Barbican Hall / 19:30
SOLD OUT returns only
Find out more
 
Light in the Attic: Haruomi Hosono & Acetone
Saturday 23 June 2018 / Barbican Hall / 19:30
Tickets £17.50 – 30 plus booking fee
Find out more
 
Michael 'Mikey J' Asante: Outliers
Saturday 30 June 2018 / Barbican Hall / 19:30
Tickets £17.50 – 25 plus booking fee
Find out more
 
Oneohtrix Point Never: MYRIAD
7 July 2018 / Barbican Hall / 2018
Tickets £20 – 25 plus booking fee
Find out more
 
Yasuaki Shimizu
+ Carl Stone
Sunday 8 July 2018 / LSO St Luke's / 19:30
Tickets £15 – 20 plus booking fee
Find out more
 
Naseer Shamma Quartet - Spirits
Wednesday 11 July 2018 / Barbican Hall / 19:30
Tickets £25 – 35 plus booking fee
Find out more
 
monumental: Godspeed You! Black Emperor & The Holy Body Tattoo
Friday 13 & Saturday 14 July 2018 / Barbican Hall / 19:30
Tickets £20 – 30 plus booking fee
Find out more
 
Afro-Cuban All Stars
15 July 2018 / Barbican Hall / 19:30
Tickets £20 – 30 plus booking fee
Produced by the Barbican
Find out more
Keaton Henson: Six Lethargies
Performed by Britten Sinfonia
Friday 20 July 2018 / Barbican Hall / 20:00
Tickets £17.50 – 25 plus booking fee
Produced by the Barbican
Find out more
DJ Spoony presents Garage Classical
with the Ignition Orchestra
Saturday 21 July / Barbican Hall / 19:30
SOLD OUT returns only
Find out more
 
They Might Be Giants
Wednesday 3 October 2018 / Barbican Hall / 19:30
Tickets £20 – 35 plus booking fee
Find out more
Mew: Frengers
Saturday 20 October 2018 / Barbican Hall / 16:00 & *20:00
Tickets £20 – 27.50 plus booking fee / *SOLD OUT returns only
Find out more
Darbar Festival – Rupak Kulkarni + Meeta Pandit
Thursday 25 October 2018 / Milton Court Concert Hall / 18:30
Tickets £20 – 50 plus booking fee
Find out more
Darbar Festival – Soumik Datta + Malladi Brothers
Friday 26 October 2018 / Milton Court Concert Hall / 18:30
Tickets £20 – 50 plus booking fee
Find out more
Darbar Festival – Ustad Wasifuddin Dagar
Saturday 27 October 2018 / Milton Court Concert Hall / 10:00
Tickets £20 – 50 plus booking fee
Find out more
Darbar Festival – Sanju Sahai
Saturday 27 October 2018 / Milton Court Concert Hall / 14:00
Tickets £20 – 50 plus booking fee
Find out more
Darbar Festival – Lalgudi GJR Krishnan & Lalgudi Vijayalakshmi + Omar Dadarkar
Saturday 27 October 2018 / Milton Court Concert Hall / 18:30
Tickets £20 – 50 plus booking fee
Find out more
Darbar Festival – Ustad Shahid Parvez + Parveen Sultana
Sunday 28 October 2018 / Barbican Hall / 17:30
Tickets £18 – 75 plus booking fee
Find out more
Neko Case
Thursday 8 November 2018 / Barbican Hall / 20:00
Tickets £22.50 – 27.50 plus booking fee
Find out more
Bobby McFerrin
Part of EFG London Jazz Festival
Sunday 18 November 2018 / Barbican Hall / 19:30
Tickets £20 – 45 plus booking fee
Find out more
 
Brad Mehldau + Britten Sinfonia
Saturday 16 March 2019 / Barbican Hall / 20:00
Tickets £25 – 35 plus booking fee
Find out more
Sabine Kindel, Senior Communications Manager: +44 (0)20 7382 7090 or sabine.kindel@barbican.org.uk
Sean Harwood, Communications Manager: +44 (0)20 7382 6199 or sean.harwood@barbican.org.uk
Rachel Coombers, Communications Officer: +44 (0)20 7382 6196 or rachel.coombes@barbican.org.uk