Barbican announces Floating Points, Kid Creole and Arto Lindsay, Moondog for Gamelan, a concert for Alice and John Coltrane, and Aloysius Suwardi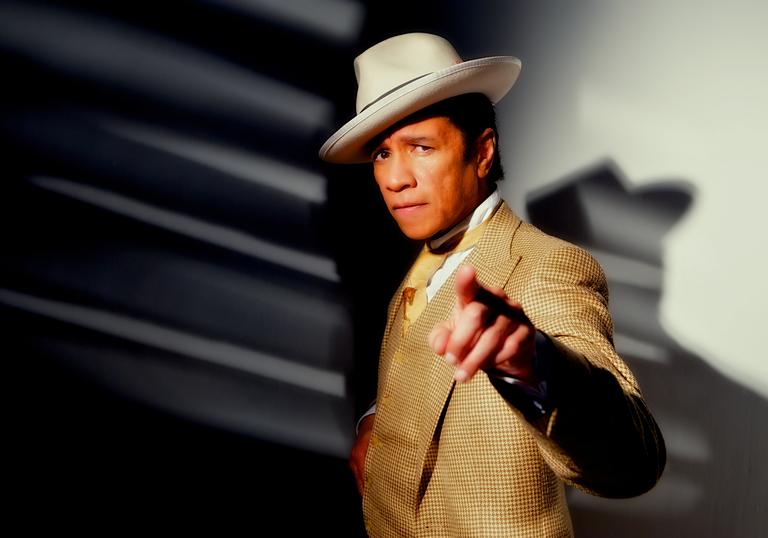 Floating Points: Reflections – Mojave Desert
Thursday 29 June 2017 / Cinema 1 / 19:00
Tickets £12.50 plus booking fee
The Barbican screens a new film, Reflections – Mojave Desert, from Floating Points and his band, featuring entirely new and unheard compositions as the soundtrack. Floating Points – aka British DJ, producer and neuroscientist Sam Shepherd – has toured with The xx and collaborated with Caribou and Four Tet, and is known for his explorative, genre-bending work. The film, a collaboration with director Anna Diaz Ortuño, is a thrilling sonic exploration of the desert environment, and is the first in a series of environmental recordings to be undertaken by Floating Points at different locations across the globe.
The film was recorded in August 2016, when the band travelled to the Mojave to rehearse ahead of their US tour. On encountering the distinctive sonic tapestries created by the valleys and rock formations, the band set up a recording operation, placing microphones throughout the landscape and filming their experience of capturing the desert's auditory textures.
The film screening will be followed by a Q&A with Sam Shepherd and film director Anna Diaz Ortuño, hosted by Boiler Room's Head of Music Raj Chaudhuri.
On sale to Barbican Members on Thursday 1 June 2017
On general sale on Friday 2 June 2017
Produced by the Barbican
Kid Creole & The Coconuts / Arto Lindsay
+ Justin Strauss
Saturday 7 October 2017 / Barbican Hall / 19:30
Tickets £17.50 – 25 plus booking fee
The Barbican hosts an evening of music drawn from the life and times of American artist Basquiat featuring Kid Creole & the Coconuts and Arto Lindsay. Both musicians inhabited the same cultural sphere as Basquiat, namely New York city of the 70s and 80s. This concert will feature the heady concoction of influences running from jazz to disco via numerous subcultures of punk and no wave – sounds that intertwined, unravelled and cross-pollinated during this exceptionally creative period.
The musical languages of both Kid Creole and Arto Lindsay also draw further multicultural parallels to Basquiat given their shared Caribbean and Latin American heritages. Kid Creole a.k.a. Bronx-born and raised August Darnell and his big band, the Coconuts, returns to the Barbican for the first time since 2010 with a selection of hits from the back catalogue. No Wave legend, New York icon Arto Lindsay also returns to the Barbican to present a new chapter of his genre-defying music career: the new album Cuidado Madame, mixing pop, noise and Brazilian reminiscences.
Additionally DJ Justin Strauss joins the evening's line-up. A former resident at NYC's infamous Mudd Club, Strauss soundtracked nights when Basquiat, Kid Creole and Arto Lindsay took to the dancefloor. Strauss' DJ set at the Barbican will further invoke the Basquiat era by recreating the vibe of Mudd Club and other Lower Manhattan haunts such as Area and Negril.
On sale to Barbican Members on Thursday 1 June 2017
On general sale on Friday 2 June 2017
Produced by the Barbican in association with Como No
Part of Basquiat: Boom for Real
Find out more
Moondog for Gamelan: Performed by Iwan Gunawan & Stefan Lakatos
Saturday 28 October 2017 / LSO St Luke's / 19:30
Tickets £20 - 25 Plus booking fee
In homage to the outstanding work of composer Louis Thomas Hardin, better known as Moondog, the Barbican and EUROPALIA INDONESIA present Moondog for Gamelan at LSO St Luke's on October 28.
Gamelan, the traditional ensemble music of Java and Bali, and an integral part of Indonesian culture, predominantly features percussive instruments. Its far-reaching influence can be found both in classical and contemporary music such as the soundtrack to the 1988 anime film Akira, and the recordings of post-punk group The Raincoats.
The ensemble gathered to pay tribute to Moondog will be led by Iwan Gunawan and Stefan Lakatos. Guanawan is considered one of the most important contemporary composers in the West Javanese cultural sphere today, notable works include Guanawan's adaptation of Steve Reich's Six marimbas for Gamelan. Close friend and pupil of Moondog, Stefan Lakatos is the leading exponent of the Moondog method of drum playing. The Swedish artist and musician performs Moondog's music internationally using a unique instrument called a "Trimba" offered to him by Moondog before his death in 1999. Furthermore, Gunawan's ensemble Kyai Fatahillah will take to the stage as part of this special performance.
A poet, conductor and inventor of his very own music instruments, Moondog's performances took place on the street corners of Manhattan and before European royalty. He caused a sensation not only through his radical music but also with his imposing white beard and Viking helmet that earned him the nickname "The Viking of the 6th Avenue". As a foundation for his work, Hardin looked to Native American Indian styles alongside both contemporary and classical jazz. His influence can be found in the works of minimalist composers including Philip Glass and Steve Reich whilst artists as diverse as Julie Andrews, Janis Joplin and Anohi (formerly known as Antony & The Johnsons) have performed Hardin's compositions.
On sale to Barbican Members on Thursday 1 June 2017
On general sale on Friday 2 June 2017
Produced by the Barbican in association with Kazum and Europalia
Find out more
Pharoah Sanders Quartet
+ Denys Baptiste + Alina Bzhezhinska
A concert for Alice and John Coltrane
Saturday 18 November 2017 / Barbican Hall / 19:30
Tickets £15 - 35 plus booking fee
As part of the EFG London Jazz Festival, Saturday 18 November at the Barbican celebrates the profound musical and spiritual legacy of two of the most influential figures in Western musical history: Alice and John Coltrane. Sets come courtesy of three artists, former John Coltrane collaborator Pharoah Sanders, and two prominent artists from the UK – the acclaimed saxophonist Denys Baptiste and rising Alina Bzhezhinska, both drawing inspiration from the Coltrane repertoire.
The headline set features Cosmic Jazz icon Pharoah Sanders, a member of John's groups of the mid-1960s. Sanders's saxophone sound provided a crucial contribution to the anarchic music of John's later ensembles – a teeming, irregularly structured mixture of sound for sound's sake – as well as participating in the spiritual intensity of Alice's music.
Denys Baptiste's latest project, The Late Trane, reflects the visceral emotions and celestial references that encompass John's final work, with Steve Williamson adding a second saxophone voice.
Innovative harpist Alina Bzhezhinska and her quartet are joined by award-winning saxophonist Tony Kofi. Their set takes the form of a loving tribute to both Alice and John through performances of Coltrane compositions, original material and mystically-inspired improvisation.
This concert coincides with a number of anniversaries, 50 years since the death of John, 80 years since the birth of Alice and ten years after her passing – shortly before she was due to play at the Barbican. 2017 has also seen the release of The Ecstatic Music Of Alice Coltrane Turiyasangitananda on the Luaka Bop label, a compilation of recordings previously only available on cassette tape to members of her Los Angeles ashram. This new edition has captured the imagination of another generation.
On sale to Barbican Members on Thursday 1 June 2017
On general sale on Friday 2 June 2017
Produced by the Barbican in association with Serious
Part of EFG London Jazz Festival
Find out more
Planet Harmonik by Aloysius Suwardi
Thursday 18 January 2018 / Milton Court / 19:30
Tickets £10 - 20 plus booking fee
Following on from Moondog for Gamelan, EUROPALIA and the Barbican present a further exploration of this traditional Indonesian music. Planet Harmonik by Aloysius Suwardi is an exceptional project based around the Pythagorean concept of the music of the spheres. Suwardi, much like Moondog, is a highly skilled inventor of musical instruments many of which are used in Planet Harmonik. Amongst his sonic armoury are metallophones with motorised resonators, giant gambang xylophones and hydraulic water-filled bamboo flutes.
On sale to Barbican Members on Thursday 1 June 2017
On general sale on Friday 2 June 2017
Produced by the Barbican in association with Kazum and Europalia
Find out more
ENDS
Notes to Editors
Barbican Box Office: 0845 120 7550
www.barbican.org.uk
Press Information
For any further information, images or to arrange interviews, please contact the Barbican's music media relations team:
Sabine Kindel, Senior Communications Manager
t - +44 (0)20 7382 7090
e – sabine.kindel@barbican.org.uk
Sean Harwood, Senior Communications Officer
t - +44 (0)20 7382 6199
e – sean.harwood@barbican.org.uk
Rachel Coombes, Communications Officer
t - +44 (0)20 7382 6196
e – rachel.coombes@barbican.org.uk
Jean Tang, Communications Assistant
t - +44 (0)20 7382 6138
e – jean.tang@barbican.org.uk
Sabine Kindel, Senior Communications Manager: +44 (0)20 7382 7090, sabine.kindel@barbican.org.uk
Sean Harwood, Senior Communications Officer : +44 (0)20 7382 6199, sean.harwood@barbican.org.uk
Rachel Coombes, Communications Officer: +44 (0)20 7382 6196, rachel.coombes@barbican.org.uk
Jean Tang, Communications Assistant: +44 (0)20 7382 6138, jean.tang@barbican.org.uk