Barbican announces Carleen Anderson, Martin Hayes + Brooklyn Rider, and The Ukulele Orchestra of Great Britain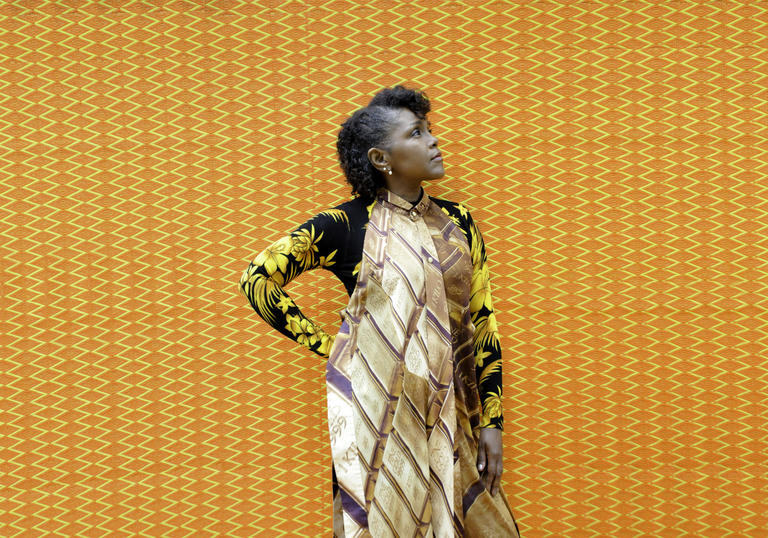 Carleen Anderson – Cage Street Memorial
+ special guests TBA
Saturday 20 January 2018 / Barbican Hall / 19:30
Tickets £15 - 25 plus booking fee
Mercury-nominated and Worldwide FM Lifetime Achievement Award winner Carleen Anderson takes to the Barbican stage to present Cage Street Memorial. Described by Anderson as a "tribal opera", poetry and songs chronicle over a century of Anderson's own family heritage, reflecting on multi-culturalism and the celebration of perseverance against the odds.
Original songs composed and arranged by Anderson drawn from jazz and soul, gospel and chamber music are enhanced by a backdrop of evocative visual images with Carleen on voice, piano and digital harmonizer complemented by an expert quartet led by the critically acclaimed multi-instrumentalist Orphy Robinson (also appearing at the Barbican as part of the EFG London Jazz Festival on Friday 10 November 2017.)
This performance on 20 January 2018 of songs from the soundtrack album titled Cage Street Memorial – The Pilgrimage (Freestyle Records, 2016), is one-third part of a trilogy series also consisting of a theatrical production currently in development and a British Library registered book Cage Street Memorial - The Chapel of Mirrors. Carleen Anderson's Cage Street Memorial project is supported by Arts Council England and PRS for Music Foundation.
On sale to Barbican members on Thursday 12 October
On general sale on Friday 13 October
Produced by the Barbican in association with Serious
Find out more
Martin Hayes + Brooklyn Rider
Thursday 25 January 2018 / Milton Court Concert Hall / 19:30
Tickets £15 - 25 plus booking fee
Renowned Irish fiddler Martin Hayes and the eclectic quartet Brooklyn Rider join forces for an evening of music grounded in the Irish tradition. Drawing material from their upcoming collaborative album, this union dives headlong into innovative arrangements of traditional tunes from Colin Jacobsen, Kyle Sanna, Ljova, and Dana Lyn.
As a master of his chosen instrument, Hayes has received global recognition for his interpretations of the music of his homeland. He has collaborated with an array of talent from the Irish, folk, contemporary and classical genres, performing on stage with the likes of Sting and Paul Simon. Whilst an established artist in his own right, Hayes spent his youth playing in his late father, P.Joe Hayes' Tulla Céilí Band, which has now been together for more than 70 years. Hayes is also part of supergroup The Gloaming, alongside Iarla Ó Lionáird, Caoimhín Ó Raghallaigh, Dennis Cahill and New York pianist/producer Thomas Bartlett aka Doveman. The Gloaming previously took to the Barbican Hall stage in front of a sell-out crowd in March of 2015.
Comprised of Johnny Gandelsman (violin), Colin Jacobsen (violin), Nicholas Cords (viola) and Michael Nicolas (cello), Brooklyn Rider have been performing and recording for over ten years. The group have won the affection of fans of classical, world and rock music alike via their renditions of works by Caroline Shaw, Nico Mulhy, Björk, Elvis Costello, Philip Glass and more. Brooklyn Rider has performed with artists as varied as jazz luminary Joshua Redman and New York City Ballet principal dancer Wendy Whelan. Brooklyn Rider previously performed at the Barbican alongside Kamancheh virtuoso Kayhan Kalhor in May 2013.
On sale to Barbican members on Thursday 12 October
On general sale on Friday 13 October
Produced by the Barbican
Find out more
The Ukulele Orchestra of Great Britain
Concert for Kitty
Friday 26 January 2018 / Barbican Hall / 20:00
Tickets £25 - 35 plus booking fee
The Ukulele Orchestra of Great Britain celebrates the life and influence of founder member Kitty Lux, who sadly passed away in 2017, with a special concert at the Barbican.
From its inception in 1985, Kitty was a driving force behind the orchestra and key part of its style; she helped shape the orchestra from its outsider, art school, punk-rock-meets-jazz-and-early-music roots to its current status as an international institution.
The event will be a celebratory concert featuring lively toe-tapping, stomping tunes to dark, mordant ballads, with irony, wit and good humour. A show featuring the orchestra's greatest hits as well as songs dear to, or sung by Kitty, with special guest appearances from friends and former members of the orchestra. The performance also marks a return to the Barbican for the orchestra after more than 10 years – their week-long residency in the Pit Theatre in 2005 being a significant moment which raised their profile and set them on a path for great success.
On sale to Barbican members on Thursday 12 October
On general sale on Friday 13 October
Produced by the Barbican in association with the Ukulele Orchestra of Great Britain
Find out more
COMING UP IN AUTUMN 2017
GoGo Penguin: Koyaanisqatsi
A New Score Performed Live
Wednesday 11 October 2017 / Barbican Hall / 19:30
SOLD OUT returns only
Shiraz: A Romance of India (1928)
World premiere live screening of the BFI National Archive's latest restoration
Featuring a newly commissioned score composed and performed by Anoushka Shankar
Saturday 14 October 2017 / Barbican Hall / 20:00
SOLD OUT returns only
Dasha Rush & LCC
Wednesday 18 October / Milton Court Concert Hall / 19:30
Tickets £10 – 20 plus booking fee
Produced by the Barbican in association with Clon
Supported by the Goethe-Institut London
Matthew Herbert's Brexit Big Band
Reisezehrung
Monday 23 October 2017 / Barbican Hall / 19:30
Tickets £15 – 30 plus booking fee
Moondog for Gamelan: Performed by Iwan Gunawan & Stefan Lakatos
+ Steve Lawson & Corey Mwamba
Saturday 28 October 2017 / LSO St Luke's / 19:30
SOLD OUT returns only
Camille
Monday 30 October 2017 / Barbican Hall / 19:30
Tickets £20 – 35 plus booking fee
Gilberto Gil + Cortejo Afro
with Nucleo de Opera da Bahia and Orquestra Nova Lisboa
Tuesday 31 October 2017 / Barbican Hall / 19:30
Tickets £20 – 60 plus booking fee
Find out more
Saz'iso
Saturday 4 November / LSO St Luke's / 20:00
SOLD OUT returns only
Produced by the Barbican
Basquiat and Jazz
Featuring Black Top and guests
Part of EFG London Jazz Festival and Basquiat: Boom for Real
Friday 10 November 2017 / LSO St Luke's / 19:30
Tickets £15 – 25 plus booking fee
Chucho Valdés + Gonzalo Rubalcaba
Part of EFG London Jazz Festival
Saturday 11 November 2017 / Barbican Hall / 14:30
Tickets £20 – 40 plus booking fee
RIOT DAYS – Pussy Riot Theatre
Friday 17 November 2017 / Islington Assembly Hall / 20:00
Tickets £20 plus booking fee
Produced by the Barbican
Supported by the Tsukanov Family Foundation
The Ecstatic Music of Alice Coltrane Turiyasangitananda
Part of EFG London Jazz Festival
Saturday 18 November 2017 / LSO St Luke's / 11:00 & 17:30
Tickets £25 plus booking fee
Produced by the Barbican
Pharoah Sanders Quartet
+ Denys Baptiste + Alina Bzhezhinska
A concert for Alice and John Coltrane
Part of EFG London Jazz Festival
Saturday 18 November 2017 / Barbican Hall / 19:30
SOLD OUT returns only
Terence Blanchard Quintet
Joe Zawinul's Stories of the Danube
BBC Concert Orchestra and conductor Kristjan Järvi
Part of EFG London Jazz Festival
Sunday 19 November 2017 / Barbican Hall / 19:30
Tickets £20 – 35 plus booking fee
Sō Percussion: From Out a Darker Sea
Friday 24 & Saturday 25 November 2017 / St Giles Cripplegate / 20:00
Tickets £15 plus booking fee
Tan Dun: The Martial Arts Trilogy
with the London Symphony Orchestra
Thursday 30 November 2017 / Barbican Hall / 19:30
Tickets £17.50-35 plus booking fee
Unsound Dislocation: London
Friday 8 December 2017 / Barbican Hall / 19:30
Tickets £17.50 – 22.50 plus booking fee
COMING UP IN 2018
Planet Harmonik by Aloysius Suwardi
Thursday 18 January 2018 / Milton Court Concert Hall / 19:30
Tickets £20 plus booking fee
Video Jam x Basquiat
Basquiat-inspired short films with original scores performed live by Young Fathers, Ibibio Sound Machine and more
Part of Basquiat: Boom for Real
Sunday 28 January 2018 / Barbican Hall / 20:00
Tickets £17.50 – £22.50 plus booking fee
Jeff Tweedy
Saturday 3 February 2018 / Barbican Hall / 20:00
Tickets £30 - 50 plus booking fee
Nils Frahm – All Melody
Wednesday 21 Friday 23 & *Saturday 24 February 2018 / Barbican Hall / 19:30, *15:00 & 20:00
SOLD OUT returns only
Produced by the Barbican in association with Bird on the Wire
Jazz at Lincoln Center Orchestra with Wynton Marsalis
Benny Goodman: King of Swing
Tuesday 27 February 2018 / Barbican Hall / 20:00
Tickets £30 – 45 plus booking fee
Jazz at Lincoln Center Orchestra with Wynton Marsalis
Leonard Bernstein at 100
Wednesday 28 February 2018 / Barbican Hall / 20:00
Tickets £30 – 45 plus booking fee
The Next Generation of Jazz Showcase
Thursday 1 March 2018 / Milton Court Concert Hall / 19:00
Tickets £8 plus booking fee
John Cale (2018-1964): A Futurespective
With the London Contemporary Orchestra
Friday 9 & Saturday 10 March 2018 / Barbican Hall / 19:30
Tickets £35 - £45 plus booking fee
Produced by the Barbican in association with Convergence
Niladri Kumar: Seduced by the Sitar
Tuesday 13 March 2018 / Milton Court Concert Hall / 19:00
Tickets £18 – 50 plus booking fee
Just Jam Reloaded
Saturday 17 March 2018 / Barbican Hall / 19:30
Tickets £15 plus booking fee
ENDS
Sabine Kindel, Senior Communications Manager: t - +44 (0)20 7382 7090 e – sabine.kindel@barbican.org.uk
Sean Harwood, Senior Communications Officer: t - +44 (0)20 7382 6199 e – sean.harwood@barbican.org.uk
Rachel Coombes, Communications Officer: t - +44 (0)20 7382 6196 e – rachel.coombes@barbican.org.uk
Jean Tang, Communications Assistant: t - +44 (0)20 7382 6138 e – jean.tang@barbican.org.uk