Barbican announces Basquiat and Jazz featuring Black Top and guests, Jeff Tweedy, plus the Barbican is now an official Apple Music Curator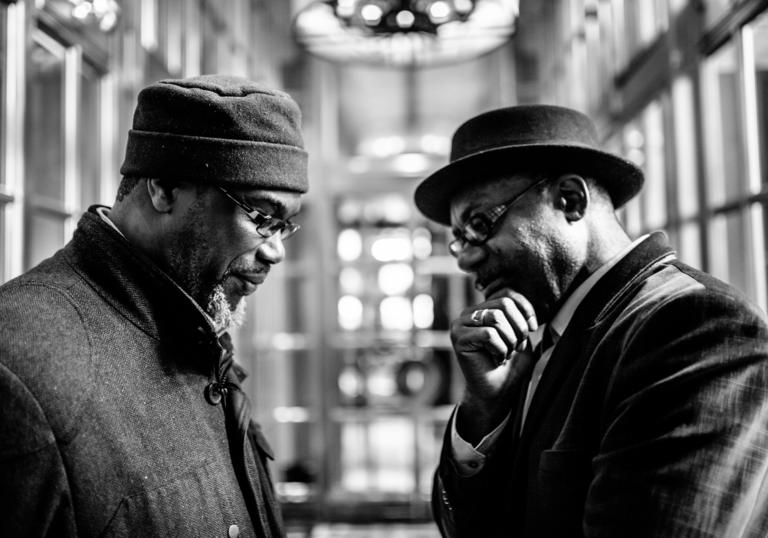 JUST ANNOUNCED
Basquiat and Jazz
Featuring Black Top and guests
Part of EFG London Jazz Festival and Basquiat: Boom for Real
Friday 10 November 2017 / LSO St Luke's / 19:30
Tickets £15 – 25 plus booking fee
Performing under their collective alias Black Top, British vibraphonist and multi-instrumentalist Orphy Robinson is joined by regular collaborator and pianist Pat Thomas. The evening's performance offers a rich exploration of the cultural dynamic between Free-Jazz and the vividly resonant paintings of American artist Jean-Michel Basquiat. Introduced by writer and improvisation expert Francesco Martinelli – author of the catalogue essay 'Basquiat, Bird, Beat and Bop' - the concert welcomes further performers and collaborators in radical guitarist Jean Paul Bourelly, spoken word artist Anthony Joseph, and trumpeter Byron Wallen.
Jazz was a reoccurring theme in Basquiat's work. Pieces including 'Trumpet', 'Horn Players' and 'Charles the First' demonstrate his love of the genre whilst immortalising great players such as Charlie Parker and Dizzy Gillespie. Similarly, away from the canvas in Basquiat's occasional DJ sets at the legendary New York night club Area, he could be found playing records by jazz legends including John Coltrane.
This concert coincides with Basquiat: Boom For Real, the first large-scale exhibition in the UK of the work of the artist, opening at the Barbican Art Gallery on 21 September 2017.
On sale to Barbican members on Thursday 7 September
On general sale on Friday 8 September
Produced by the Barbican in association with Serious
Find out more
Jeff Tweedy
Saturday 3 February 2018 / Barbican Hall / 20:00
Tickets £30 - 50 plus booking fee
Singer and guitarist of American alt rock act Wilco, Jeff Tweedy takes to the Barbican Hall stage for a solo acoustic performance of tracks drawn from the Wilco back catalogue, plus material from Tweedy's occasional side projects Loose Fur and Golden Smog. This concert is in support of Tweedy's solo album Together At Last, released June 2017 via dBpm Records. The record is the first in a proposed series – Loft Acoustic Sessions – where Tweedy revisits his vast body of work; spanning three decades and more than 20 albums. The audience will be familiar with songs making up the concert's set list; however Tweedy will deliver familiar favourites in the form of new and intimate renditions.
Jeff Tweedy, as part of Wilco, is a Grammy Award winner; a songwriter, musician and record producer. He has collaborated with the likes of Billy Bragg, Mavis Staples and - out of the studio and off stage - appeared in cameo roles in TV shows Parks and Recreation and Portlandia,
On sale to Barbican members on Thursday 7 September
On general sale on Friday 8 September
Produced by the Barbican
UPDATED INFORMATION
The Magnetic Fields: 50 Songs Memoir
Saturday 9 & Sunday 10 September 2017 / Barbican Hall / 20:00 NOTE NEW START TIME
Tickets £20 – 35 plus booking fee
ALSO ANNOUNCED
The Barbican is now an official Apple Music Curator and playlists crafted by the centre's music teams, associates, artists and collaborators will be available via the streaming platform. Selections from the Barbican will span both classical and contemporary music, reflecting the wide and eclectic music programming that audiences regularly enjoy at Barbican promoted concerts. Furthermore, the Barbican launches its Apple Music Curator presence with three playlists exclusively curated by Sir Simon Rattle, Music Director of the London Symphony Orchestra, and Artist-in-Association with the Barbican and the Guildhall School. Users can follow the Barbican via Apple Music to keep up to date with the new playlists and music highlights.
COMING UP IN AUTUMN 2017
Julius Eastman Memorial Dinner
Saturday 9 September 2017 / LSO St Luke's / 20:00
Tickets £20 plus booking fee
The Magnetic Fields: 50 Songs Memoir
Saturday 9 & Sunday 10 September 2017 / Barbican Hall / 20:00
Tickets £20 – 35 plus booking fee
Jim Jarmusch Revisited
Featuring Mulatu Astatke, Alex Kapranos, Camille O'Sullivan and Jolie Holland
Wednesday 20 & Thursday 21 September 2017 / Barbican Theatre / 19:30
Tickets £15 – 30 plus booking fee
Gainsbourg Symphonic with Jane Birkin
Featuring Heritage Orchestra and conductor Geoffrey Styles
Artistic direction: Philippe Lerichomme
Piano & musical arrangements: Nobuyuki Nakajima
Tuesday 26 September 2017 / Barbican Hall / 19:30
SOLD OUT, returns only
Ryoji Ikeda: Test Pattern
Thursday 28 September 2017 / The Old Selfridges Hotel / 19:00 & 21:30
Tickets £22.00 plus booking fee
Midori Takada
+ Visible Cloaks
Part of Transcender 2017
Thursday 28 September 2017 / Milton Court Concert Hall / 19:30
SOLD OUT, returns only
Kayhan Kalhor with the Rembrandt Trio
+ Awj Trio
Part of Transcender 2017
Friday 29 September 2017 / Barbican Hall / 19.30
Tickets: £20 – 25 plus booking fee
Sacred Imaginations 1:
New and Ancient Music of the Christian East
Part of Transcender 2017
Saturday 30 September 2017 / Barbican Hall / 19.30
Tickets: £20 – 27.50 plus booking fee
Different Trains 1947
featuring audio-visual collaborations from Actress, Sandunes and Jack Barnett
+ Darkstar
Part of Transcender 2017
Sunday 1 October 2017 / Barbican Hall / 19.30
Tickets: £15 – 22.50 plus booking fee
Spacebomb Revue
Friday 6 October 2017 / Barbican Hall / 19:30
Tickets £20 – 30 plus booking fee
Kid Creole & The Coconuts / Arto Lindsay
+ Justin Strauss
Part of Basquiat: Boom for Real
Saturday 7 October 2017 / Barbican Hall / 19:30
Tickets £17.50 – 25 plus booking fee
GAS Live
+ Huerco S Live
Sunday 8 October 2017 / Barbican Hall / 20:00
Tickets £17.50 – 22.50 plus booking fee
Darbar Festival: Kaushiki Chakraborty
Sunday 8 October 2017 / Milton Court Concert Hall / 18:00
Tickets £18 – 50 plus booking fee
GoGo Penguin: Koyaanisqatsi
A New Score Performed Live
Wednesday 11 October 2017 / Barbican Hall / 19:30
SOLD OUT, returns only
Shiraz: A Romance of India (1928)
World premiere live screening of the BFI National Archive's latest restoration
Featuring a newly commissioned score composed and performed by Anoushka Shankar
Saturday 14 October 2017 / Barbican Hall / 20:00
Tickets £17.50 – 25 plus booking fee
Dasha Rush & LCC
Wednesday 18 October / Milton Court Concert Hall / 19:30
Tickets £10 – 20 plus booking fee
Produced by the Barbican in association with Clon
Supported by the Goethe-Institut London
Matthew Herbert's Brexit Big Band
Reisezehrung
Monday 23 October 2017 / Barbican Hall / 19:30
Tickets £15 – 30 plus booking fee
Moondog for Gamelan: Performed by Iwan Gunawan & Stefan Lakatos
Saturday 28 October 2017 / LSO St Luke's / 19:30
Tickets £20 - 25 Plus booking fee
Camille
Monday 30 October 2017 / Barbican Hall / 19:30
Tickets £20 – 35 plus booking fee
Gilberto Gil + Cortejo Afro
with Nucleo de Opera da Bahia and Orquestra Nova Lisboa
Tuesday 31 October 2017 / Barbican Hall / 19:30
Tickets £20 – 60 plus booking fee
Find out more
Saz'iso
Saturday 4 November / LSO St Luke's / 20:00
Tickets £20 – 25 plus booking fee
Produced by the Barbican
Chucho Valdés + Gonzalo Rubalcaba
Part of EFG London Jazz Festival
Saturday 11 November 2017 / Barbican Hall / 14:30
Tickets £20 – 40 plus booking fee
RIOT DAYS – Pussy Riot Theatre
Friday 17 November 2017 / Islington Assembly Hall / 20:00
Tickets £20 plus booking fee
Produced by the Barbican
Supported by the Tsukanov Family Foundation
Pharoah Sanders Quartet
+ Denys Baptiste + Alina Bzhezhinska
A concert for Alice and John Coltrane
Part of EFG London Jazz Festival
Saturday 18 November 2017 / Barbican Hall / 19:30
Tickets £15 - 35 plus booking fee
Terence Blanchard Quintet
Joe Zawinul's Stories of the Danube
BBC Concert Orchestra and conductor Kristjan Järvi
Part of EFG London Jazz Festival
Sunday 19 November 2017 / Barbican Hall / 19:30
Tickets £20 – 35 plus booking fee
Tan Dun: The Martial Arts Trilogy
with the London Symphony Orchestra
Thursday 30 November 2017 / Barbican Hall / 19:30
Tickets £17.50-35 plus booking fee
Unsound Dislocation: London
Friday 8 December 2017 / Barbican Hall / 19:30
Tickets £17.50 – 22.50 plus booking fee
COMING UP IN 2018
Planet Harmonik by Aloysius Suwardi
Thursday 18 January 2018 / Milton Court Concert Hall / 19:30
Tickets £20 plus booking fee
Nils Frahm – All Melody
Wednesday 21 Friday 23 & *Saturday 24 February 2018 / Barbican Hall / 19:30, *15:00 & 20:00
Tickets £25 – 35 plus booking fee
Produced by the Barbican in association with Bird on the Wire
Jazz at Lincoln Center Orchestra with Wynton Marsalis
Benny Goodman: King of Swing
Tuesday 27 February 2018 / Barbican Hall / 20:00
Tickets £30 – 45 plus booking fee
Jazz at Lincoln Center Orchestra with Wynton Marsalis
Leonard Bernstein at 100
Wednesday 28 February 2018 / Barbican Hall / 20:00
Tickets £30 – 45 plus booking fee
The Next Generation of Jazz Showcase
Thursday 1 March 2018 / Milton Court Concert Hall / 19:00
Tickets £8 plus booking fee
Niladri Kumar: Seduced by the Sitar
Tuesday 13 March 2018 / Milton Court Concert Hall / 19:00
Tickets £18 – 50 plus booking fee
ENDS
Sabine Kindel, Senior Communications Manager: t - +44 (0)20 7382 7090 e – sabine.kindel@barbican.org.uk
Sean Harwood, Senior Communications Officer: t - +44 (0)20 7382 6199 e – sean.harwood@barbican.org.uk
Rachel Coombes, Communications Officer: t - +44 (0)20 7382 6196 e – rachel.coombes@barbican.org.uk
Jean Tang, Communications Assistant: t - +44 (0)20 7382 6138 e – jean.tang@barbican.org.uk