Barbican announces Alessandro Cortini, Sarah Davachi, Yasuaki Shimizu and Carl Stone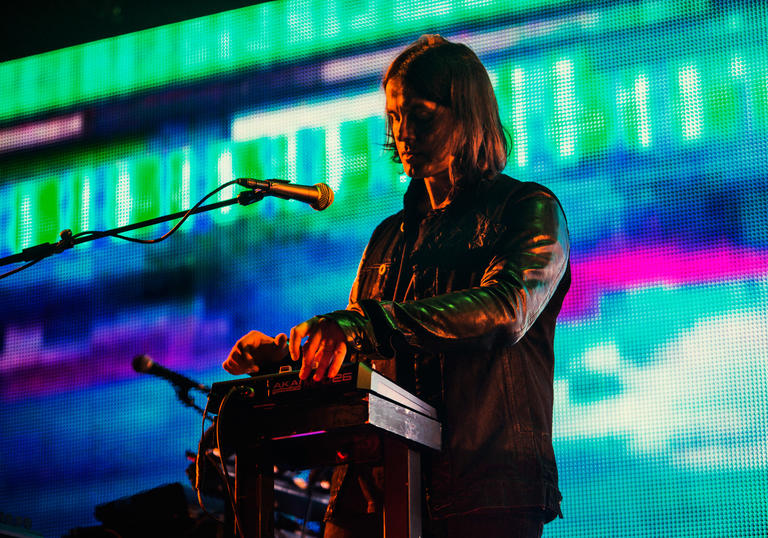 JUST ANNOUNCED
Alessandro Cortini + Sarah Davachi
Monday 30 April 2018 / Milton Court Concert Hall / 19:30
Tickets £10 – 20 plus booking fee
In an evening of ambient electronic performances Italian musician Alessandro Cortini presents AVANTI. Equating music with memory, Cortini combines vintage Super 8 films shot by his grandfather - portraying family life and Cortini's early childhood - with a synth-based sonic canvas. Cortini's previous work is electric and far ranging; solo and collaborative projects have included releases under the names SONOIO, modwheelmood and blindoldfreak. He has also worked in the studio, as a touring musician and as a remixer for artists including Nine Inch Nails, Muse, Ladytron and Daniel Avery.
Canadian composer and performer of electroacoustic music Sarah Davachi will open the concert with a demonstration of her work delving into psychoacoustics. In addition to her output as a musician Davachi is a researcher for Canada's National Music Centre, she has held artist residencies at The Banff Centre for the Arts (Banff, Canada), STEIM (Amsterdam, Netherlands), EMS (Stockholm, Sweden), MESS (Melbourne, Australia) and a number of other highly regarded institutes.
On sale to Barbican members on Wednesday 31 January 2018
On general sale on Thursday 1 February 2018
Find out more
Yasuaki Shimizu
+ Carl Stone
Sunday 8 July 2018 / LSO St Luke's / 19:30
Tickets £15 – 20 plus booking fee
In the wake of his two enthusiastically received re-issued albums in 2017 (Music For Commercials, Crammed Discs and Kakashi, Palto Flats/WRWTFWW), composer, producer and performer Yasuaki Shimizu comes to the UK live stage in a Barbican-produced performance at LSO St Luke's on 8 July 2018. Joined by sound artist Ray Kunimoto, his retrospective/forward-looking set will feature saxophone, electronics and piano projected through four channel surround sound.
A successful solo artist, founder of experimental Japanese rock group Mariah, and creator of an array of film, TV and multimedia-installation projects, Shimizu's output also includes acclaimed interpretations of J.S. Bach. His releases and live performances reflect the sounds of jazz, classical and electronic music. Furthermore he has collaborated with such luminaries as Ryuichi Sakamoto, Björk, Van Dyke Parks and David Cunningham.
A supporting set comes from live computer music pioneer Carl Stone, presenting material from his forthcoming album due for release in May 2018 on Unseen Worlds. His set will juxtapose samples from high and low brow sources in real time, set against field recordings - also utilising the specially installed surround sound.
On sale to Barbican members on Wednesday 31 January 2018
On general sale on Thursday 1 February 2018
Find out more
ALSO RECENTLY ANNOUNCED
Jóhann Jóhannsson: Last and First Men
Saturday 1 December 2018 / Barbican Hall / 20:00
Tickets £20 – 35 plus booking fee
Last and First Men is a new multimedia work by Oscar-nominated Icelandic composer Jóhann Jóhannsson, combining film – featuring narration by Tilda Swinton – and music, with the score performed live by the London Symphony Orchestra under conductor Daníel Bjarnason.
On sale to Barbican members now
On general sale Friday 2 February 2018
Find out more
Darbar Festival
Thursday 25 – Sunday 28 October 2018 / Milton Court Concert Hall and Barbican Hall
Tickets £18 – 75 plus booking fee
Darbar Festival of Indian classical music comes to the Barbican for the first time, with featured artists including:
Rupak Kulkarni + Meeta Pandit
Thursday 25 October 2018 / Milton Court Concert Hall / 18:30
Tickets £20 – 50 plus booking fee
Find out more
Soumik Datta + Malladi Brothers
Friday 26 October 2018 / Milton Court Concert Hall / 18:30
Tickets £20 – 50 plus booking fee
Find out more
Ustad Wasifuddin Dagar
Saturday 27 October 2018 / Milton Court Concert Hall / 10:00
Tickets £20 – 50 plus booking fee
Find out more
Sanju Sahai
Saturday 27 October 2018 / Milton Court Concert Hall / 14:00
Tickets £20 – 50 plus booking fee
Find out more
Lalgudi GJR Krishnan & Lalgudi Vijayalakshmi + Omar Dadarkar
Saturday 27 October 2018 / Milton Court Concert Hall / 18:30
Tickets £20 – 50 plus booking fee
Find out more
Ustad Shahid Parvez + Parveen Sultana
Sunday 28 October 2018 / Barbican Hall / 17:30
Tickets £18 – 75 plus booking fee
Find out more
On sale to Barbican members Wednesday 31 January 2018
On general sale Thursday 1 February 2018
Find out more
COMING UP IN 2018
Jeff Tweedy
+ James Elkington
Saturday 3 February 2018 / Barbican Hall / 20:00
SOLD OUT returns only
Find out more
Nils Frahm – All Melody
Wednesday 21 Friday 23 & *Saturday 24 February 2018 / Barbican Hall / 19:30, *15:00 & 20:00
SOLD OUT returns only
Find out more
Jazz at Lincoln Center Orchestra with Wynton Marsalis
Benny Goodman: King of Swing
Tuesday 27 February 2018 / Barbican Hall / 20:00
SOLD OUT returns only
Find out more
Jazz at Lincoln Center Orchestra with Wynton Marsalis
Leonard Bernstein at 100
Wednesday 28 February 2018 / Barbican Hall / 20:00
Tickets £30 – 45 plus booking fee
Find out more
POLIÇA + s t a r g a z e
Tuesday 27 February 2018 / Oval Space / 19:30
Tickets £22.50 plus booking fee
Find out more
Miles Ahead with Jazz at Lincoln Center Youth Orchestra & more Thursday 1 March 2018 / Milton Court Concert Hall / 19:00
Tickets £8 plus booking fee
Find out more
Alva Noto UNIEQAV
+ Anne-James Chaton
Sunday 4 March 2018 / Barbican Hall / 19:30
Tickets £10 – 20 plus booking fee
Find out more
John Cale (2018-1964): A Futurespective
With the London Contemporary Orchestra
Friday 9 & Saturday 10 March 2018 / Barbican Hall / 19:30
Tickets £35 – 45 plus booking fee
Find out more
Niladri Kumar: Seduced by the Sitar
Tuesday 13 March 2018 / Milton Court Concert Hall / 19:00
Tickets £18 – 50 plus booking fee
Find out more
Jean-Luc Ponty Trio
Jean-Luc Ponty, Biréli Lagrène, Kyle Eastwood
Friday 16 March 2018 / Barbican Hall / 19:30
Tickets £15 – 35 plus booking fee
Find out more
Just Jam Reloaded
with Belly Squad, Kamaal Williams, Nídia, Skengdo x AM, Kenny Allstar, Murlo and Headie One
Saturday 17 March 2018 / Barbican Hall / 19:30
Tickets £15 plus booking fee
Find out more
Charles Hazlewood with Army of Generals and the British Paraorchestra
PLAY!
Sunday 18 March 2018 / Barbican Hall / 19:30
Tickets £15 – 20 plus booking fee
Find out more
Harshdeep Kaur
Tuesday 27 March 2018 / Barbican Hall / 19:30
Tickets £20 – 35 plus booking fee
Find out more
Simian Mobile Disco with Deep Throat Choir
+ Fatima Al Qadiri presents Ja7eem
Wednesday 4 April 2018 / Barbican Hall / 20:00
Tickets £17.50 – 22.50 plus booking fee
Produced by the Barbican
Find out more
Carl Craig presents Synthesizer Ensemble
Friday 6 April 2018 / Barbican Hall / 19:30
Tickets £20 – 25 plus booking fee
Find our more
Kyle Dixon & Michael Stein performing the music of Stranger Things
Saturday 7 April 2018 / Barbican Hall / 20:00 & 22:30
SOLD OUT returns only
Find out more
Thurston Moore: 12x12
Music for Twelve 12-String guitars (Acoustic + Electric)
Saturday 14 April 2018 / Barbican Hall / 19:30
Tickets £17.50 – 25 plus booking fee
Find out more
SONORAMA!
Latin American Composers in Hollywood
Part of La Linea
Friday 20 April 2018 / Barbican Hall / 19:30
Tickets £15 - 25 plus booking fee
Find out more
Mexrrissey – La Reina is Dead
Part of La Linea
Sunday 29 April 2018 / Barbican Hall / 19:30
Tickets £15 – 25 plus booking fee
Find out more
Ahmad Jamal
Tuesday 8 May 2018 / Barbican Hall / 19:30
Tickets £25 – 50 plus booking fee
Find out more
Sounds and Visions
The Barbican's marathon weekend in 2018 curated by Max Richter and Yulia Mahr
with The 12 ensemble, Kaitlyn Aurelia Smith, Jlin, AGF, Vikingur Ólafsson, The Will Gregory Moog Ensemble, London Syrian Ensemble, BBC Symphony Orchestra with Roomful of Teeth conducted by André de Ridder, Colin Currie Group with Synergy Vocals, EX EYE, Caterina Barbieri, Claire M Singer, Chineke! conducted by Fawzi Haimor
Friday 11 – Sunday 13 May 2018 / Barbican Hall & foyer, Barbican Cinemas 1 & 2, LSO St Luke's, Milton Court Concert Hall, St Giles' Cripplegate
Tickets £10 – 35, plus free events
Find out more
Kronos Quartet and Trio Da Kali – Ladilikan
Sam Green and Kronos Quartet: A Thousand Thoughts – a live documentary
Friday 18 May 2018 / Barbican Hall / 19:30
Tickets £20 - 35 plus booking fee
Find out more
Susanne Sundfør
Music For People In Trouble AV
Monday 21 May 2018 / Barbican Hall / 19:30
Tickets £15 – 20 plus booking fee
Find out more
Field Music with the Open Here Orchestra
Friday 25 May 2018 / Barbican Hall / 19:30
Tickets £17.50 – 22.50 plus booking fee
Find out more
Tigran Hamasyan & Nils Petter Molvaer
Saturday 2 June 2018 / Barbican Hall / 19:30
Tickets £20 – 35 plus booking fee
Find out more
Microdisney perform The Clock Comes Down the Stairs
Saturday 9 June 2018 / Barbican Hall / 20:00
Tickets £25 – 35 plus booking fee
Find out more
[Modern Ritual] featuring Charles Hayward + Laura Cannell + Hoofus + Jennifer Lucy Allan + Luke Turner
Saturday 16 June / LSO St Luke's / 19:30
Tickets £15 plus booking fee
Find out more
Naseer Shamma Quartet - Spirits
Wednesday 11 July 2018 / Barbican Hall / 19:30
Tickets £25 – 35 plus booking fee
Find out more
They Might Be Giants
Wednesday 3 October 2018 / Barbican Hall / 19:30
Tickets £20 – 35 plus booking fee
Find out more
ENDS
Sabine Kindel, Senior Communications Manager: t - +44 (0)20 7382 7090 e – sabine.kindel@barbican.org.uk
Sean Harwood, Communications Manager: t - +44 (0)20 7382 6199 e – sean.harwood@barbican.org.uk
Rachel Coombes, Communications Officer: t - +44 (0)20 7382 6196 e – rachel.coombes@barbican.org.uk