Barbican announces Afro-Cuban All Stars, Keaton Henson and Neko Case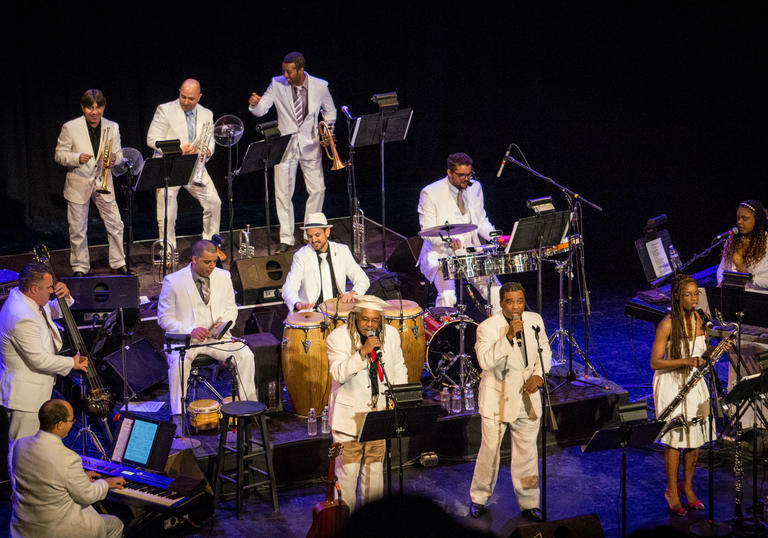 JUST ANNOUNCED
Afro-Cuban All Stars
15 July 2018 / Barbican Hall / 19:30
Tickets £20 – 30 plus booking fee
Juan de Marcos González leads the Afro-Cuban All Stars in a rare UK appearance at the Barbican on 15 July 2018. Mainstays of the Havana music scene will be joined by the next generations of Cuban music with the concert's line-up featuring Gliceria Abreu (percussion), Gliceria Gonzalez (keyboards, vibraphone, coros), Laura Lydia Gonzalez (clarinet, coros), Orlando Fraga, Yoanny Pino and Haile Uriarte (horns), Jose Marcos Crego (piano), Jiovanni Cofiño (bass), Asley Rossell (bongo, cowbell), Tany Allende (conga set), Caleb Michel (timbales, coros) and Emilio Suárez (vocals).
Reflecting the cross-generational nature of the ensemble, Afro-Cuban All Stars will perform material both old and new, but all in the vibrant fashion for which they are famed. This marks a return to the Barbican for the group who last appeared at the venue as part of La Linea in 2012.
Originating in the mid-1990s, the Afro-Cuban All Stars were founded by Marcos González to celebrate the heritage of pre-revolutionary Cuban music. With the support of UK label World Circuit Records and roots guitarist Ry Cooder, they headed to the studio to record a trio of albums, with González as musical director – A Toda Cuba le Gusta, Buena Vista Social Club and Introducing...Rubén González, all released in 1997. The records, and the accompanying documentary film by Wim Wenders also entitled Buena Vista Social Club, were instrumental in popularising Cuban music worldwide.
On sale to Barbican members on Thursday 12 April 2018
On general sale on Friday 13 April 2018
Produced by the Barbican
Find out more
Keaton Henson: Six Lethargies
Performed by Britten Sinfonia
Friday 20 July 2018 / Barbican Hall / 20:00
Tickets £17.50 – 25 plus booking fee
Keaton Henson's new piece Six Lethargies; an immersive evening exploring themes of trauma, mental illness and empathy, and how art conveys emotion, will receive its world premiere this summer at the Barbican.
Six Lethargies is the culmination of over 3 years of work from the musician, artist and composer. Composed around, and from within, issues of mental illness and human emotion, the piece aims to express and explain the feelings of anxiety and depression through six connected movements for string orchestra. It will be performed by Barbican Associate Ensemble, Britten Sinfonia.
As a performer known for his inability to perform live due to anxiety, Six Lethargies is Keaton's way of handing his story over to the orchestra, allowing them to be his voice, all the while asking the audience 'if I write how it feels to me, will it make you feel the same?'
Keaton last appeared as part of the Barbican's Contemporary Music programme at Oval Space in October 2014; the sold out Keaton Henson presents Cellophony, Vivaldi's Four Seasons brought a multisensory performance of the iconic classical piece to the stage.
On sale to Barbican members on Thursday 12 April 2018
On general sale on Friday 13 April 2018
Produced by the Barbican
Find out more
Neko Case
Thursday 8 November 2018 / Barbican Hall / 20:00
Tickets £22.50 – 27.50 plus booking fee
American singer/songwriter, Grammy nominee and member of The New Pornographers, Neko Case makes her return to the Barbican on 8 November 2018 - almost ten years since her last appearance on the Concert Hall stage. Case will tour in support of her forthcoming album Hell-On (Anti), due for release on 1 June 2018. This self-produced LP was born of unique and sometimes difficult circumstances, including a fire that destroyed the singer's home whilst she was overseas. Despite these challenges Case's Hell-On was completed and now boasts co-production on six tracks by Bjorn Yttling (Peter Bjorn & John) and guest appearances by Beth Ditto, k.d. Lang, Mark Lanegan and more.
In her own words the enigmatic and eclectic Case says: "My style is odd, I don't know what genre this is. I don't have a pretty voice or a trained voice, and I am constantly disappointed that I don't have a "tough" voice, no matter how hard I practice, but it's mine, and for all its loud, heavy-handed, nasal, vibrato-less qualities I accept it. The closest sound I have found to compare it to is Bulgarian Folk singing. My Eastern ancestors could have been proud of me a century ago? I could have been a droning "caller of wasps" perhaps? I just invented that job, I like the sound of it."
On sale to Barbican members on Thursday 12 April 2018
On general sale on Friday 13 April 2018
Produced by the Barbican
In association with Bird On The Wire
Find out more
COMING UP IN 2018
Thurston Moore: GALAXIES 12x12
Music for Twelve 12-String guitars (Acoustic + Electric)
With Rachel Aggs (Trash Kit, Shopping Sacred Paws), Joseph Coward (Camp X-Ray), Eugene Coyne, Jonah Falco (Career Suicide, F**ked Up), Deb Googe (My Bloody Valentine), James McCartney, Jen Chochinov, James Sedwards (The Devil, Nøught), Susan Stenger (Band of Susans, The Brood), David Troop and Alex Ward (N.E.W.), & projections by artist Radio Radieux.
Saturday 14 April 2018 / Barbican Hall / 19:30
Tickets £17.50 – 25 plus booking fee
Find out more
SONORAMA!
Latin American Composers in Hollywood
With Omar, Nina Miranda and Hackney Colliery Band Horns
Part of La Linea
Friday 20 April 2018 / Barbican Hall / 19:30
Tickets £15 - 25 plus booking fee
Find out more
Mexrrissey – La Reina is Dead
Part of La Linea
Sunday 29 April 2018 / Barbican Hall / 20:00
Tickets £15 – 25 plus booking fee
Find out more
Joby Burgess's Powerplant: The Filthy Fifteen
1 May 2018 / Milton Court Concert Hall / 19:30
Tickets £15 – 25 plus booking fee
Find out more
Sounds and Visions
The Barbican's marathon weekend in 2018 curated by Max Richter and Yulia Mahr
with The 12 ensemble, Kaitlyn Aurelia Smith, Jlin, AGF, Vikingur Ólafsson, The Will Gregory Moog Ensemble, London Syrian Ensemble, BBC Symphony Orchestra with Roomful of Teeth conducted by André de Ridder, Colin Currie Group with Synergy Vocals, EX EYE, Caterina Barbieri, Claire M Singer, Chineke! conducted by Fawzi Haimor
Friday 11 – Sunday 13 May 2018 / Barbican Hall & foyer, Barbican Cinemas 1 & 2, LSO St Luke's, Milton Court Concert Hall, St Giles' Cripplegate
Tickets £10 – 35, plus free events
Find out more
Barbican Box Music Showcase
With the Max Richter Quintet
Monday 14 May 2018 / Barbican Hall / 19:00
Tickets £3 plus booking fee
Find out more
Haley Fohr of Circuit des Yeux: Salomé
Wednesday 16 May 2018 / Cinema 1 / 20:00
Tickets £15 plus booking fee
Find out more
Kronos Quartet and Trio Da Kali – Ladilikan
Sam Green and Kronos Quartet: A Thousand Thoughts – a live documentary
Friday 18 May 2018 / Barbican Hall / 19:30
Tickets £20 – 35 plus booking fee
Find out more
Susanne Sundfør
Music For People In Trouble AV
+ Gard Nilssen's Acoustic Unity
Monday 21 May 2018 / Barbican Hall / 19:30
Tickets £15 – 20 plus booking fee
Find out more
Field Music with the Open Here Orchestra
Friday 25 May 2018 / Barbican Hall / 19:30
Tickets £17.50 – 22.50 plus booking fee
Find out more
Actress + London Contemporary Orchestra
+ Duval Timothy, Silvia Kastel and Toxe
Saturday 26 May 2018 / Barbican Hall / 19:30
Tickets £17.50 – 22.50 plus booking fee
Find our more
Charles Watson
Saturday 26 May 2018 / LSO St Luke's / 19:30
Tickets £12.50 – 15 plus booking fee
Find out more
Tigran Hamasyan & Nils Petter Molvaer
Saturday 2 June 2018 / Barbican Hall / 19:30
Tickets £20 – 35 plus booking fee
Find out more
Thomas Bartlett + Nico Muhly
Peter Pears: Balinese Ceremonial Music
Friday 8 June 2018 / LSO St Luke's / 20:00
Tickets £25 – 30 plus booking fee
Find out more
Microdisney perform The Clock Comes Down the Stairs
Saturday 9 June 2018 / Barbican Hall / 20:00
Tickets £25 – 35 plus booking fee
Find out more
[Modern Ritual] featuring Charles Hayward + Laura Cannell + Hoofus + Jennifer Lucy Allan + Luke Turner
Saturday 16 June / LSO St Luke's / 19:30
Tickets £15 plus booking fee
Find out more
Wynton Marsalis Quartet
+ Headspace Quartet
Tuesday 19 June 2018 / Barbican Hall / 19:30
Tickets £15 – 35 plus booking fee
Find out more
Alva Noto + Ryuichi Sakamoto: Two
Wednesday 20 June 2018 / Barbican Hall / 19:30
SOLD OUT returns only
Find our more
Light in the Attic: Haruomi Hosono & Acetone
Saturday 23 June 2018 / Barbican Hall / 19:30
Tickets £17.50 – 30 plus booking fee
Find out more
Michael 'Mikey J' Asante: Outliers
Saturday 30 June 2018 / Barbican Hall / 19:30
Tickets £17.50 – 25 plus booking fee
Find out more
Oneohtrix Point Never: MYRIAD
7 July 2018 / Barbican Hall / 2018
Tickets £20 – 25 plus booking fee
Find out more
Yasuaki Shimizu
+ Carl Stone
Sunday 8 July 2018 / LSO St Luke's / 19:30
Tickets £15 – 20 plus booking fee
Find out more
Naseer Shamma Quartet - Spirits
Wednesday 11 July 2018 / Barbican Hall / 19:30
Tickets £25 – 35 plus booking fee
Find out more
monumental: Godspeed You! Black Emperor & The Holy Body Tattoo
Friday 13 & Saturday 14 July 2018 / Barbican Hall / 19:30
Tickets £20 – 30 plus booking fee
Find out more
DJ Spoony presents Garage Classical
with the Ignition Orchestra
Saturday 21 July / Barbican Hall / 19:30
SOLD OUT returns only
Find out more
They Might Be Giants
Wednesday 3 October 2018 / Barbican Hall / 19:30
Tickets £20 – 35 plus booking fee
Find out more
Mew: Frengers
Saturday 20 October 2018 / Barbican Hall / 16:00 & *20:00
Tickets £20 – 27.50 plus booking fee / *SOLD OUT returns only
Find out more
Darbar Festival – Rupak Kulkarni + Meeta Pandit
Thursday 25 October 2018 / Milton Court Concert Hall / 18:30
Tickets £20 – 50 plus booking fee
Find out more
Darbar Festival – Soumik Datta + Malladi Brothers
Friday 26 October 2018 / Milton Court Concert Hall / 18:30
Tickets £20 – 50 plus booking fee
Find out more
Darbar Festival – Ustad Wasifuddin Dagar
Saturday 27 October 2018 / Milton Court Concert Hall / 10:00
Tickets £20 – 50 plus booking fee
Find out more
Darbar Festival – Sanju Sahai
Saturday 27 October 2018 / Milton Court Concert Hall / 14:00
Tickets £20 – 50 plus booking fee
Find out more
Darbar Festival – Lalgudi GJR Krishnan & Lalgudi Vijayalakshmi + Omar Dadarkar
Saturday 27 October 2018 / Milton Court Concert Hall / 18:30
Tickets £20 – 50 plus booking fee
Find out more
Darbar Festival – Ustad Shahid Parvez + Parveen Sultana
Sunday 28 October 2018 / Barbican Hall / 17:30
Tickets £18 – 75 plus booking fee
Find out more
Bobby McFerrin
Part of EFG London Jazz Festival
Sunday 18 November 2018 / Barbican Hall / 19:30
Tickets £20 – 45 plus booking fee
Find out more
Brad Mehldau + Britten Sinfonia
Saturday 16 March 2019 / Barbican Hall / 20:00
Tickets £25 – 35 plus booking fee
Find out more
ENDS
Notes to Editors
Barbican Box Office: 0845 120 7550
www.barbican.org.uk
Sabine Kindel, Senior Communications Manager:: sabine.kindel@barbican.org.uk or +44 (0)20 7382 7090
Sean Harwood, Communications Manager:: sean.harwood@barbican.org.uk or +44 (0)20 7382 6199
Rachel Coombes, Communications Officer:: rachel.coombes@barbican.org.uk or +44 (0)20 7382 6196