Barbican announces Actress + London Contemporary Orchestra, Alva Noto + Ryuichi Sakamoto, and Wynton Marsalis Quartet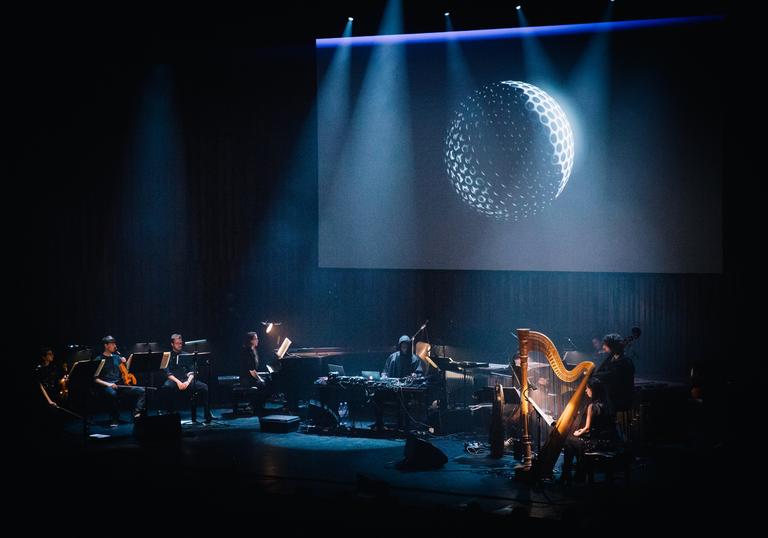 JUST ANNOUNCED
Actress + London Contemporary Orchestra
Saturday 26 May 2018 / Barbican Hall / 19:30
Tickets £17.50 – 22.50 plus booking fee
Electronic musician and producer Darren Cunningham, known as Actress and the London Contemporary Orchestra (LCO) are to reprise their collaboration at the Barbican on 26 May 2018. The evolution of their project continues with recent performances including an appearance at Strelka Institute in Moscow and at the Tate Tanks in London. Originally performed at the Barbican in February 2016, the concert creates synergy between both live electronic and acoustic components. Furthermore the project aims not just to align the electronic and the acoustic in harmony but to splice them into a new hybrid instrument. As part of the process Actress and LCO augment traditional piano and create sounds from objects as varied as temple bowls and plastic bags.
This project was originally curated by Boiler Room and the LCO with the support of Arts Council England and the backing of leading British independent record label Ninja Tune.
Actress has curated a programme of additional performances to complement the presentation on 26 May. To open proceedings multi-disciplinary artist Duval Timothy will deliver a set of jazz-inspired minimalism on piano. Lo-fi electronic performer and audio engineer Silvia Kastel then brings the first half of the evening to a close. Kastel's set will playfully test the borders between sound art, noise and dance music.
Following the concert in the Hall, Swedish producer Toxe will debut her live show on Barbican's Clubstage. Her late-night set of glitch-peppered techno will provide ample proof of her status as a 'one-to-watch'.
On sale to Barbican members on Thursday 8 March 2018
On general sale on Friday 9 March 2018
Produced by the Barbican
Find our more
Alva Noto + Ryuichi Sakamoto: Two
Wednesday 20 June 2018 / Barbican Hall / 19:30
Tickets £25 – 35 plus booking fee
German artist Alva Noto joins forces with Academy Award-wining Japanese musician Ryuichi Sakatomo for a special concert at the Barbican on 20 June 2018. A continuation of the collaborative relationship that spawned the score to director Alejandro González Iñárritu's 2015 film The Revenant, Sakamoto and Alva Noto recently released Glass (Noton). This album captures a live ambient improvisation from the duo in turn inspired by the work of visual artist Yayoi Kusama. Their Barbican appearance, titled Two, will also combine improvisation and new material; furthermore this date is one of few opportunities to experience the live show in 2018.
As composer, performer, producer, and environmentalist, few artists have as diverse a résumé as that of Ryuichi Sakamoto. His work includes pioneering electronic music as a member of Yellow Magic Orchestra, classical pieces, minimal/ambient music, many art collaborations, and over 30 film scores. Recent works include the release of his 16th solo album, async (Milan).
Alvo Noto, otherwise known as Carsten Nicolai, has released experimental music spanning the last twenty years. He has toured extensively internationally taking in esteemed institutions such as the Solomon R. Guggenheim Museum (New York), Centre Pompidou (Paris) and Tate Modern (London). Alvo Noto also recently appeared at the Barbican to present a new audio visual show titled UNIEQAV in a sold out performance on 4 March 2018.
On sale to Barbican members on Thursday 8 March 2018
On general sale on Friday 9 March 2018
Produced by the Barbican
Find our more
Wynton Marsalis Quartet
+ Headspace Quartet
Tuesday 19 June 2018 / Barbican Hall / 19:30
Tickets £15 – 35 plus booking fee
A rare opportunity to hear Wynton Marsalis in a small group setting – a quartet led by his brother, drummer Jason Marsalis – where the depth and sonic range of Wynton's sound can take centre stage, evoking memories of the great masters of the jazz trumpet whilst – in the true spirit of the music – resolutely remaining a powerful voice in his own right. Opening the concert is the Headspace Quartet, a group led by Wynton's friend, Clarence Adoo, whose career as a virtuoso trumpeter was cut short by a life-changing car accident. A founder member of the British Paraorchestra, Clarence has become an active teacher and committed advocate for disabled issues. Determined to continue sharing his musical gifts, Clarence now plays the Headspace, a custom built breath-controlled electronic instrument which gives its name to the ensemble playing this concert's opening set.
Wynton Marsalis, in his role as managing and artistic director of the world-renowned Jazz at Lincoln Center Orchestra (JLCO), recently completed a Barbican International Associate Ensemble residency. Marsalis and JLCO's sold-out residency celebrated the "King of Swing" American clarinettist and bandleader Benny Goodman, and master educator, composer and musical thinker Leonard Bernstein and featured performances from Jazz at Lincoln Center Youth Orchestra in its UK debut.
On sale to Barbican members on Thursday 8 March 2018
On general sale on Friday 9 March 2018
Produced by the Barbican in association with Serious
In support of the Clarence Adoo Trust
Find out more
ALSO ANNOUNCED
John Cale (2018-1964): A Futurespective
With the London Contemporary Orchestra
Plus special guests Actress, Cate LeBon and the House Gospel Choir
Friday 9 & Saturday 10 March 2018 / Barbican Hall / 19:30
Tickets £35 – 45 plus booking fee
Joining the iconic pioneer John Cale for his two-date 'futurespective' at the Barbican will be electronic producer and musician Actress, Welsh singer-songwriter Cate Le Bon and the House Gospel Choir; created and founded by vocalist Natalie Maddix.
Ahead of the concerts John Cale comments: "It's a strange beast, my catalogue of thoughts from 50+ years - weird meanderings around the recesses and synapses - quite a trip! So thrilled to have the luxury of LCO & my friends HGC. When contemplating how I might wish to hear certain songs led me to electronic sonic Actress & the timeless vocals of Cate LeBon - it's all heart coming your way."
Just Jam Reloaded
with Belly Squad, Kamaal Williams, Nídia, Skengdo x AM, Kenny Allstar, Murlo, Headie One, DJ Funkz, Afro B, Sam Wise, Devilman, Novelist and Mad J
Saturday 17 March 2018 / Barbican Hall / 19:30
Tickets £15 plus booking fee
Just Jam Reloaded's who's-who line-up of underground talents continues to grow, now with the addition of grime MC and producer Novelist; an artist who appeared at the first Barbican Just Jam in 2014 and has since become one of the scene's leading mavericks. Also confirmed to appear is DJ, performer and Reprezent Radio host Mad J.
SONORAMA!
Latin American Composers in Hollywood
With Omar, Nina Miranda and Hackney Colliery Band Horns
Part of La Linea
Friday 20 April 2018 / Barbican Hall / 19:30
Tickets £15 - 25 plus booking fee
Soul singer and MBE, Omar, plus former Smoke City vocalist Nina Miranda are now confirmed to appear in SONORAMA!, a tribute to Latin American music in Hollywood. Also joining the celebrations is brass collective Hackney Colliery Band Horns; the group have collaborated with the likes of Amy Winehouse and Jamie Cullum, and performed in 2012's Olympic Closing Ceremony.
COMING UP IN 2018
John Cale (2018-1964): A Futurespective
With the London Contemporary Orchestra
Plus special guests Actress, Cate LeBon and the House Gospel Choir
Friday 9 & Saturday 10 March 2018 / Barbican Hall / 19:30
Tickets £35 – 45 plus booking fee
Find out more
Niladri Kumar: Seduced by the Sitar
Tuesday 13 March 2018 / Milton Court Concert Hall / 19:00
Tickets £18 – 50 plus booking fee
Find out more
Trio Ponty Lagrene Eastwood
Jean-Luc Ponty, Biréli Lagrène, Kyle Eastwood
Friday 16 March 2018 / Barbican Hall / 19:30
Tickets £15 – 35 plus booking fee
Find out more
Just Jam Reloaded
with Belly Squad, Kamaal Williams, Nídia, Skengdo x AM, Kenny Allstar, Murlo, Headie One, DJ Funkz, P Montana, Afro B, Sam Wise, Devilman, Novelist and Mad J
Saturday 17 March 2018 / Barbican Hall / 19:30
Tickets £15 plus booking fee
Find out more
Charles Hazlewood with Army of Generals and the British Paraorchestra
PLAY!
Sunday 18 March 2018 / Barbican Hall / 19:30
Tickets £15 – 20 plus booking fee
Find out more
Harshdeep Kaur
Tuesday 27 March 2018 / Barbican Hall / 19:30
Tickets £20 – 35 plus booking fee
Find out more
Piano Day
Poppy Ackroyd, Marina Baranova, Florian Christl
Thursday 29 March 2018 / Milton Court Concert Hall / 19:30
Tickets £10 plus booking fee
Find out more
Alessandro Cortini + Sarah Davachi
Monday 30 April 2018 / Milton Court Concert Hall / 19:30
Tickets £10 – 20 plus booking fee
Find out more
Simian Mobile Disco with Deep Throat Choir
+ Fatima Al Qadiri presents Ja7eem
Wednesday 4 April 2018 / Barbican Hall / 20:00
Tickets £17.50 – 22.50 plus booking fee
Find out more
Carl Craig presents Synthesizer Ensemble
Friday 6 April 2018 / Barbican Hall / 19:30
Tickets £20 – 25 plus booking fee
Find our more
Kyle Dixon & Michael Stein performing the music of Stranger Things
Saturday 7 April 2018 / Barbican Hall / 20:00 & 22:30
SOLD OUT returns only
Find out more
Thurston Moore: 12x12
Music for Twelve 12-String guitars (Acoustic + Electric)
Saturday 14 April 2018 / Barbican Hall / 19:30
Tickets £17.50 – 25 plus booking fee
Find out more
SONORAMA!
Latin American Composers in Hollywood
With Omar, Nina Miranda and Hackney Colliery Band Horns
Part of La Linea
Friday 20 April 2018 / Barbican Hall / 19:30
Tickets £15 - 25 plus booking fee
Find out more
Mexrrissey – La Reina is Dead
Part of La Linea
Sunday 29 April 2018 / Barbican Hall / 19:30
Tickets £15 – 25 plus booking fee
Find out more
Joby Burgess's Powerplant: The Filthy Fifteen
1 May 2018 / Milton Court Concert Hall / 19:30
Tickets £15 – 25 plus booking fee
Find out more
Sounds and Visions
The Barbican's marathon weekend in 2018 curated by Max Richter and Yulia Mahr
with The 12 ensemble, Kaitlyn Aurelia Smith, Jlin, AGF, Vikingur Ólafsson, The Will Gregory Moog Ensemble, London Syrian Ensemble, BBC Symphony Orchestra with Roomful of Teeth conducted by André de Ridder, Colin Currie Group with Synergy Vocals, EX EYE, Caterina Barbieri, Claire M Singer, Chineke! conducted by Fawzi Haimor
Friday 11 – Sunday 13 May 2018 / Barbican Hall & foyer, Barbican Cinemas 1 & 2, LSO St Luke's, Milton Court Concert Hall, St Giles' Cripplegate
Tickets £10 – 35, plus free events
Find out more
Barbican Box Music Showcase
With the Max Richter Quintet
Monday 14 May 2018 / Barbican Hall / 19:00
Tickets £3 plus booking fee
Find out more
Haley Fohr of Circuit des Yeux: Salomé
Wednesday 16 May 2018 / Cinema 1 / 20:00
Tickets £15 plus booking fee
Find out more
Kronos Quartet and Trio Da Kali – Ladilikan
Sam Green and Kronos Quartet: A Thousand Thoughts – a live documentary
Friday 18 May 2018 / Barbican Hall / 19:30
Tickets £20 - 35 plus booking fee
Find out more
Susanne Sundfør
Music For People In Trouble AV
+ Gard Nilssen's Acoustic Unity
Monday 21 May 2018 / Barbican Hall / 19:30
Tickets £15 – 20 plus booking fee
Find out more
Field Music with the Open Here Orchestra
Friday 25 May 2018 / Barbican Hall / 19:30
Tickets £17.50 – 22.50 plus booking fee
Find out more
Charles Watson
Saturday 26 May 2018 / LSO St Luke's / 19:30
Tickets £12.50 – 15 plus booking fee
Find out more
Tigran Hamasyan & Nils Petter Molvaer
Saturday 2 June 2018 / Barbican Hall / 19:30
Tickets £20 – 35 plus booking fee
Find out more
Thomas Bartlett + Nico Muhly
Peter Pears: Balinese Ceremonial Music
Friday 8 June 2018 / LSO St Luke's / 20:00
Tickets £25 – 30 plus booking fee
Find out more
Microdisney perform The Clock Comes Down the Stairs
Saturday 9 June 2018 / Barbican Hall / 20:00
Tickets £25 – 35 plus booking fee
Find out more
[Modern Ritual] featuring Charles Hayward + Laura Cannell + Hoofus + Jennifer Lucy Allan + Luke Turner
Saturday 16 June / LSO St Luke's / 19:30
Tickets £15 plus booking fee
Find out more
Michael 'Mikey J' Asante: Outliers
Saturday 30 June 2018 / Barbican Hall / 19:30
Tickets £17.50 – 25 plus booking fee
Find out more
Yasuaki Shimizu
+ Carl Stone
Sunday 8 July 2018 / LSO St Luke's / 19:30
Tickets £15 – 20 plus booking fee
Find out more
Naseer Shamma Quartet - Spirits
Wednesday 11 July 2018 / Barbican Hall / 19:30
Tickets £25 – 35 plus booking fee
Find out more
monumental: Godspeed You! Black Emperor & The Holy Body Tattoo
Friday 13 & Saturday 14 July 2018 / Barbican Hall / 19:30
Tickets £20 – 30 plus booking fee
Find out more
DJ Spoony presents Garage Classical
with the Ignition Orchestra
Saturday 21 July / Barbican Hall / 19:30
SOLD OUT returns only
Find out more
They Might Be Giants
Wednesday 3 October 2018 / Barbican Hall / 19:30
Tickets £20 – 35 plus booking fee
Find out more
Mew: Frengers
Saturday 20 October 2018 / Barbican Hall / 20:00
SOLD OUT returns only
Find out more
Darbar Festival – Rupak Kulkarni + Meeta Pandit
Thursday 25 October 2018 / Milton Court Concert Hall / 18:30
Tickets £20 – 50 plus booking fee
Find out more
Darbar Festival – Soumik Datta + Malladi Brothers
Friday 26 October 2018 / Milton Court Concert Hall / 18:30
Tickets £20 – 50 plus booking fee
Find out more
Darbar Festival – Ustad Wasifuddin Dagar
Saturday 27 October 2018 / Milton Court Concert Hall / 10:00
Tickets £20 – 50 plus booking fee
Find out more
Darbar Festival – Sanju Sahai
Saturday 27 October 2018 / Milton Court Concert Hall / 14:00
Tickets £20 – 50 plus booking fee
Find out more
Darbar Festival – Lalgudi GJR Krishnan & Lalgudi Vijayalakshmi + Omar Dadarkar
Saturday 27 October 2018 / Milton Court Concert Hall / 18:30
Tickets £20 – 50 plus booking fee
Find out more
Darbar Festival – Ustad Shahid Parvez + Parveen Sultana
Sunday 28 October 2018 / Barbican Hall / 17:30
Tickets £18 – 75 plus booking fee
Find out more
ENDS
Notes to Editors
Barbican Box Office: 0845 120 7550
www.barbican.org.uk
Sabine Kindel, Senior Communications Manager: t - +44 (0)20 7382 7090 e – sabine.kindel@barbican.org.uk
Sean Harwood, Communications Manager: t - +44 (0)20 7382 6199 e – sean.harwood@barbican.org.uk
Rachel Coombes, Communications Officer: t - +44 (0)20 7382 6196 e – rachel.coombes@barbican.org.uk